About peace education

Peace education works at different levels:
It helps children and young people discover the wonder and beauty within themselves, nurturing inner peace.
It supports the development of the attitudes, values and skills needed to respond to conflict creatively, encouraging inter-personal peace.
It encourages children to examine the root causes of violence and war and explore the possibilities for building peace at community, national and international levels.
Quakers working with children and young people in their meeting may also be interested in our working in a Quaker setting page.
Current projects
Challenging militarisation in education
Militarisation makes society more ready for war. Quakers in Britain continue to be alarmed at increasing government promotion of the armed forces in the classroom and young people's lives. This 'unseen march' needs to be questioned.
Watch and share our short film The Unseen March.
Exploring matters of conscience
Peace education includes equipping young people and educators to tackle difficult or seldom discussed issues, the subjects of which are crucial to an understanding of the world. We provide resources and guidance on topics like armed drones, active nonviolence, and Palestine and Israel to help educators explore them in a safe way.
Training for peace
Quakers have been at the forefront of developing peace education in Britain, but there are still many schools and young people who do not benefit from this kind of learning.
Through training and support we are working to build Quakers' skills and confidence to be trainers and advocates of peace education. In particular we are arranging Train the Trainer support for Quakers to train peer mediators. We also work with educators more widely to highlight best practice in peace education. Contact Ellis Brooks ellisb@quaker.org.uk to get involved.
Resources
Quakers in Britain and our partners produce a range of peace education materials for use in formal and informal settings. Many of these are available for free online. Others can be purchased from the Quaker Centre Bookshop. Teaching resources are available to download from our Free resources web pages.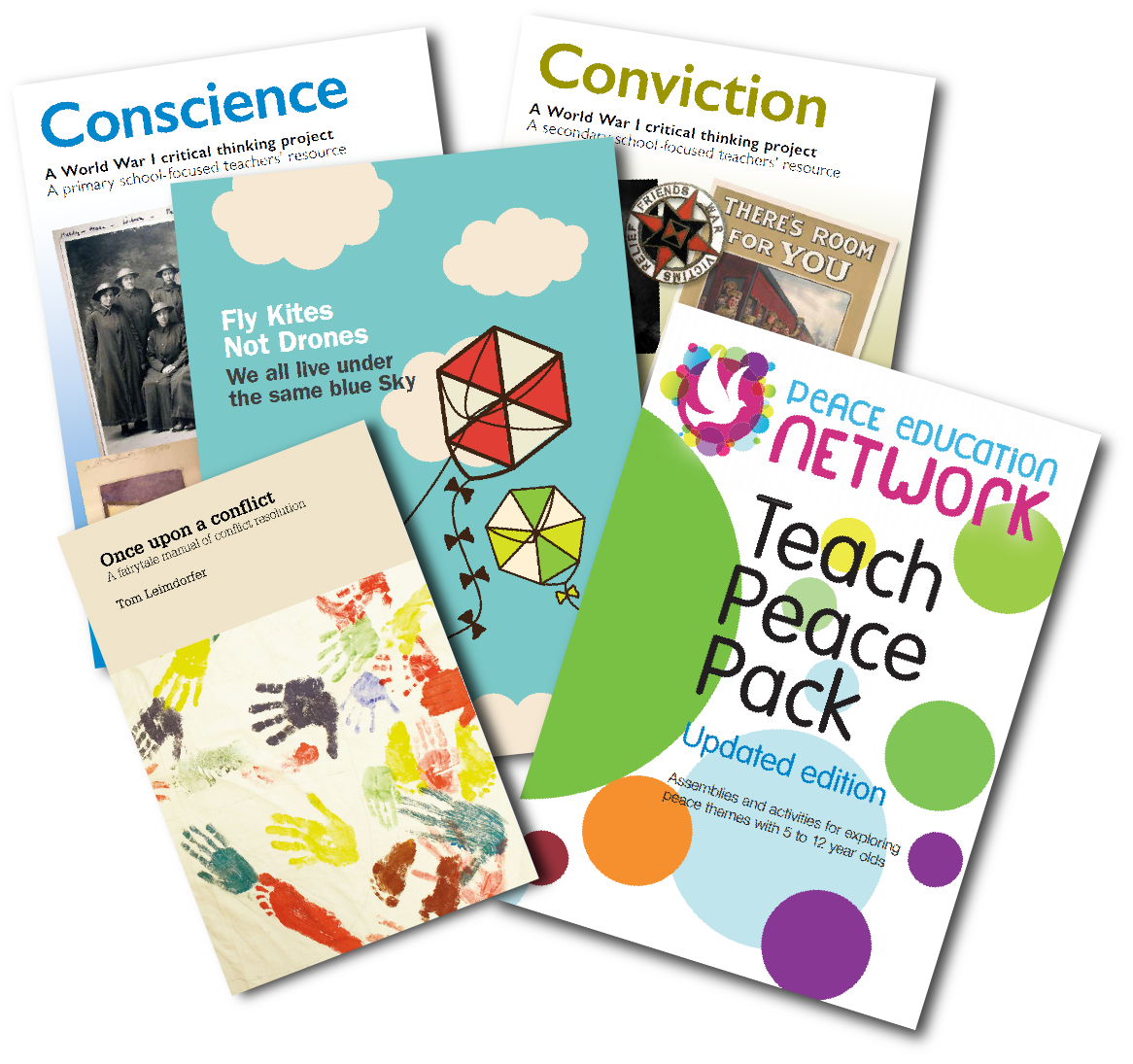 Join the peace education mailing list
Quakers interested and engaged in peace education may join our peace education cluster for updates, sharing projects and ideas that can be used with children and young people. The peace education cluster is part of the Quaker Life Network which brings together Friends with common interests. You can subscribe to the peace education cluster here (offsite link).
Working with partners
Excellent peace education is delivered by a range of organisations around Britain. Quakers seek to support and promote this by working in partnership with them.
The Peace Education Network (offsite link) is a UK network that brings together people and organisations committed to education for peace.
Peer Mediation is conflict resolution for young people by young people. The Peer Mediation Network (offsite link) brings together conflict resolution practitioners and educators committed to promoting peer mediation in schools and the wider community.
The Peaceful Schools Movement is committed to developing more peaceful schools. Peaceful School Awards recognise the success of schools around England which have taken strides in different aspects of peace education. Visit the Peaceful Schools website (offsite link).