Peer Mediation in Scotland
Meet Scotland's young mediators, providing a primer on conflict resolution for young people by young people. Learn from them about the process of peer mediation and the qualities and skills needed to be a peacemaker. Discover the difference this role has made to them, and its impact on the school environment. The video is voiced by the brilliant Benn, Amelia, Erin, Faiza and Craig, peer mediators from Lynburn Primary School, Fife. Amelia explains 'conflicts and disagreement are part of life and sometimes we need help to build peace'. Scottish Mediation's Young Talk is spreading peer mediation to more schools.
Never give up: Wangari's Trees of Peace
Oakgrove Primary School in Glasgow put 'peace at the heart' when the power of music and storytelling led them to create their own retelling of the children's book Wangari's Trees of Peace by Jeanette Winter. Drawing on West of Scotland's Global Storylines Approach and the musical know how of the Conservatoire, Oakgrove's P5 class created a production travelling all the way to the Scottish Parliament. At an eco-school with a vibrant peer mediation scheme, the story of Nobel Prize-winner Wangari Maathai resonated.
Peace at the heart

Peace at the Heart: A relational approach to education in British schools brings together evidence of effective practice and the underpinning approaches. Peace at the heart also makes key recommendations for the governments of England, Scotland and Wales to support Peace Education in line with their international commitments and how schools can embody a relational approach.
A shorter briefing can also be downloaded: Peace at the heart executive summary (PDF). Printed copies can be requested by email to ellisb@quaker.org.uk.
Exhibition: Peace at the heart of Scottish Schools
Scottish Quakers have been highlighting peacebuilding in schools and helped commission an exhibition to bring the themes of our report to life. The exhibition is also going to council offices, community spaces, schools, Quaker Meetings, and even the Scottish Parliament. As well as information panels highlighting good practice and case studies, there are workshop materials and curiosity boxes for children and young people who want to dive deeper into peace. Members of the Scottish Parliament are also supporting motion S6M-10229 on Peace at the heart of Scottish schools. Contact zoep@quaker.org.uk if you are interested in hosting the exhibition.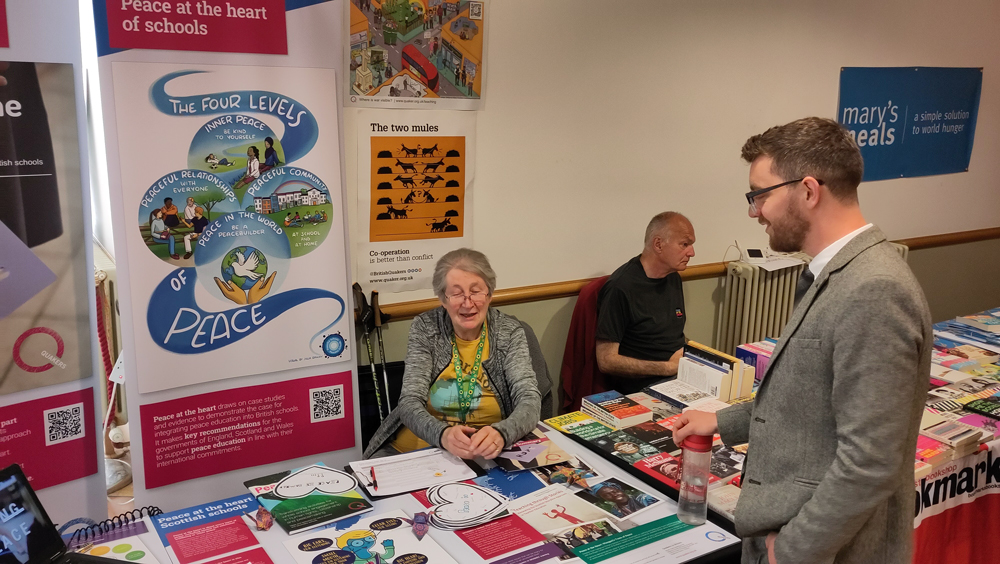 Building Peace in Schools videos
Watch short films showcasing peace education in action. Each film focuses on a different primary or secondary school that invests in building peace, whether though exploring identity and inclusion, training in conflict resolution, or tackling global issues. The schools featured are in Staffordshire, Leeds, London, Merthyr Tydfil, Birmingham and Glasgow.
Mediation skills for life
Meet the Sixth Formers resolving conflict at Bacon's College. The school works closely with CALM, a local mediation service, to equip Sixth Form students with conflict resolution skills. The Peer Mediation scheme has operated for over a decade, thriving due to the support from teachers and professional mediators.
Rated by OFSTED as 'outstanding' for 'behaviour and safety of pupils', this inner-city secondary academy has also seen a significant reduction in school exclusions in recent years.
The peer mediators, aged 16-19, have a high profile in the school and help other students address challenging issues including name-calling, bullying and fights. Some even join adult mediators working in the community.
Bode, a former peer mediator, went on to win the Community Mediator of the year award in 2021, having first started his work in conflict resolution aged 16. Other alumni have spoken in Parliament and national mediation conferences.
Training to be peacemakers
How can we help children find creative ways to handle conflict?
This five-minute film shows Coleshill Heath School (CHS), a large community primary school in Solihull, taking on this challenge. The school works with Peacemakers, a Quaker peace education project that has been helping schools in the West Midlands handle conflict for over 30 years.
Peacemakers supports the school to train their students in peer-mediation – conflict resolution for young people, by young people – and establish a scheme in which students are available to mediate disputes at playtimes.
We see the training in action. The young mediators learn about 'the conflict escalator' and how to 'take out the blaming language' from the stories they listen to. We hear from the children what it means to be a peer-mediator, and from staff about how the scheme fits in with the school's restorative ethos.
"I do think every school could benefit from peer mediation" says Jackie Zammit, Associate Trainer at Peacemakers, "If you're motivated by peace, if you believe in peace, if you're not ashamed to talk about peace…that's when transformation can happen".

Find out more about www.peacemakers.org.uk.

Being a Peace School
Cyfarthfa High School was one of Wales' first six Peace Schools, a network that has now grown to over 40 schools supported by the Welsh Centre for International Affairs.
Peace Ambassadors aged 13-15 are tasked with looking at the values of the school and also how to involve everyone. The impact of the scheme has been felt across the school. Tracey Griffith, Assistant Head, said: "The Peace Ambassadors helped to create a respectful and collaborative atmosphere in the school. The whole school is happier, more tolerant and more respectful."
The school also draws extensively on the peace heritage of Wales, studying the dilemmas of World War I conscientious objectors and key figures in local history, such as Aneurin Bevan.
Year 8 pupil Natalie Nawara said: "Learning that some great women came from Merthyr – for example, pioneer linguist, Chartist supporter and educationalist Charlotte Guest – shows we can do something too."
Pupils have gone on to make their voices heard outside the school, including giving presentations at Scouts, being elected to the Merthyr Youth Council and the UK Youth Parliament. Corey Shemwell, year 9, said: "It's important to speak up because if we don't, who will?"
The Peace School scheme is freely available to primary and secondary schools across Wales. Schools can work towards level 1 or level 2 accreditation and are given peace school status in annual Peace Conferences in November. Contact centre@wcia.org.uk for more details.

A relational approach
"Carr Manor Community School is committed to a relational approach to a child's education, and building resource and capacity to develop their character and skills for life." Simon Flowers, Executive Principal.
In the film, we witness the school's investment in interpersonal relationship-building through regular coaching circles and restorative practice. OFSTED calls the coaching programme a "major strength of the school", and a pupil said, "I'll always have a family, one member of staff I can go to if I have a problem."
Another pupil told us, "It does help with all round being peaceful, even if you're not in school. Even if you're not in school being watched by teachers, you can still stay in that mindset."
The pupils also looked at global issues through the Creative Arts Study School, which focused on diversity and studied stories of peace-building from around the world. Pupils not only learnt about issues such as diversity, Palestine and Israel, and deportation flights, but made creative responses through art, drama, dance and music. These are complex issues, but the Study School let the children develop their responses over several weeks.
"The confidence that the children have... normally that's a skill that you acquire later in life, but because they're empowered and they know that the adults around them really care about not only their academics but how they develop as a person, you can see that in how confident they are..." Bena Asomaning, English Teacher.
Something will be different
How can schools create a different world in the face of injustice?
Elizabeth Garrett Anderson School is a comprehensive secondary school for girls situated next to King's Cross railway station in London. The school has a very clear sense of purpose. The film takes us into workshops tackling issues of class, race and sexuality. Head of History Hamidah Siddiqua leads a discussion, prompted by students, about the situation faced by the Uyghur population in China.
Education plays a crucial role in tackling injustice and discrimination. Headteacher, Sarah Beagley, doesn't shy away from the difficult issues students have to deal with. "They do live in communities where they deal with violence, they deal with racism." Sarah is equally clear that whilst she can't necessarily change what happens outside the school gates, "We very clearly set out to say that in this school, in this place, in this community, something will be different."
Peace = kind
How does a school embrace peace education? We see how John of Rolleston Primary School, in the village of Rolleston-on-Dove, Staffordshire, puts peace at the heart of its community. The film features some of the children's own animations, exploring what they think a peaceful school and a peaceful classroom look like.
The school works closely with Peacemakers, a charity in Birmingham. Initially sceptical, year 3 Teacher Samantha Duda Spencer, explains the impact she sees regular Peacemaker circle time having on the children. "They will be our citizens of the future. They'll need to know how to manage conflicts, how to work together, how to be resilient, how to support and listen. Teaching them from a young age will really do that,"
Headteacher, Richard Simcox, explains how peace education "has a longevity and has an impact" which is why they have decided to hold onto it as part of the school's core values. "If all children had the opportunity to learn peace-building skills, and to take part in a curriculum led by peace, supported by peace, then we would have a more peaceful society. We wouldn't necessarily have less conflict, but we would have better ways of managing that conflict."
Find out more about www.peacemakers.org.uk.

Teaser trailer