Stopping the world's largest arms fair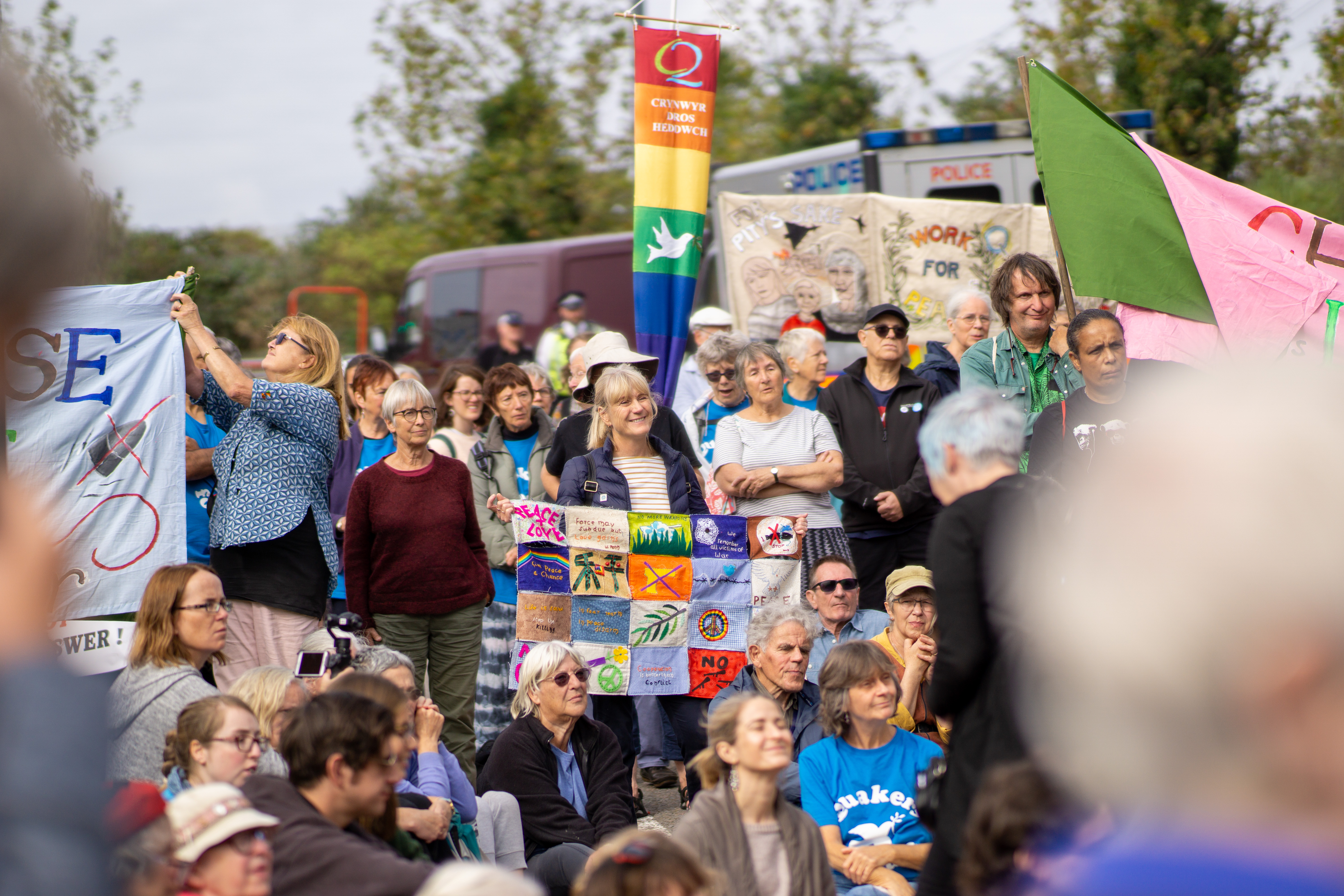 Quakers in Britain are a founding member of Stop the Arms Fair, a coalition of groups opposing the Defence and Security Equipment International arms fair (DSEi) in East London every other year. We build resistance to the arms fair through protest, lobbying, witness, creativity and prayer.
This year, a Quaker network named Roots of Resistance organised faith-led nonviolent direct actions that disrupted preparations for the arms fair. The network organised 700 Quakers and allies in holding meetings for worship in the access road to the Excel Centre on No Faith in War Day (3 September), worshipping in solidarity with those who are victims of the international arms trade.
Around 50 nonviolent protesters, many of them Quaker, were arrested. Oliver Robertson, Head of Witness and Worship for Quakers in Britain, explained:
"Quakers are against all war and preparations for war. Deliberate killing of others denies their humanity and the arms trade, by seeking to profit from killing, is deeply immoral.
"As part of our witness to peace, we held meetings for worship on the road leading to the arms fair venue at the ExCeL Centre. This was interrupted by a police announcement that we would be arrested if we did not move out of the road.
Quakers spoke to police officers, including the inspector in charge, explaining that this was not just 'quiet time' but a holy gathering. Police should behave the same way they would during a Catholic Mass or Muslim prayers towards Mecca. To their credit, the inspector apologised for this and offered to take that as a learning point for the future."
Further reading
Read 'Spiritual preparations for stopping an arms fair', a piece by Roots of Resistance co-organiser Sam Donaldson
Visit Stop the Arms Fair for resources and information about the DSEi arms fair and all UK arms fairs.
Listen to Peace & Disarmament Programme Manager Sam Walton speak about organising the 2017 actions to stop the arms fair in this episode of the Q:witness podcast:
Take action
Campaign Against Arms Trade (CAAT) have a page of petitions & pledges to sign up to. Currently the#StopArmingSaudi one is particularly urgent given that British weapons are being used in Yemen and the scale of the humanitarian crisis unfolding there.
Staff in QPSW are more than happy to advise you if you are interested in taking further action, or if your meeting has a concern in this area.