Take action: prevent further UK arms sales to Turkey
In 2018, the UK government was shamed into suspending new licenses where weapons could be used in Syria. However, existing UK arms sale licenses sell weapons to Turkey, whose armed forces are now waging war against Kurdish people in Syria. The government has already sold £1.1 billion worth of arms exports to Turkey, and shows no sign of stopping.
Kurdish solidarity groups are asking people to lobby their MP or MSP to put pressure on the UK government to ban all arms sales to Turkey. Please write to your representative asking them to urgently request an update to weapons export licensing.
Quakers in Scotland: Scottish Enterprise, Scotland's business advice, support and funding agency, has given over £14 million to arms manufacturers. These companies have produced equipment used by the Turkish army, navy and air force.
When writing to your MSP, make sure to highlight that Scottish public money is being used to support Turkish action against the Kurdish people, and ask the Scottish government for a commitment to stop using our money to support companies that exacerbate and profit from conflict.

Write to your representative using WriteToThem
Urge others in your networks to do the same
If you receive a response, please email this to danielj@quaker.org.uk.
Stopping the world's largest arms fair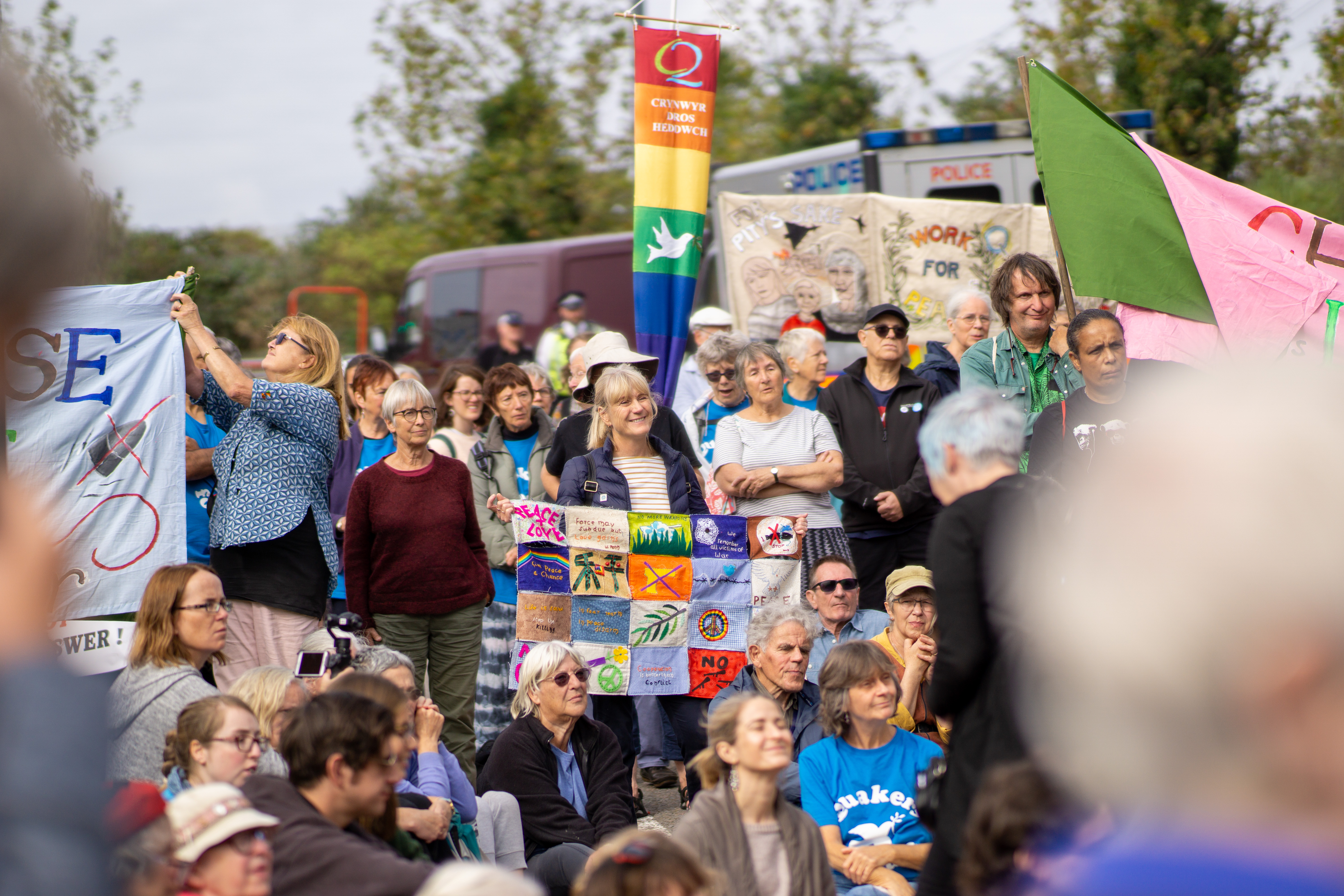 Quakers in Britain are a founding member of Stop the Arms Fair, a coalition of groups opposing the Defence and Security Equipment International arms fair (DSEi) in East London every other year. We build resistance to the arms fair through protest, lobbying, witness, creativity and prayer.
This year, a Quaker network named Roots of Resistance organised faith-led nonviolent direct actions that disrupted preparations for the arms fair. The network organised 700 Quakers and allies in holding meetings for worship in the access road to the Excel Centre on No Faith in War Day (3 September), worshipping in solidarity with those who are victims of the international arms trade.
Around 50 nonviolent protesters, many of them Quaker, were arrested. Oliver Robertson, Head of Witness and Worship for Quakers in Britain, explained:
"Quakers are against all war and preparations for war. Deliberate killing of others denies their humanity and the arms trade, by seeking to profit from killing, is deeply immoral.
"As part of our witness to peace, we held meetings for worship on the road leading to the arms fair venue at the ExCeL Centre. This was interrupted by a police announcement that we would be arrested if we did not move out of the road.
Quakers spoke to police officers, including the inspector in charge, explaining that this was not just 'quiet time' but a holy gathering. Police should behave the same way they would during a Catholic Mass or Muslim prayers towards Mecca. To their credit, the inspector apologised for this and offered to take that as a learning point for the future."
Pressing play on the video below will set a third-party cookie. Please see our cookies page to find out more.
Further reading