Arrests as arms fair set-up is delayed
Many hundreds of Quakers were among people of faith who for nine hours brought to a halt the set-up in London of one of the world's largest arms fairs.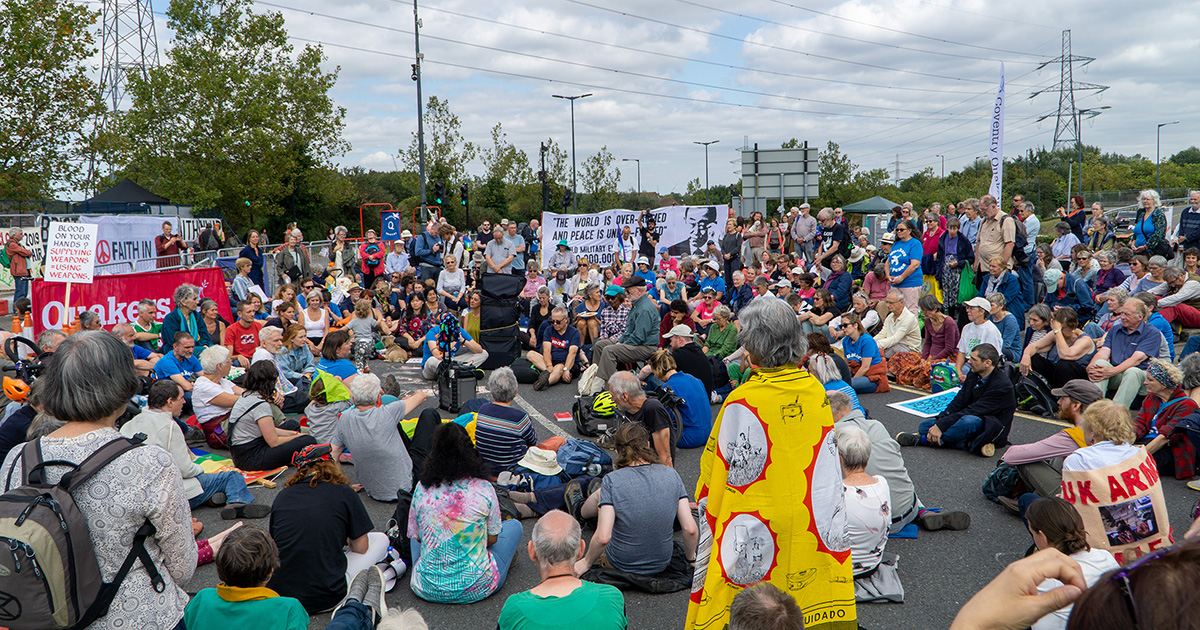 Quakers are committed to stop war. They were there for a day of nonviolent resistance. As around 700 people of faith were kneeling, standing or sitting in the road leading to the ExCeL Centre, a senior police officer broke the stillness of the meeting for worship. He ordered them to move. Around 50 people were subsequently arrested.
Oliver Robertson, Head of Witness and Worship for Quakers in Britain, explained:
"Quakers are against all war and preparations for war. Deliberate killing of others denies their humanity and the arms trade, by seeking to profit from killing, is deeply immoral.
"As part of our witness to peace, we held meetings for worship on the road leading to the arms fair venue at the ExCeL Centre. This was interrupted by a police announcement that we would be arrested if we did not move out of the road.
Quakers spoke to police officers, including the inspector in charge, explaining that this was not just 'quiet time' but a holy gathering. Police should behave the same way they would during a Catholic Mass or Muslim prayers towards Mecca. To their credit, the inspector apologised for this and offered to take that as a learning point for the future."
The Quaker community Roots of Resistance organised the Quaker action.
The No Faith in War day of action on Tuesday was part of a week of protests against DSEI, Defence and Security Equipment International, which brings together arms dealers and military delegations.
The protesters aim to hinder the set-up of DSEI which runs from Monday 9 to Thursday 12 September.
Art the Arms Fair is an ambitious art project to coincide with the protest.
A week of action is planned. Follow #StopDSEI and see CAAT
Monday 2 September: Stop Arming Israel
Tuesday 3 September: No Faith in War
Wednesday 4 September: No Nuclear
Thursday 5 September: Conference at the Gates
Friday 6 September: Climate Justice
Saturday 7 September: Festival of Resistance: Issues of local democracy and international solidarity
Sunday 8 September: Borders and Migration
Monday 9 September a silent vigil on the eve of the opening of the arms fair. Meet in Tidal Basin Road outside Royal Victoria DLR at 6.30pm.Open to all. Bring candles/jars.