Razor Wire & Olive Branches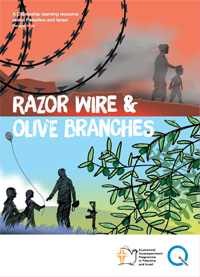 Containing over 80 curriculum-spanning activities and resources, this teaching pack explores conflict, human rights and peacebuilding in Palestine and Israel.
Ages 14-18
"The visit from the EAPPI (Ecumenical Accompaniment Programme in Palestine and Israel) bought a complicated international issue into the classroom in a way that made it entirely accessible to our young people." – Alice Harlan, Year 11 lead
Education resources on Palestine and Israel
This list of education resources on Palestine and Israel (PDF) includes the following areas: Responding to the current crisis; General advice and impartiality; Antiracism; History; Voices from Palestine and Israel; Teaching packs on Palestine and Israel.

Peace Week Pack
Order now! The Peace Week pack contains everything primary and secondary schools need to hold an off-timetable whole-school project week around peace and human rights.
Teach Peace

Individual assemblies
Other documents

FERSIWN CYMRAEG
Y mae 'Teach Peace' yn cael ei gyfieithu i'r Gymraeg ar hyn o bryd. Y mae'r gwasanaeth 'Remembering for Peace' eisoes ar gael yn y Gymraeg. Gellir ei lawrlwytho isod:
Cofio dros Heddwch (PDF)
Sleidiau: Cofio dros Heddwch (pptx)
Elizabeth Fry: The Angel of Prisons was an assembly in the original Teach Peace Pack (2012). The script is available here: Elizabeth Fry: The Angel of Prisons (PDF)
Fly Kites Not Drones
Fly Kites Not Drones brings together a range of learning materials about peace and human rights. It also offers guidance for making and flying your own kite for peace. The learning resource was made in Britain, but the inspiration comes from Afghanistan, a country that has known over three decades of constant war including armed drone strikes.
Find out more on the Fly Kites Not Drones website (offsite link)
Order copies from the Quaker Centre Bookshop.
#EverydayMilitarism Poster
As part of Quakers' work challenging militarism, this poster designed by Abbey Thornton is a great way to spark off conversation about the roots of war and the kind of society we need to build peace. Suitable for use with children or adults.
War School resources
Do we need to Rethink Security?
As part of the Rethinking Security project we've created this secondary school lesson to explore what security really means. Often 'security' is framed as a defence concern, as with terrorist threats, but there are many other security concerns we all face at an individual, local, national, and global level. Young people will be all too conscious of things that make them feel insecure at various levels. This lesson will engage them in thinking about their own role in shaping a more secure world.
Do we need to Rethink Security - complete lesson materials from the TES website.

Budget for a Safer World Lesson
Inspired by the Global Day of Action on Military Spending (GDAMS) on 18 April 2016, this lesson explores four different ways the world could be made safer and gives learners the chance to vote on the best way. Suitable for secondary school age students.
This lesson links to an online poll young people can participate in, available on the GDAMS website.
Advice for Quakers engaging with schools
This resource helps Quakers to contribute to Religious Education learning, either via talks in schools or visits to Meeting Houses.
Resources from partner organisations
A-Level Religious Studies
Pax Christi and Quakers in Britain teamed up to produce resources for the teaching of war and peace as part of the A-Level religious studies curriculum. Lessons examine the Christian contribution to issues of war and peace. And a lesson explore the different concepts of pacifism and the practicality of them. http://paxchristi.org.uk/peace-education/a-level-re/
Youth Refusing Violence from St. Ethelburga's
This resource is designed to help a group leader design a workshop/series of workshops for young people. It aims to:
offer young people insight into the nature of conflict and violence
help young people relate to and draw from the wisdom that is found in their own and other faiths, which may help them refuse the use of violence as an automatic response to conflict
equip young people with realistic alternative methods of dealing with conflict.
World War I learning resources
Conscience and Conviction
Teaching about World War I should be about more than reciting poems about muddy battlefields. 'Conscience' and 'Conviction' have been created to highlight a selection of moral paths taken as a result of the war. Both provide opportunities to reflect on the steps we need to take for a world without war. These materials are based on the work of Don Rowe, teacher, writer and co-founder of the Citizenship Foundation.
Learners pursue a critical thinking project, considering how people responded to the questions they faced and exploring their own reactions.
Women in WWI (PDF currently not available) lesson produced for the centenary of the Women's International League for Peace and Freedom.
To end all wars: An introduction to Remembrance and the Centenary of WWI
Part of the INSPIRE project, this introduction can be used as an assembly or at the beginning of a poppy-making workshop.
to explore the history of war from World War I to the present day
to inspire action to prevent war and build peace
to make a poppy as a symbol of Remembrance for peace
Download resources: