Average read time: 4 minutes
Going frack-free: it takes a village
How do you stop an industry that's backed by wealthy investors and the UK government? With lots of tea, cake and moral support, according to Chris Walker.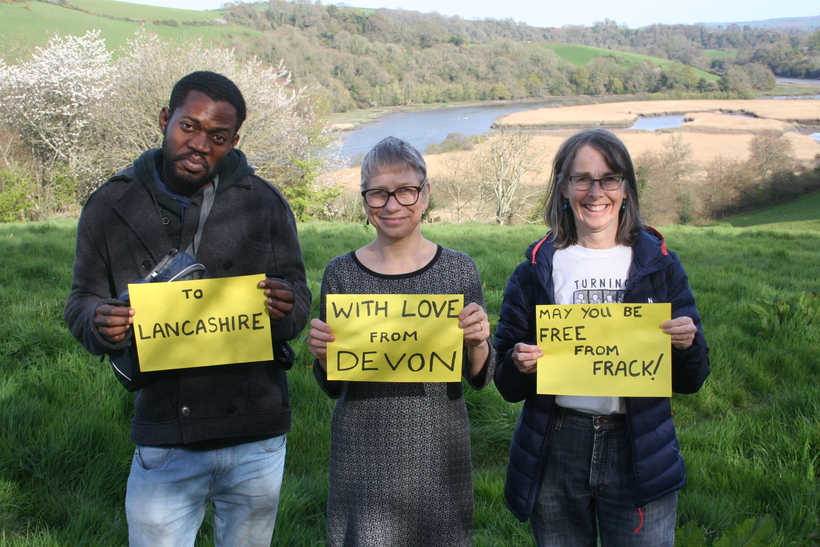 How do you stop something when big business and the government endorse it? This is the big question facing those who resist fracking in England, Quakers included.
While energy companies get tax breaks to extract shale gas (and, of course, make a tidy profit), the industry is bad news for the climate. Fracked gas is highly carbon-intensive.
One company, Third Energy, could get the go-ahead in 2018 to start full operations in North Yorkshire – the first such drilling in the UK in 7 years.
Why the delay? A number of test sites have found the gas or oil reserves located there to be insufficient or inaccessible. But they are also facing relentless resistance from local communities.
Backing direct action
Last year, Jackie Brookes, a 79-year-old retired nurse, briefly became the face of anti-fracking protests. She refused police demands to move her catering van from which she serves tea and cake to protesters outside the Kirby Misperton fracking site in North Yorkshire.
"We help to keep tempers down. It can get heated," she told reporters. "Tea, coffee, hot chocolate, cakes, biscuits, soup, you name it – we even offer Bonios [dog biscuits] for the anti-fracking dogs."
It reminded me that, if we know one thing about movements, it's that they need all sorts of people doing all sorts of things. Some, of course, may be prepared to take arrestable, direct action. But that's not everyone's cup of tea. Quakers are showing there are also many other ways to join in.
Take Cliodhna Mulhern from Lancaster Meeting, for example. She and Friends from Lancashire, Yorkshire and Greater Manchester regularly gather at the Preston New Road fracking site in Lancashire to hold Meetings for Worship. They also hold #NoFaithInFracking days – gatherings of people from a range of faiths for peaceful protest, organised through a Facebook group.
"We bring a peaceful though firm presence that is true to both our Quaker values and our practice," says Cliodhna. "I think that our presence encourages different styles of protest and witness."
Hilary Whitehead from Crawshawbooth Meeting in Lancashire has been campaigning online. She films local actions and shares them as part of Facebook groups that are raising public awareness about the fracking.
She also recently joined others gathered at Preston Magistrates Court in support of the #FamiliesAgainstFracking activists who were facing trial for blocking the road outside Preston New Road. "I think it is very important to support activists willing to take direct action," says Hilary. "It was a privilege to join other friends at their trial."
Like Jackie Brookes, Sarah McLane from Kirby Meeting in North Yorkshire has been providing food for Kirby Misperton protest camp. "As a close friend of others who were prepared to demonstrate quite actively, I felt uncomfortable about joining them," says Sarah. "When I heard about supporting the 'protectors' by cooking for them, I felt this was something I could do."
Writing letters, holding space
One local meeting has offered spaces in their Meeting House for local anti-fracking groups. Other Friends have raised their concerns at consultation meetings run by councils and fracking companies. Many have written to their MPs to express their opposition to fracking, calling on them to work in Parliament to change government policy on this issue.
We're working with Friends and others across the country to call for an end to the UK fracking industry. We're calling on the UK government to face up to the injustice of climate change, and to commit now to keep fossil fuels in the ground.
It's high time the UK seized the opportunity to build a sustainable, renewable energy system that's good for people and the planet. As Friends are showing us, we need all sorts of people, doing all sorts of things, to achieve this.
Find out more about how you can take action on fracking, and demand climate justice