Quaker Week 2023: 'Simple. Radical. Spiritual.'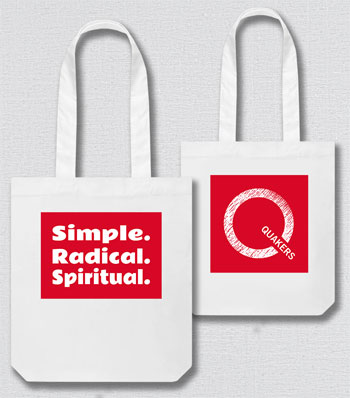 Quaker Week runs every year to help Quaker meetings to attract new people and share their faith.
In 2023, Quaker Week in Wales will be from 5 August to 13 August, to coincide with the Welsh Eisteddfod.
In England and Scotland, Quaker Week will run from 23 September to 1 October.
The theme this year is 'Simple. Radical. Spiritual.'
This year's theme was developed by Quakers in Wales (Crynwyr Cymru), and materials are available in both English and Welsh. It is intended to intrigue people who can then use the QR code to reach a website and find out more about Quakers.
We have a new poster and flyer, a badge, tote bag and t-shirts with this theme. In Welsh a tri-fold leaflet is also available. The Welsh QR code links to the Quakers in Wales (Crynwyr Cymru) website, and the English one links to Quakers in Britain website.
Quaker Week T-shirts and tote bags will be available to order free of charge during August. Numbers are limited, and after Quaker Week these items will be available for sale through the Quaker bookshop. Other badges in three different designs are also available free of charge.
Packs of outreach resources can be ordered if your stocks of leaflets are running low. They contain:
Small: 10 Advices & Queries, 20 contact cards, 10 of each of the Journeys leaflets (40 total), 5 of each badge design (20 total)
Medium: 25 Advices & Queries, 30 contact cards, 20 of each of the Journeys leaflets (80 total), 10 of each badge design (40 total)
Large: 50 Advices & Queries, 50 contact cards, 30 of each of the Journeys leaflets (120 total), 20 of each badge design (80 total)
Order your outreach resources through this form.
Other outreach resources
T-shirts: A wider range of t-shirts is also available to buy (offsite link). These are responsibly and sustainably sourced from a British supplier. Shirts are priced to reflect the ethical and high-quality nature of the product. Their packaging and products can be recycled.
Banners: Please contact outreach@quaker.org.uk to order a banner for your meeting.
Leaflets and posters: There are further free outreach resources including a range of leaflets and posters which are available to browse and download, or to order via email outreach@quaker.org.uk. We also have general resources which may be of interest.
The Quaker Outreach Network
The Outreach Network meets every month on Zoom to bring together everyone interested in outreach. These sessions are a chance to share insights and experiences and to learn more about effective outreach together. You can find information and a link to register on the events page.
If you have any questions, email outreach@quaker.org.uk.
Social media support and resources
Do keep an eye on Quakers in Britain's social media: Facebook, Instagram and on Twitter @BritishQuakers.
We can give advice on using social media effectively, including help with how to advertise your events on Facebook.
Contact outreach@quaker.org.uk to let us know how we can help.
Woodbrooke
Woodbrooke offers a range of online worship opportunities. Visit the Woodbrooke's worship page for information. It's an ideal space for enquirers and many first-time worshippers to attend.
The Quaker Way Woodbrooke course is for those fairly new to Quakerism who wish to find out more.
World Quaker Day
On 1 October 2023 World Quaker Day will be themed Living the Spirit of Ubuntu: Responding with hope to God's call to cherish creation – and one another. This will also be the theme of FWCC's first 'hybrid' World Plenary in 2024.
Map of outreach events
Share details of events or activities you are running for others to find using our interactive map. Add your event.