Average read time: 6 minutes
Everyday solidarity: love in action
Upcoming legislation and ongoing events show solidarity is needed more than ever. Lisa Cumming reflects on what makes that meaningful.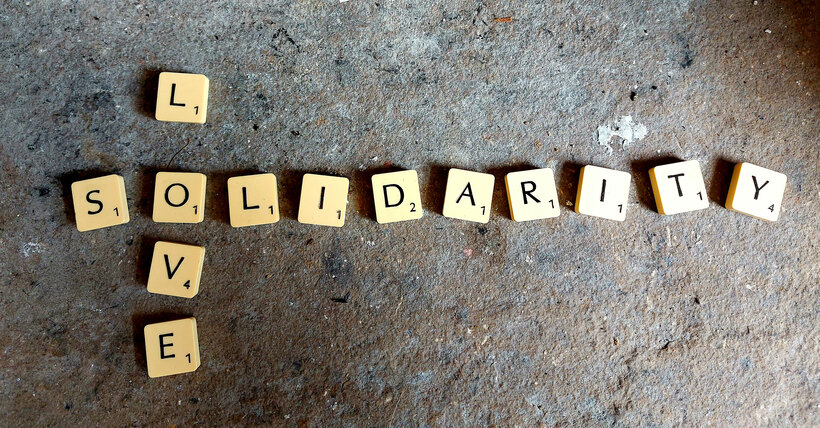 Solidarity has been on my mind.
The word solidarity has a rich history that dates back to Roman times and laws. For me it conjures thoughts, feelings, and actions that are rooted in mutuality, cooperation, and a sense of love or care for one another.
I thought about solidarity when I saw many people's responses to the easing or ending of COVID restrictions (or protections). Heartfelt accounts flooded social media, with people explaining what 'opening up' means for their individual context. Others pointed out the implications for workers in jobs with the highest COVID death rates, often on low wages, and unable to work from home.
It feels important to listen, understand, and amplify these concerns. Alongside being aware that that the line between who is more and who is less vulnerable is a thin, permeable one. As many have pointed out, none of us are really safe unless we all are.
So as someone living in England who is not exempt, wearing a mask on public transport and in indoor settings seems a very small act of everyday solidarity to retain, whatever happens after 19 July. Not as a gesture but as a practical contribution to help keep myself and others safe, alongside lessening the burden on already exhausted healthcare workers in the NHS.

Legislative changes
I also thought about solidarity in relation to the whole raft of proposed legislation and policy measures flowing through parliament right now.
Such as the Government's decision to end the weekly £20 top up to Universal Credit and Working Tax Credits. Joseph Rowntree Foundation research shows taking away £20 from people means 6.2 million low-income families lose £1,040 from their annual income, "causing serious financial hardship and pulling 500,000 people into poverty, including 200,000 children".
In response, anti-poverty organisations are campaigning to #KeepTheLifeline, alongside those with direct experience of living in poverty like the APLE Collective.
And in more global terms, on 13 July the Government narrowly won the vote to cut overseas aid spending from 0.7% GNI to 0.5% (£4 billion). The day after a UN report warned that almost one in three people globally are going hungry.
Challenging draconian impacts
Then there's the Police, Crime, Sentencing and Courts Bill which passed its third reading in the Commons on 5 July. This bill might be most familiar due to its threats to protest, including powers to ban protests that might be deemed "noisy or alarming". But the bill features many other potentially draconian impacts. In its current form it would likely deepen racial inequality in the criminal justice system, criminalise homeless people, and threaten the way of life for Gypsies, Roma and Travellers.
Alongside those most impacted, Quakers in Britain are working with a wide range of organisations to persuade the government to scrap parts of the bill. If the bill becomes law, active and ongoing solidarity will be needed.
There's also the Nationality and Borders Bill, introduced to the Commons on 6 July. A piece of legislation that the Refugee Council points out would criminalise many people seeking protection in this country, and create new barriers to people fleeing war or persecution. A bill that could even affect the Royal National Lifeboat Institution (RNLI), simply because their mission is to "save lives at sea... without judgment of how they came to be in the water".
It's quite something when sleeping in a van either through choice or necessity, noisy protest, or even rescuing people from drowning at sea could become criminal offences.
All of this strikes me as the opposite of solidarity and an example of what happens when we don't see that of God or good, or even basic humanity in one other.
Loving solidarity
We saw the opposite of solidarity when the mural to footballer Marcus Rashford was vandalised in Withington (Manchester), following England coming second in the Euros. But local people responded swiftly and with loving solidarity as they covered the mural with supportive messages. As Rashford said, "The communities that always wrapped their arms around me continue to hold me up".
The question for those of us less directly impacted by policies in the pipeline or racism and discrimination in society, is how to respond with meaningful solidarity. This may include listening to those most affected and responding to calls for action from petitions to protests. It might mean seeking out possibilities for longer term campaigning and organising alongside those who are most marginalised, minoritised, and criminalised.
Meaningful commitment
It also means taking heed of organisations like the Racial Justice Network (RJN) that solidarity should not be contingent. In the aftermath of racist abuse experienced by Black footballers, RJN pointed out that solidarity with Black and racially minoritised communities should not be based on whether or not people are doing good in the world rather, "We deserve respect, dignity, safety and joy regardless of what we do in life".
And meaningful solidarity means keeping in mind the wisdom of writer and scholar Sara Ahmed in The Cultural Politics of Emotion,
"Solidarity does not assume that our struggles are the same struggles, or that our pain is the same pain, or that our hope is for the same future. Solidarity involves commitment, and work, as well as the recognition that even if we do not have the same feelings, or the same lives, or the same bodies, we do live on common ground."