Average read time: 4 minutes
Racial injustice and the Policing Bill
Teresa Parker explains how the Police, Crime, Sentencing and Courts Bill will deepen racial inequality in the criminal justice system, and shares action you can take.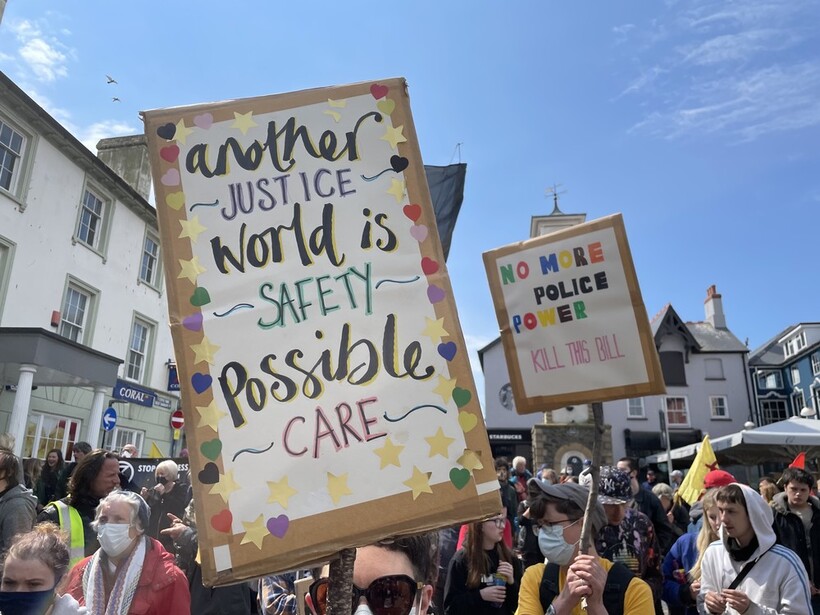 The Police, Crime, Sentencing and Courts Bill aims to equip the police with new powers, introduce tougher sentencing where serious harm has occurred and modernise existing court processes. Quakers have many issues with this bill, and recent blogs have explored the impact on the right to protest and action you can take. This blog focusses on how the bill embeds racism further within the criminal justice system (CJS).
It is currently at committee stage in the House of Commons, ending 24 June. Keeping it on the agenda is important as it moves through the parliamentary processes.
Current racial inequality in the CJS
There is already racial inequality within the criminal justice system. Edwina Peart, Diversity and Inclusion Coordinator at Quakers in Britain, describes the CJS as being at "the apex of racism in the UK".
Research by the Revolving Doors Agency shows that black young adults are twice as likely to receive a caution, 8.4 times more likely to receive a conviction and 1.5 times more likely to be sent to prison. They are given prison sentences that are 80% longer than those given to white young adults who commit similar offences.
Black young adults were not consulted about the bill. Their communities already experience everyday racism, and levels of trust and confidence in the police and courts is very low.
The government's own Equality Impact Assessment (EIA) of the bill acknowledges this lack of trust, and the consequences of this. It stated: "We know from the Lammy Review that some BAME defendants have little trust in the CJS or in the officers in the police station, which can lead them to offer a 'no comment' response at interview or not admitting to the offence. This can result in an escalation of the matter by the police resulting in a prosecution".
A scenario
A black young adult is with a noisy group of friends. He sees a police car arrive and runs off. His white friends stay and are told to quieten down. The police catch up with him later. Their questions scare him even more. He hasn't done anything wrong and decides to say nothing. At the moment the police would probably caution him. But the new bill requires an admission of guilt before a caution can be given – so he's not going to get a caution. The police don't see that his community's experiences of racism prevents him from trusting them. An escalation towards prosecution takes place and, as the research above shows, he is 8.4 times more likely to be convicted than his white friends.
What appears extraordinary is that the EIA recognises that an individual's experience of racism directly impacts on how possible it is for them to trust the police.
Despite this, the government includes in the bill a clause that expects young people from BAME backgrounds to trust the police enough to admit to an offence. Instead the bill is likely to further decrease trust and lead to even worse outcomes for these individuals. This is a single example from a number of clauses in the bill that have the effect of embedding racism in the criminal justice system.
Efforts to improve community relations
There have been national measures taken to try and improve trust and confidence in the CJS, including the 2014 Police Code of Ethics. The code states that all officers and staff should take active steps to oppose discrimination and make their decisions free from prejudice. Independent panels have also been set up to scrutinise policing.
But these measures are not yet working. Until they do, trust and confidence can be neither presumed nor required from those experiencing racism. Introducing a bill that will likely further erode trust between police, black young adults and their communities, is going to make a bad situation worse.
Even when acknowledging a risk of indirect discrimination, arguments such as 'responding to public demand', 'a proportionate response' and 'lawful discrimination' are used to justify the new measures and powers in the bill. Despite claiming that tackling racial inequality is a priority, this bill undermines rather than strengthens that aim.
Action you can take
Contact your MP to raise your concerns about the bill. You can use our guide to contacting your MP (PDF).
Keep your Quaker meeting up to date about the bill.
Support groups already objecting to racism in the bill or criminal justice system, e.g. Maslaha or EQUAL.
Watch this 2 minute video about tackling racial injustice in the criminal justice system.
Read Entrenching Racial Disparity (PDF), a report by members of our partner organisation, The Criminal Justice Alliance.