Average read time: 5 minutes
Working for peace in East Africa during the Covid-19 crisis
Tobias Wellner looks at how community organisers in Kenya, Burundi and Rwanda are nurturing nonviolence during a pandemic.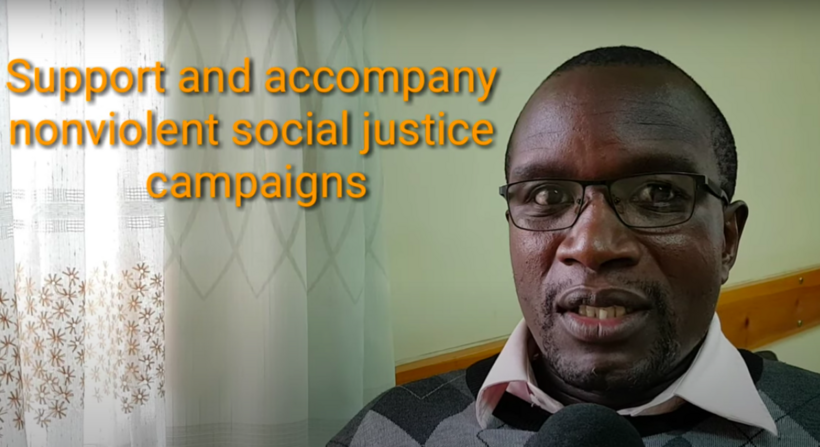 Coronavirus has now reached East Africa. Unlike many European countries, most governments in East Africa were very quick to impose movement restrictions in an effort to lessen the spread of the virus.
The Turning the Tide (TTT) East Africa teams we work with immediately began discussing how the pandemic impacts their peace work and how they can continue supporting nonviolent campaigns during these difficult times.
East African peacebuilders have adapted and applied the Turning the Tide nonviolence social action training model in their communities since 2010. Across Kenya, Burundi and Rwanda they now nurture a vibrant and evolving peace movement with 14 staff and a network of more than 70 volunteers. In 2019 they trained more than 600 people on nonviolent campaigning and supported over 100 campaign activities.
Peace at risk
Soon after the first cases were reported Kenya, Rwanda and Burundi all closed their borders. In Rwanda no-one is allowed to leave their house except to buy food, for medical reasons or for essential work. No-one is allowed to travel; churches are closed and all public gatherings have been banned.
In Kenya the situation is similar. No-one is allowed to leave or enter Nairobi or other major cities. A night curfew and other restrictions have been put in place.
However, the movement restrictions also bring many challenges.
In Kenya and Rwanda movement restrictions and the closure of many businesses have led to the loss of thousands of livelihoods. Especially in poor urban areas, social distancing and adhering to new hygiene regulations is impossible. Unlike in Europe, a functioning social welfare system does not exist and many people are too poor to have savings. Families are going hungry and some existing tensions are rising.
Campaigners in Kenya have reported an escalation of police brutality since the restrictions were imposed, with conflicts between police and civilians in Eldoret and other cities. Violence between rival associations of motorbike taxis broke out in Kisumu as groups fight over a shrinking market. TTT campaigners are extremely concerned about an increase in gender-based violence and sexual abuse.
In Burundi the government has not put movement restrictions in place, though many Burundians are extremely worried about the further spread of the coronavirus. Nevertheless, political campaigning for the upcoming elections on 20 May has started. The TTT Burundi team has been working with youth members of different political parties on conflict resolution techniques to try to defuse violence before, during and after the elections.
Shifting campaigning online
In usual circumstances, TTT East Africa teams facilitate nonviolence workshops with grassroots groups and support activists by organising large public gatherings as part of their campaigns. Due to the ban on gatherings in Kenya and Rwanda, the teams in those nations have stopped these activities.
Team members in Rwanda and Kenya are now working from home and stay in touch with community groups by setting up large WhatsApp groups. In Kenya one group brings together 80 nonviolence activist leaders from nearly 40 community groups across four regions. Updates on ongoing campaigns are shared, and staff provide campaign groups with advice on how to continue their work.
A massive amount of false information about the coronavirus is being spread through social media. With the goal of countering this false information, TTT staff are publicising health messages from government authorities through their communication channels.
The teams in East Africa are overcoming the challenge presented by bans on public gatherings in a number of ways:
In Nairobi, Kenya, a TTT-trained campaigner partnered with a local organisation, news station and local community leaders to raise awareness of the Covid-19 pandemic. The campaigner then trained local leaders on nonviolence. This successful approach was shared online and campaigners in other regions are now replicating it.

In Kisumu, nonviolence campaigners are using online groups to strategise addressing violence between two conflicting factions of motorbike taxi associations, which has already resulted in the death of a driver.

In Kakamega, a group of campaigners are using online platforms to mobilise their communities against the increasing number of sexual assaults on teenage girls.

In the North Rift region, communities are mobilising online against police brutality.
Sticking with it
"Staying in touch is key" to mitigating the impact of lockdown measures, according to TTT Kenya Coordinator Benard Agona. TTT East Africa's response to the crisis is enabling a growing network of peacebuilders to keep advocating nonviolent social action in their communities. Although it's been a stressful and worrying time for everyone involved in this work, their efforts are paying off as people adapt to new ways of working.
Quakers in Britain continue to stand in solidarity with our East African colleagues at this challenging time through staying in regular touch, ensuring that financial assistance remains, providing advice and sharing learning resources. We are all learning day by day to adapt, but I continue to be inspired by their courageous work.