Average read time: 3 minutes
How will a blended Yearly Meeting work?
The annual assembly of the Quaker church in Britain will be held both online and in person this year. Adwoa Burnley and Fred Langridge explain how it will work.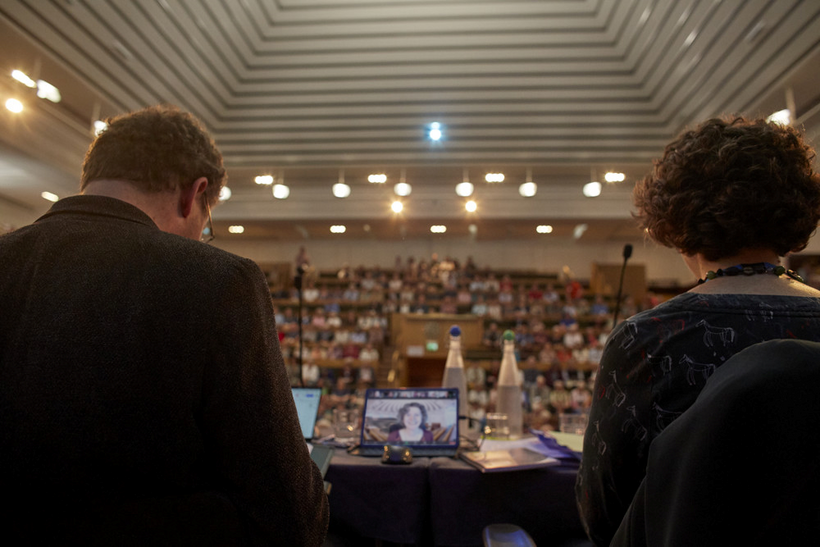 In 2019 the idea of joining Britain Yearly Meeting in session by video link was unthinkable. One was present in person at Yearly Meeting or not at all.
In the first of these pandemic years, 2020, video link was the only option available and was a cautious experiment, just for one afternoon of essential business. In 2021 many of us were able to take part in a full-programmed Yearly Meeting Gathering that was entirely online, with activities from singing together to examining our approach to anti-racism, all taking place through video calls.
It was such a relief to find that we could gather together in this way. We might have missed seeing one another's feet as well as faces, but the opportunity to include people who are prevented from attending in person by distance, disability or other commitments is something to celebrate. The staff team put in a huge amount of work to make this possible in extraordinary circumstances.
Blended Yearly Meeting
In 2022, we are attempting something even more challenging: a blended Yearly Meeting. Friends can register to join online or to come to Friends House in London.
To contribute to this, all preparation sessions and events hosted by other Quaker organisations will be held online, during the week before Yearly Meeting itself. Some members of Yearly Meeting Agenda Committee will be joining online and some in person, so we'll have experience 'on the ground' from both perspectives.
Exploring our theme
Our theme will be 'faith, community and action': How do we experience worship, community and witness? How can we build Quaker communities that respond to challenges and put faith into action? How can we transform thinking and action in Quaker communities and wider society?
All of these questions inform the planning for a blended Yearly Meeting as well as the discernment within it. How can we use communication technology to enrich our worship all together, when for some it has been the only option for some time? What does community look like online, or when geographically dispersed? What does faith in action look like at times when we can't gather together in person?
Friends online and in Friends House need to feel equally part of the gathered Yearly Meeting. Some of us have experience of blended meetings for worship, and blended meetings for church affairs at a local, area or national level – but discernment in a blended meeting the size of Yearly Meeting will be new to all of us. We will be one business meeting with two very different ways of engaging.

A new approach
Agenda Committee is approaching this with trepidation and excitement. We will all need to be patient, mindful of the newness, aware that we are all learning how this goes. Clerks and elders may need to give more instructions than usual – and there may be more repetition in notices. We may need to take everything more slowly, to wrap our contributions in more silence.
In practical terms, much remains the same: Friends are asked to test their leadings to make a spoken contribution, to raise a hand (online) or stand if possible (in person) and wait to be called by the Clerk. Everything we are doing differently is an experiment, but the way forward points back to our Quaker discipline, built over centuries of experience together.
Registration for in-person Yearly Meeting, including youth, children and families' programmes, is open until 6 May. Registration to attend Yearly Meeting online is open until 20 May.