Average read time: 4 minutes
Witnessing against the arms trade at DSEI
Every two years one of the world's largest arms fairs comes to London. Ann Bettys from Quaker Roots outlines the Quaker action taking place against it.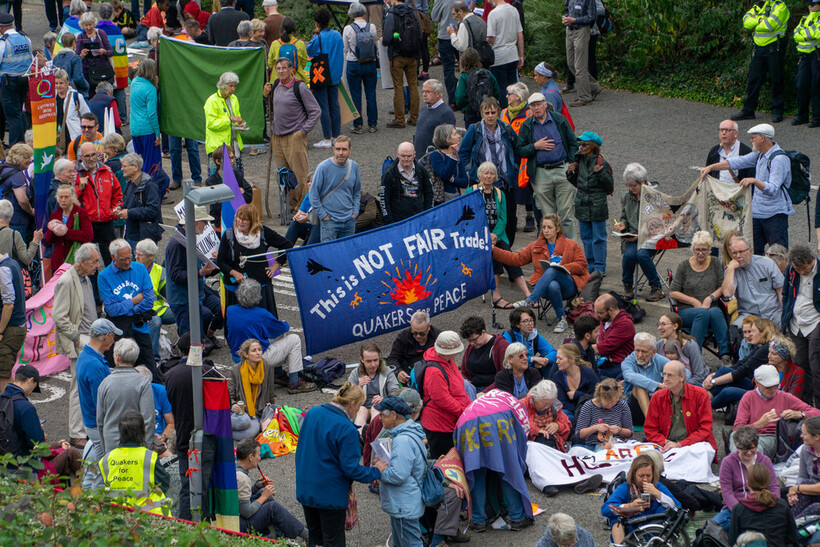 "Our Quaker community is a gathering together of peacemakers. We gather, we sit together in silent worship, and we disperse again, knowing that the work of peace cannot be accomplished in our meeting houses, it can only begin there.
We are convinced that the making of peace demands us to return to our world in love, to stand firm in public, to confront the "powers and principalities", and to assert that in this time of permanent war, no government which involves itself in the arms trade, no government relying on and colluding with a militarised system, can govern well or for the benefit of all. We are resolute and will not submit before a governing hand that subsidises, facilitates and profits from the sale of weapons to ruthless dictators in our name." – Part of Quaker Roots Epistle, a grassroots network of Quakers.
Quaker Roots are on the move again! We are getting ready to be present at the arms fair in London on 14 September to witness against this deadly trade. In 2019 hundreds of Quakers came to protest against the arms fair, some were arrested and in the week before the arms fair the road into the centre was closed for many hours.
This year we will be taking part in a day of action with Stop the Arms Fair. Many other groups will come together for talks and dancing and protesting outside the ExCeL Centre in London where the Defence and Security Equipment International (DSEI) arms fair will take place.
A market for lethal wares
It will be the first day of the event and arms dealers will be arriving at the exhibition. 1,700+ arms companies plan to set up shop, marketing their lethal wares to an expected 36,000+ attendees from around the world. This year they will be joined by companies selling surveillance equipment, drones and other tools of repression to police and state agencies.
DSEI is supported by a government department dedicated to promoting the arms trade: UK Defence and Security Exports, part of the Department for International Trade. Delegations attending will include many from human rights abusing countries and countries involved in conflict.
The arms trade "operates according to its own rules, largely unscrutinised, bringing enormous benefits to the chosen few, and suffering and immiseration to millions. The trade corrodes our democracies, weakens already fragile states and often undermines the very national security it purports to strengthen." – Andrew Feinstein, The Shadow World: Inside the Global Arms Trade.
Supporting from outside London
We know that not everyone will want to come to London. We encourage friends to take local action, perhaps to witness outside your local arms traders. Campaign Against Arms Trade provides details of arms companies around the UK on their website.
Friends might like to hold a vigil in their local community with information for the public about the arms trade. Quakers and others are holding a vigil at the MBDA missile manufacturers in Bolton (contact Northern Friends Peace Board for details). We can make the connection between those who are the victims of armed conflict and the arms traders.
Timeline of Quaker Roots action
On Monday 13 September there will be briefings at Friends House, Euston at 11.30-1.30pm and repeated 2-4pm. There will also be a multi-faith vigil outside the ExCeL from 6.15pm, organised with Quaker Peace & Social Witness and Pax Christi.
On Tuesday 14 September we will come together to bear witness with meetings for worship outside ExCeL at 9am and 2pm. Travel to the ExCeL by the London Docklands Light Railway (Royal Victoria station).
On Wednesday 15 September there will be a Merchants of Death walking tour, with a presence in worship outside London Arms dealers' offices. Meet at 11am at Friends House, Euston.
We invite you to join us in London next week. Keep in touch: register to receive email updates, follow us on Twitter, Facebook or Instagram and join our Telegram channel to keep up to date with place, time and what's happening.