Average read time: 3 minutes
Quakers say there's 'room for more' at the meeting house table
Quaker Week begins Saturday 29 September. Suki Ferguson explains what's happening this year, and what support is on offer to meetings who are reaching out to their local communities.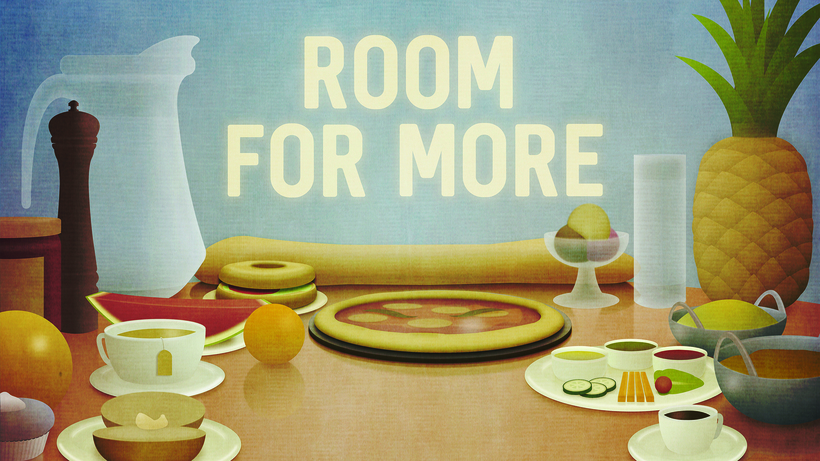 Whether they're in the centre of towns or the outskirts of villages, Quaker meeting houses are a familiar sight for many across Britain. But for the majority of passers-by, what actually goes on in them remains a mystery. This Quaker Week we're hoping to change that: to share the warm welcome that awaits people if they enter our meeting houses, and to let them know that we have room for more.
Quaker Week (29 September–7 October) is a moment in the calendar where Quakers are supported to share their beliefs, their ideas and their gifts with their wider communities. It's a time for outreach. Not every meeting takes part, but the offer of central support from Britain Yearly Meeting is there for all who may need it.
The 'room for more' theme is inspired by the joyful welcome that meeting houses across Britain have offered to migrants and refugees. Many events held by Quaker Sanctuary Meetings involve sharing meals across cultures and traditions. Sharing food brings us together and satisfies us.
And food has meaning beyond meals. Quakers offer a table already rich with good things, but it is not necessarily complete. What's missing from the table? How can Friends let people know that there's a space for them? And that their presence and contribution enhances that space?
Quakers want to let people know that there is space for them in Quakerism. There is room for more at the table, and Quakers value everyone who might sit at it. Gathering around that table enriches everyone.
What's happening already
Bring and share lunches and evenings are popping up on the interactive Quaker Week map. Dozens of meetings are working on organising events for Quaker Week already. Those whose meeting houses are considered historic are holding open house days for visitors interested in heritage. Others are looking at local history – Peckham Quaker Meeting is holding a talk about the links between radicalism in Peckham and the Quaker faith.
Share your event
Reaching the local media, whether that's the local newspaper or radio station, can be daunting. We encourage Friends working on Quaker Week events to get in touch with us so we can help you with publicity. To get support with contacting your local media contact BYM Media Officer, Anne van Staveren. Events can be on any topic – we just want to help you get them seen and the Quaker faith more widely known.
Another thing to consider is how to promote your event online. A first step could be to add your event to our local events listings page, making it easy for people to look up what's happening near to them.
Other tried and tested ways of sharing what you're doing include setting up and promoting Facebook events, putting up posters on local noticeboards, and making sure that your meeting house displays the new 'room for more' poster by its front door. For those who aren't sure about how to manage the social media element of promoting an event, you'll find Friendly advice over on the Quaker Life Network Facebook group.
Speaking of social media be sure to share photos from your events using #QuakerWeek. Another use for the hashtag this year is to share the story of a Quaker which inspires you, such as a historical Quaker, someone you know, or a Friend whose work particularly resonates with you.
We hope that you and your visitors share in a joyful experience through whatever your meeting chooses to do, during Quaker Week and any week. In the words of George Fox, may we walk cheerfully over the world, answering that of God in every one.