Average read time: 4 minutes
Mental health: the elephant in the room?
Alison Mitchell explores how Quakers with mental health issues experience Quaker meetings, and asks whether we should be speaking out more about mental health in society.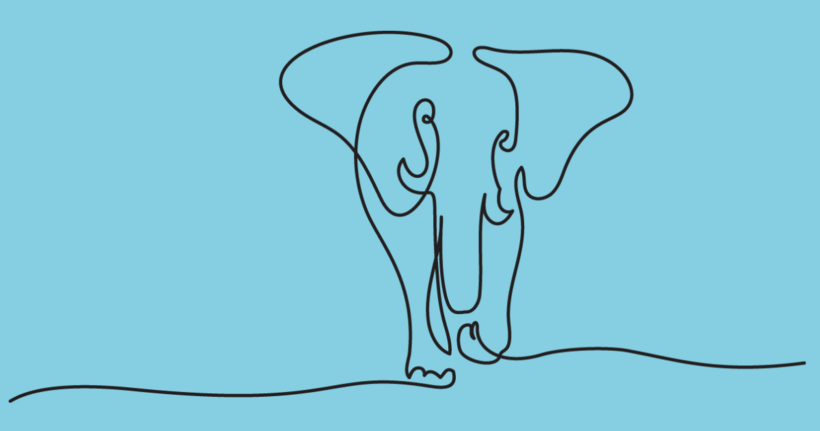 Mental health is an issue for many Quakers. According to the charity Mind, approximately 1 in 4 people in the UK will experience a mental health problem each year. As with any group, many people who are part of our community experience problems with their mental health now or have done in the past.
Quakers are committed to exploring the impact of truth and equality in our own lives, in community and in wider society, and this includes acknowledging mental ill health and supporting those who are struggling with it. Our heritage of concern and action in this area can be seen in The Retreat hospital, which was founded in 1796 by Quakers.
However, some Friends say that mental health isn't being openly talked about, and that people aren't always well supported in Quaker meetings. While Young Friends General Meeting have worked on this recently, it's also not been something that we as a wider group of Quakers in Britain explicitly campaign about.
In short, some feel that mental health is an elephant in the room that isn't being properly discussed by Quakers. But there are signs that maybe this is beginning to change.
Sharing experiences
I was recently at Quaker Life Representative Council, a twice-yearly gathering of Quakers from across Britain who are concerned with the spiritual and practical side of Quaker meetings.
Our topic this time was mental health. It was an inspirational three days full of information, activities and reflection. People left with ideas, hopes and plans to bring the topic of mental health out into the open in their area and local meetings.
They also all left with a copy of new booklet, Mental health conversations (PDF), which asks: what is our Quaker witness on mental health? Should we look beyond our meetings and consider some of the causes of mental distress, the impact of our consumerist society, the state of mental health services? Should we speak out?
The booklet is based on interviews I conducted with 23 Quakers who have lived experience of mental health problems. These conversations were a chance for the individuals involved to talk about their experiences without being assessed and without a required outcome. It was a valuable experience for many of them and a real privilege for me.
I met people who felt excluded from their Quaker meeting due to their mental health issues. They felt patronised, felt 'other', felt they couldn't share what was really happening to them. I heard of Friends with oversight responsibility who panicked at the mention of mental health, or offered endless unwanted advice. And I met people who had found community in Quakers. They felt valued and loved, were accepted for who they were, and had been helped to build a meaningful life.
I found that some people valued meeting for worship above everything else, while others found an hour of silence overwhelming, or the after meeting cup of tea excruciating. But everyone wanted to be better known by their Quaker community, and everyone wanted to feel able to share their experiences. Everyone felt that mental health was an issue that must concern Quakers.
An invitation
A copy of Mental health conversations will be sent to every local meeting. You can also download a digital version (PDF) or order a copy from the Quaker bookshop at Friends House, London. Why not track it down? It's a good read and it could help with reflections on Quaker understandings of mental health.
It feels like there are still some dark corners, but I hope that we are inviting the elephant in the room to come out of the shadows and into the light. I'll leave you with a minute from this year's Quaker Mental Health Forum, which explored mental health in community and our Quaker witness in developing spiritual connections within communities:
"In thinking about mental health in society, in our meetings and with respect to individuals, we ask the question: 'What are we modelling? Is it healthy?'
"We can change the way we do things, opening and encouraging regular dialogue to facilitate this. We need to support each other to look after ourselves, our meetings and the wider community."