Average read time: 4 minutes
Never again? Inspiring peace for Remembrance Day
Ellis Brooks explains how a UK-wide youth project is marking the centenary of the end of WWI by offering children another perspective on war.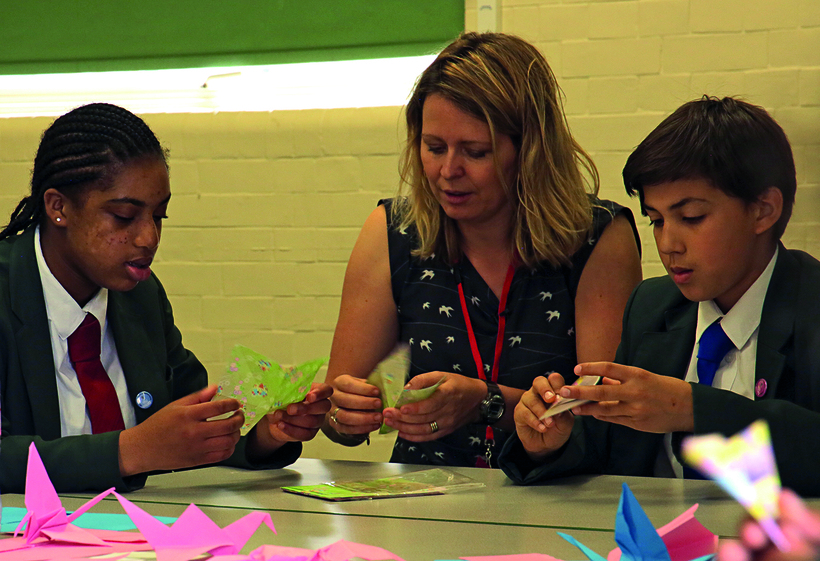 This year Remembrance Day, on Sunday 11 November, marks 100 years since the end of World War I.
Remembrance Day brings up many narratives about WWI. They range from 'a heroic sacrifice for freedom' to 'a pointless slaughter', from 'a necessary endeavour to contain German militarism' to 'an avoidable disaster'. In the peace education team we've been working with the UK-wide INSPIRE youth project to help make Remembrance Day about one thing: building peace.
Through INSPIRE children across the United Kingdom are coming together on Friday 9 November for special remembrance events focusing on peace. At Finsbury Park Mosque and Coventry Cathedral, from Belfast to Bradford, 15 major events have been organised.
Gathering for peace
Quakers in Britain are hosting an event at Friends House for 800 London primary school children. Hundreds of schools are also holding peace-themed assemblies and exploring peace in the classroom.
Children have been learning peace songs, studying the effects of aerial bombing, training in conflict resolution, folding peace cranes and learning about contemporary conflicts like Palestine and Israel. It's really exciting to see such wide engagement.
Meanwhile Quakers and others have also been sending us handmade white poppies by the box-load to be displayed as part of the Collateral Damage project, and there's a big peace festival happening here on the day itself, 11 November.
If you want young people to join INSPIRE in your community, there's still time to contact schools and share the Remembrance for Peace resources.
A century of conflict
We're not involved in INSPIRE because we want young people to come up with the 'right answer' to what remembrance is about and move on. We need the next generation to be much better equipped to grapple with the complexity of peacebuilding. Because we haven't figured it out yet – the 'war to end all wars' certainly didn't do the trick.
As one of the centenary initiatives, church bells will ring out across Britain, echoing the celebrations of 1918. But in 1918, as now, this did not mean Britain was finally at peace. British forces were already fighting in the Russian civil war. British forces would be involved in armed conflict every succeeding year, largely in foreign fields, right up to today. We also need to grapple with that century of violent colonial oppression and the inequality that still festers.
Today British soldiers are deployed in Afghanistan and the Royal Air Force has been conducting air strikes in Iraq and Syria. That's not to mention the arms and technical support Britain supplies the Saudi-led coalition fighting in Yemen. Defence Secretary Gavin Williamson recently called for more military intervention, so the pattern hasn't changed greatly.
Never again?
Reviewing this military record, 'never' and 'again' seem like bitter words. But I'm lucky because I get to see another story. One of the best things about my job is working with young people. Whether they're exploring how to resolve conflict between themselves or learning about global issues, children bring energy, creativity and curiosity. This is what we hope to galvanise with INSPIRE.
My colleague Marigold Bentley once said "if war is the answer, we're clearly asking the wrong questions".
I think those questions come readily to children. Why does war happen? Can it be stopped? What if people talk to the other side? Can they play football instead?
And suddenly, 'never again' doesn't seem so bitter. It is our eventual destination.
Pressing play on the video below will set a third-party cookie. Please see our cookies page to find out more.