Average read time: 4 minutes
Upholding peace in Burundi through crises
Navigating tense elections and the Covid-19 pandemic, Christine Kanehure outlines how Quaker-supported Turning the Tide Burundi are actively involved in upholding peace.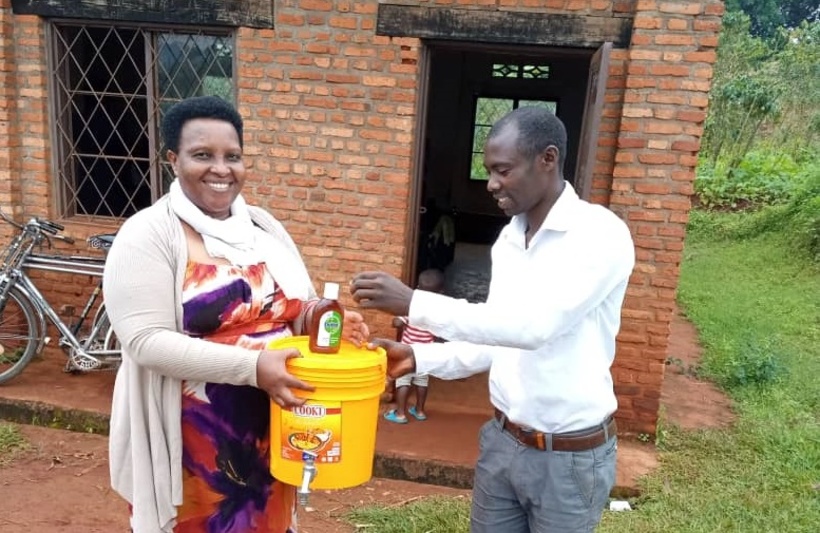 In the last couple of months, my country has been through a very difficult socio-political period. As peace activists in Burundi we have faced two main challenges: a turbulent political situation and the Covid-19 pandemic.
On 20 May 2020, we had presidential, legislative and municipal elections in Burundi. The last presidential elections in 2015 were marked by violence. This year I and other Quaker peace activists were official election monitors on election day. Under the leadership of Burundian peacebuilding organisation MIPAREC and the Quaker Peace Network, I observed the voting procedures at a polling station in the Nyanzalac region in Burundi. I was responsible for observing if voting followed the legal procedures and was able to reduce some of the tension between members of the two biggest parties, CNDD-FDD and CNL.
A few days after the elections, the Independent National Electoral Commission announced that the ruling CNDD-FDD party had won with 67% of the votes. Opposition leader Agathon Rwasa went to the Constitutional Court to challenge the outcome, but the highest Burundian Court upheld the results. It was already a tense situation in Burundi, but then things got worse on 8 June. It was a very big surprise for all Burundians when the government announced that outgoing President Pierre Nkurunziza died unexpectedly.
The death of Nkurunziza
After the death of Nkurunziza many rumours spread very quickly about how and why Nkurunziza died. Some said he was a victim of Covid-19, others said he was poisoned. The official government announcement read that he died of a cardiac attack. Many Burundians were very uncertain of what would follow. Who should lead the country after the sudden death? Would things remain peaceful? It was a very scary time for many of us.
After yet another key ruling by the Constitutional Court, president-elect Evariste Ndayishimiye was inaugurated as the new Burundian President on 18 June. Though Ndayishimiye is from the same party as his predecessor, Burundians are expecting changes on political, social, security and economic levels.
Adapting to the pandemic
Meanwhile, the Covid-19 pandemic is also spreading in Burundi. The government introduced some restriction guidelines from the World Health Organization. Burundians are asked not to shake hands or hug each other when they meet (as is custom in Burundi), people are asked to regularly wash their hands and to keep a social distance.
Though the country's borders are closed, large gatherings continue to take place and people are allowed to move around freely. This was especially true for the election campaign period, when thousands of people gathered to attend party rallies. It remains very difficult to identify infections due to limited diagnosis equipment, there is only one hospital in the entire country that has these capabilities and there are only a handful of respiratory machines to treat severe cases. Recently the newly appointed government launched a mass testing programme. The Ministry of Public Health has announced that there are currently 269 Covid-19 patients (as of 13 July 2020). Officially, one person has died so far.
Championing peace and health
As a peacebuilder, I work for the nonviolent campaign training and accompaniment programme, Turning the Tide (TTT) Burundi. Together with my colleagues, I train other Burundians how they can nonviolently campaign for social justice and peace in their communities. Though the context was very difficult recently, I was still able to carry out certain activities that aimed at upholding peace. Before the elections took place, my colleagues and I engaged with local members of different political parties to encourage them to use peaceful tools in political campaigning. Although violence between different members of political parties was reported before and during the elections, in the areas we worked in, the situation remained peaceful.
While Covid-19 continues to spread in Burundi, my colleagues and I are engaging communities with health messaging. MIPAREC started to include health messaging in all their peacebuilding activities and in Ruyigi, I personally engaged with the Burundi Red Cross to carry out Covid-19 awareness sessions with the local community.
The work to come
Our peacebuilding work will need to continue in future. Not only is Covid-19 bringing new challenges, but there will also be local elections in August. Tensions from the post-election violence in 2010 and 2015 continue and calls for the attention of Burundian peacebuilders. Various forms of cultural and structural violence are still present in my country. Just because the elections are over, does not mean social injustices disappeared. Peacebuilding and our methods of nonviolent campaigning remain really important for the peace of Burundian communities.
The international community can help peacebuilding in Burundi by continuing to fund local Burundian organisations that carry out this difficult work. You can do this by supporting TTT Burundi, or other peacebuilding approaches. Especially during the Covid-19 pandemic, we need your support so that we can continue to message about prevention and to rally the Government to provide diagnostic devices and treatment. You can help us so that we can further spread the initiatives of local peacebuilders.