Average read time: 6 minutes
Responding creatively in divided times
What might living adventurously in divided times look like? Lisa Cumming from Turning the Tide shares some ideas.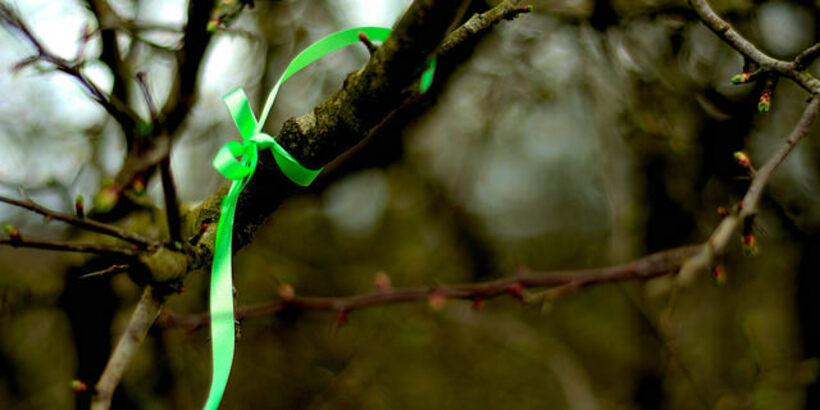 It has been pointed out many times that the EU referendum was perhaps a symptom rather than the cause of unresolved social divisions in the UK. It is also clear that those pre-existing divisions have deepened over the last few years.
Beneath the very troubling and well-documented hate crime statistics are real stories of hurt and harm. So what can we do in these divided times to work with and through these divisions? Below are some ideas that I find both inspiring and venturesome.
Bradford Women for Peace
In 2010, the English Defence League decided to hold a big demonstration in Bradford. A group of local women responded by forming Bradford Women for Peace. They chose not to organise against the EDL but instead to organise for peace, using green ribbons as a symbol of peace and solidarity.
Pressing play on the video below will set a third-party cookie. Please see our cookies page to find out more.
Anger, fear and hate were met with a sea of green ribbons. Taxi drivers put them on their cars, people wore them around their wrists, hair and hijabs. Wahida Shaffi, one of the founders and organisers, describes the importance of standing together for peace and solidarity to set the tone:
"As women from across Bradford's diverse communities, we came together in solidarity to spread the message of peace and unity. We invited women to stand alongside one another to create a giant web made from green ribbons to show that the lives of women in Bradford are woven together. People sang songs, handed out green ribbons and wrote messages of peace, which they tied to a peace tree. All these small acts of resilience and peace set the tone for what lay ahead."
Tea and Tolerance
Inspired by York Mosque who invited EDL members in for a cup of tea, a group of artists in Leeds set up Tea and Tolerance. It's a project which hopes to "get people talking, thinking and doing imaginative things with each other".
Drawing from methods such as ' the art of hosting' they facilitate creative spaces for conversations. This has included deploying a roaming tea trolley with questions to be discovered down the spouts of teapots. Tea and Tolerance describe their conversation spaces as places where 'nothing is compulsory and everything is recommended'. And with Arts Council funding, they have created a conversation game called Being Human.
A good question Tea and Tolerance question to ask is: if we really took time to listen, what would happen?
Who Is Your Neighbour?
Concerned about the rise in support for the racist and divisive British National Party (BNP), an ecumenical Christian group established Who Is Your Neighbour (WIYN) a decade ago. Today, WIYN managed by Tariq Bashir, facilitates listening conversations across South Yorkshire.
WIYN quietly brings people together to listen and understand diverse experiences and needs. Tensions, grievances, fears, perceptions, experiences and disagreements are aired, explored and sometimes transformed in the process.
Brexit Break-Up Cafés
Over the last year, Artwork Creative Communities has been inviting people to explore their disagreement about Brexit in a conversation café process called 'EU Bah Gum'. The project trained community facilitators to host Brexit Break-Up cafes across Yorkshire, bringing people together to explore different views. Project coordinator Estelle Cooper describes the sessions as "an opportunity for positive engagement between those who have different views on Brexit – broadly between those who support a 'remain' point of view and those who support the 'leave' argument, to see if there is any scope for reconciliation."
The conversations have been captured in a short film to prompt further discussion.
Pressing play on the video below will set a third-party cookie. Please see our cookies page to find out more.
Active solidarity
I am also mindful that the documented rise in hate crime since the EU referendum doesn't affect me as a white person with British citizenship, in a way that it is affecting others.
Like my friend and her child who were racially abused on a train. The perpetrator was found guilty but my friend's child no longer feels safe to travel on trains. My friend described how lonely it felt when most fellow train passengers didn't support her. She needed people to act in solidarity, to speak out and disrupt racism in the way that Penny Wangari-Jones suggests in her short film.
Pressing play on the video below will set a third-party cookie. Please see our cookies page to find out more.
And whatever our views on Brexit, we can at least take time to really listen to the testimonies of EU27 citizens about how it feels to be living in limbo and what it means to no longer feel welcome in the UK.
For people who aren't directly affected but want to take a more active role, reach out to migrant-led and racial justice organisations and listen to what sort of solidarity might be useful. Quakers can also get involved in the Sanctuary Meetings programme.
All of the above
I feel that thinking in simple binaries (leave vs remain) to complex issues (what sort of future we want and why) is part of why we are in such a mess. So it feels important to end by saying that it is possible to do all of the above.
We can take time to really listen, we can try to disagree better, we can hide questions in teapots and we can act in solidarity.
And we can also dream up and try out our own ways of living adventurously in divided times.