Refugee Week at Friends House London

Library open day
Monday 19 June, 11:00–15:00,
Quakers have been part of movements to welcome newcomers to Britain for many years. Explore artefacts and stories from past initiatives to assist people seeking sanctuary from the Kindertransport to the present day. No booking required.
Sanctuary in the media (Discussion)
Monday 19 June, 18:30
Co-authors of The Good Immigrant Coco Khan, Darren Chetty and Vera Chok, discuss what an anti-racist media would look like, chaired by Dalia Gebrial (Undoing Borders/People&Planet).
Book for 'Sanctuary in the media'.
Meeting for worship (semi-programmed)
Tuesday 20 June, 12:30
Join us to contemplate on the issues Refugee Week draws attention to, at a semi-programmed meeting for worship. No booking required.
Sanctuary in writing (Discussion)
Tuesday 20 June, 18:30
Authors of new writing anthologies Refugee Stories, A Country of Refuge, and Over land over sea discuss their first hand experiences of seeking sanctuary in Britain.
Book for 'Sanctuary in writing'.
Sanctuary in the arts
Wednesday 21 June, 18:30
Playwright Gael Le Cornec (The Last Days of Gilda), author Gulwali Passarlay (The Lightless Sky) and film-maker Sue Clayton (Hamedullah: The Road Home) discuss how the arts can help people think differently about people seeking sanctuary.
Book for 'Sanctuary in the arts'.
Sanctuary in fiction
Thursday 22 June, 18:30
Novelists Sita Brahmachari, (Red Leaves), Jason Donald (Dalila), Tim Finch (House of Journalists) and Roma Tearne (The Swimmer) discuss the representation of immigration in fiction.
Book for 'Sanctuary in fiction'.
Sanctuary Sunday
Sunday 25 June, 11:00–17:00
A day of contemplation and learning, beginning with silent contemplation, continuing with a discussion featuring speakers from Freed Voices, Refugee Action and the Habeus Corpus Project. It will finish with a 'Refu-tea' in partnership with the Refugee Council.
Find out more and book for 'Sanctuary Sunday'.

Refugee Week in local meetings
'The Bundle', Bull Street Meeting House, Birmingham
Tuesday 20 June, 19:15
Performance of Journeyman Theatre's moving play 'The Bundle', exploring themes of forced migration
'Pericles', Friends Meeting House, Doncaster (Balby)
Tuesday 20 June, 19:30
Multi-story Theatre Company presents their interpretation of Shakespeare's fantastical story, exploring themes of forced migration.
'World in Crisis', Friends Meeting House, Nottingham
Wednesday 21 June, 18:30
An evening of talks from various organisations involved in supporting refugees in the UK, Europe and crossing the Mediterranean Sea.
'From a Different Viewpoint', Friends Meeting House, Ashburton
Thursday 22 June, 19:30
An evening discussing how we can have better conversations around Forced Migration
'The Bundle', Renfield St Steven's Church, Glasgow
Thursday 22 June, 19:30 and Friday 23 June, 19:30
Performances of Journeyman Theatre's moving play 'The Bundle', exploring themes of forced migration.
Esher Meeting House, Refugee Week Meeting for Worship
Sunday 25 June, 10:30
Esher Friends will organise a special semi-programmed meeting for worship for Refugee Week, contemplating poems written by refugees.
Beyond Refugee Week
In the weeks either side of Refugee Week there are a number of different events taking place. Contact local meetings for details.

Community day at Lancaster Friends Meeting House;
Performance of The Bundle at Wanstead Friends Meeting House;
Away day for asylum seekers organised by Clun Valley Quaker Meeting;
Study day at Herstmonceux Meeting House in Sussex;
'Having difficult conversations about migration' afternoon at Forest Hill Friends Meeting House in London.
Sanctuary Meetings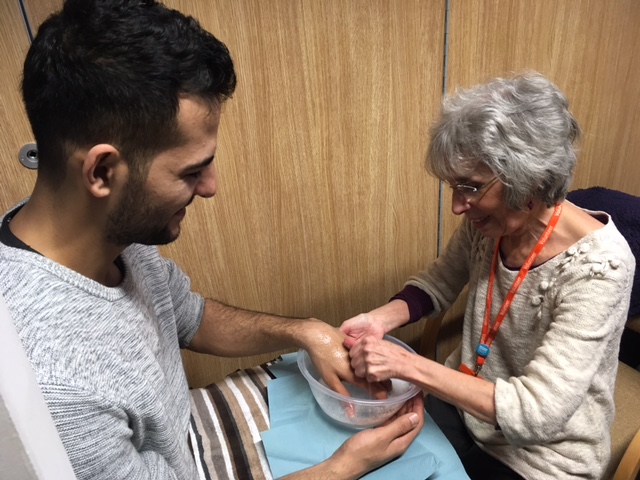 Become a Sanctuary Meeting

Inspired by the Sanctuary Churches Movement in the US, a Sanctuary Meeting is a protective community with people whose basic human rights are being violated by government officials. The public practice of sanctuary also holds the state accountable for its violation of human rights.
What does it involve?
Building alliances with migrant or BME-led anti-racist groups in your area.
Offering accompaniment to any who requests it in negotiating 'everyday borders' (e.g. in the heath or education system) and assisting in campaigns to resist deportation.
Holding at least one public meeting a year with other local groups, especially people with direct experience of being discriminated against by the border system.
Lobbying local politicians.
Dismantling 'borders' to participation in the Quaker community and campaigns.
It might also include:
If your meeting has a local City of Sanctuary group, affiliating with it.
If your meeting is based in the countryside, linking up with a more urban group to provide holidays or short breaks for asylum seekers.
If your meeting is close to a Quaker school, working together on projects to assist asylum seeking children.
If your meeting is within travelling distance of an immigration detention centre, at least one person joining a visiting group, upheld by – and reporting back to – the meeting.
Support
By committing to being a Sanctuary Meeting, your local meeting becomes part of an international movement to build a culture of hospitality. You will be supported with training, publicity materials, retreats, teleconferences and mutual support networks, channelled into a campaign for political change.
Register your interest
Meetings will be able to sign up to become Sanctuary Meetings from August 2017. To register your interest in advance email timothyg@quaker.org.uk with your name, meeting (if you have one), and telephone number.