Average read time: 4 minutes
Inspiring the journey to COP26
Anne Curtis shares her experience of the Australian wildfires and how it prompted her to take action to raise awareness of the UN climate talks, COP26.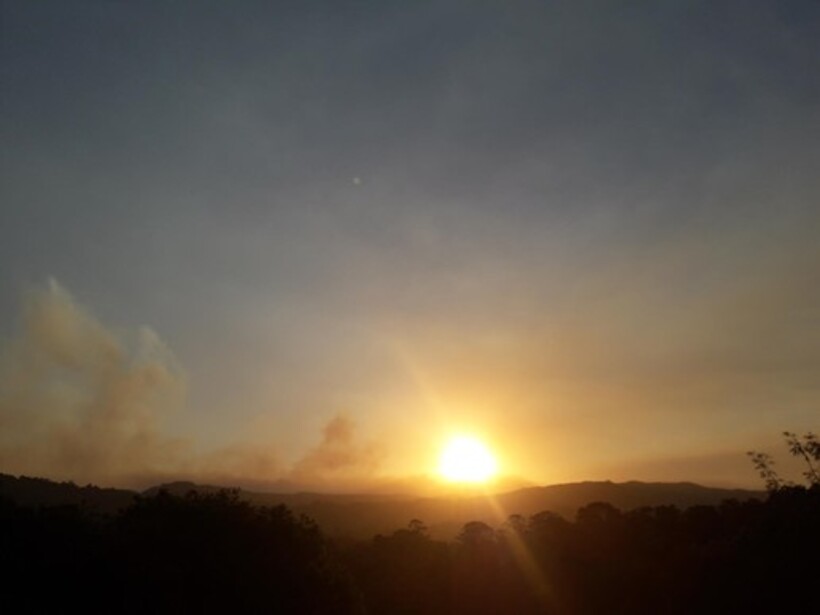 The UN climate talks, COP26, will take place in Glasgow in November this year. The focus is on 'Uniting the World to Tackle Climate Change'. It is of global significance.
Of course, I have always been aware that climate change is something I should take seriously but, to be truthful, I had done very little. However, in January 2020 I experienced the catastrophic outcome of a severe summer drought in Australia. Suddenly climate change became personal.

My son, Will, lives in 50 acres of rainforest close to the border of New South Wales and Queensland and, in September 2019, I left the UK for a six-month stay. Will's simple wooden house is set high on a steep hill. It is stunningly beautiful. From the veranda you can watch the surrounding escarpment glow orange as the sun rises over the Pacific. No light pollution. No sound pollution. Immersed in nature, you feel you are a casual visitor in a world of strange and (usually) very large creatures.

There is nothing small about this part of Australia. A thunderstorm, trapped in the escarpment simply moves around above your head. It is an elemental experience, at once terrifying, beautiful and humbling. Standing beneath a torrential downpour or lying under trillions of stars, you become acutely aware of your 'smallness'.
A summer drought
From my arrival in September there had been no rain. This led to a severe and prolonged summer drought. The level of water in the tanks dropped dangerously low. Showers lasted only a few seconds with wastewater collected in pans. Then the fires started. People were disbelieving at first. Fires had never threatened the rainforest.
I stood on the veranda watching ash fall from the sky. We were living in a wooden house – a matchbox on stilts. My eyes stung, it was difficult to breathe, and we evacuated to a friend's house, further down the valley. That evening we sat on her veranda and watched as the land, and all its beautiful, innocent wildlife, was consumed by unrelenting flames. My son's house would be lost as the fire made its way over the ridge, but the wind changed direction.
The following day we learnt that Boxer, our neighbour's father, had lost everything he owned. Boxer is eighty and a volunteer firefighter. His house burnt as he was helping others. Left with the clothes he stood up in and scorched ears, he was an inspiration of human resilience. It was sobering, moving, heartbreaking. But it was the sight of huge fruit bats fleeing a burning sky, and a blind kingfisher sitting on the finger of a child, in a state of frozen bewilderment, that made me vow I would do something when I returned to England.
Raising awareness of COP26
Once back in the UK it was challenge enough not to be overwhelmed by the paralytic effect of Covid-19, but then I was forwarded an email asking for help to support a Quaker climate change initiative. Here was something I could do. Change starts with oneself.
Covid restrictions meant that a planned bike relay from London to Glasgow could not take place and the concept of a sacred journey was born. Quakers believe all places are sacred and this would recognise our collective responsibility to protect the Earth. Our aim would be to cast the net wide and raise awareness of COP26.
Journeying together
On 10 and 11 April, Journey to Cop26 will take place. Those of all faiths and none are invited to join Quakers on a pilgrimage to a place they hold to be sacred. It is my personal hope that families will come together, friends will walk side by side and that others will journey into their garden or into their minds. By taking this small action, and telling others about it, we will send a clear message to politicians that we care.
I have never seen myself as an activist but I believe simple actions, if multiplied over and over again, will make a difference. We are not insignificant. If we all act individually but journey together, we can make change happen.
So what will I do on 10 April? I will walk to the cliff top near where I live, look across the sea and with thoughts of my three wonderful children in Aotearoa/New Zealand, Japan and Australia, and of my friends and family around the world, scatter the seeds of wildflowers.