Average read time: 4 minutes
Fragments of truth: putting a spotlight on arms sales to Yemen
Rowena Loverance shares why the organisations Mwatana and CAAT have been nominated for a Nobel peace prize by Quakers for their campaigning work on the civil war in Yemen.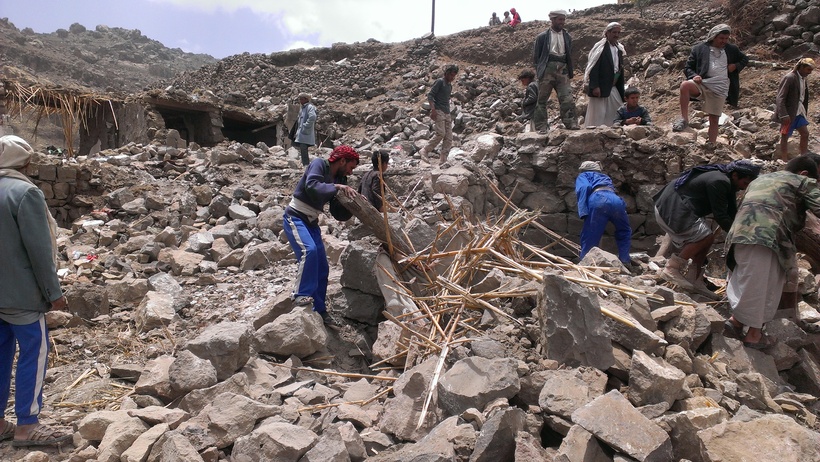 Imagine that you're sitting quietly in your apartment. You get a call telling you of a bomb outrage. A crowded bus blown up. An occasion for dismay, horror – but action? What could be required of you? What help could you possibly bring?
Well, you could head straight for the scene. You could sift through the wreckage, alert for the tell-tale fragments which will allow an arms expert to identify the weapon used. You could record the experiences of the shell-shocked survivors.
Back in your flat, you could settle down to the painstaking work of fact-checking – dates, GPS coordinates, lists of arms sales. Your efforts to document what has happened could form part of a publication that stands up to worldwide legal scrutiny.
Nobel nomination
This is what a group of sixty women and men in Yemen have been doing for the last six years. Most of them are anonymous for their own safety. They work with and for Mwatana for Human Rights, a human rights organisation set up in 2007 at the start of the current civil war.
Mwatana campaigns for freedom of the press, and against war crimes, arbitrary detentions and forced disappearances. It is credited with having pressed the UN Human Rights Council in 2017 to adopt an international mechanism to investigate violations carried out by all parties to the war in Yemen.
This year Quakers nominated Mwatana, together with Campaign Against Arms Trade, for the 2021 Nobel peace prize.
Quaker opposition to the arms trade has been consistent since at least the First World War. Quakers, who won the prize in 1947, have the right to make their own nomination and a group appointed by American Friends Service Committee and Quaker Peace & Social Witness considers this each year.
Our citation letter nominating Mwatana and CAAT speaks of the importance to Quakers of the pursuit of truth through meticulous and faithful witness. We were impressed how local efforts on the ground partnered with legal advocacy and policy implementation, and how human stories were incorporated into the reports, adding texture and a sense of the reality of loss.
Working with CAAT
This proxy war in Yemen, between Iran-backed Houthi rebels and a multinational coalition led by Saudi Arabia, has brought about the largest humanitarian crisis in the world. More than 24 million people – some 80% of the population – need humanitarian assistance.
Between 2010 and 2019, the UK supplied around 19% of Saudi Arabia's arms imports. In June 2019 Campaign Against Arms Trade, which had sought a judicial review of these arms sales, won a striking victory in the court of appeal.
The government's decision-making process for granting export licences was found to be "illogical and unlawful" since it did not take sufficient account of the coalition's violations of international human rights law. Mwatana supplied crucial evidence to the review that UK-made bombs had been found on a number of non-military sites, where civilians, including children, had been killed.
Isolated incidents or known risk?
The government was now required to review all licences and not grant any new ones that might be used in Yemen while it considered the implications of the judgement.
The issue turned on whether the violations of human rights which have clearly occurred in Yemen are 'isolated incidents' or whether they add up to a clear pattern and are therefore a 'known risk'. Twelve months later, having come up with a revised methodology for decision-making, the government resumed arms sales to Saudi Arabia and its allies – which promptly rose from £17.5m to almost £1.4bn in the quarter July-September 2020.
In October 2020 CAAT applied for another judicial review. Mwatana's meticulously researched evidence will clearly continue to be of crucial importance.
Maximising impact
The Quaker nomination of Mwatana and CAAT for the Nobel peace prize has brought a further spotlight to their work, and we need to consider how we can maximise its impact.
While the Saudi Arabia arms contract is central to the UK defence industry, representing around 40% of the UK's total arms export volume, the new US administration has temporarily halted its own arms sales to Saudi and the UAE. This has put more pressure on the UK government. Parliament held an emergency debate in February and its committees on arms export controls is launching an inquiry into compliance and enforcement, especially in the light of Brexit.
There is scope for national lobbying, and many UK communities also have local involvement: arms which end up in Yemen are manufactured all over the country, from Glenrothes to Southend-on-Sea.
Can we do more to raise awareness among our fellow citizens of the dreadful impact of this "illogical and unlawful" trade?
The AFSC / QPSW group is about to start its discernment for Quaker nominations for the 2022 Nobel Peace Prize and welcomes nominations from Friends. Contact Oliver Robertson for more details or to make a nomination at oliverr@quaker.org.uk