Average read time: 6 minutes
Could Quakerism be the radical faith that the millennial generation is looking for?
After a year of working with young adult Quakers, Chris Venables shares three ways to welcome in young people seeking something more from life.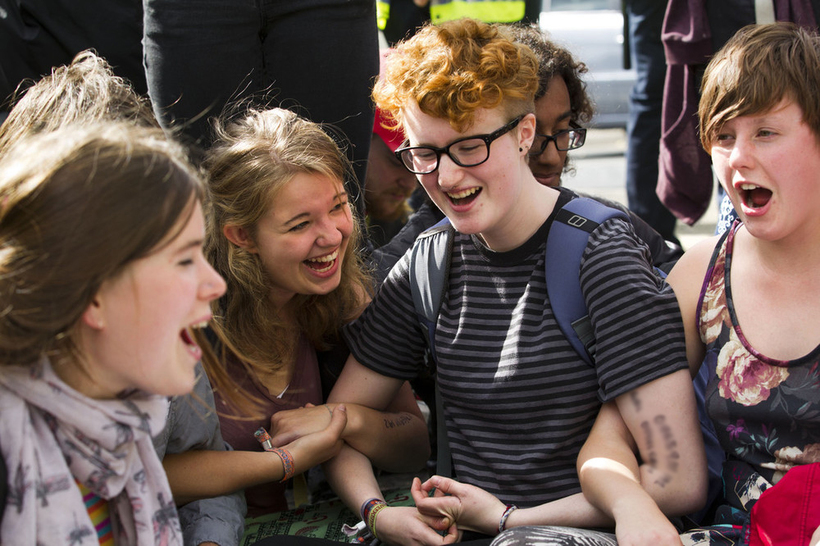 Whether they are out canvassing at election time, or marching for their right to live free of gun violence, young people everywhere are working to make the world a more just and equal place. Not just for themselves, but for everyone.

The Oxford English Dictionary even chose the word 'youthquake' as the 2017 word of the year to reflect this new generation of activism.
In a brilliant blog for OnBeing, the interfaith educator Elizabeth Welliver noted that "religious belief is not a requirement for entry into the doors of millennial sacred spaces." This echoed findings of a report published in the United States about how 'young adults' are building flourishing communities of art, business and education on the edges of faith communities. The authors of How We Gather (PDF) note: "Millennials are less religiously affiliated than ever before. Churches are just one of many institutional casualties of the internet age in which young people are both more globally connected and more locally isolated than ever before."
It's fair to say that young people face many challenges. My generation (the under 34s) has seen the sharpest drop in economic prospects in generations whilst the neoliberal policies of the current government have hit young people hard. There's the prevalence of insecure part-time work in the gig-economy, the collapse in home-ownership, the systemic underfunding of education, and the spiralling climate crisis. Young people today are getting a raw deal – and they know it.
The nature of religion has changed, within Quakers we have seen the numbers of young people engaging in our community fall as the effects of economic insecurity have taken hold. And perhaps more importantly, because 'young adults' have no time for institutions that often seem arcane and irrelevant, and which have failed to engage with the realities of life for the vast majority of people in our society.
So why are millennials interested in Quakerism?
Quakerism, with its openness to spiritual learning from whatever source it may come, has much to offer millennials in this new religious landscape. We are a radical and hopeful faith, rich with 360 years' worth of wisdom, history and resources.
We have seen young adult Quakers organising, experimenting and pushing boundaries in the true spirit of our tradition. New forms of fellowship and worship have emerged; often based around food, worship, learning and shared activity. Nottingham and Westminster have Quaker communities shaped by young adults with new meeting times, informal locations and a culture that is accessible to young adults.
It's not just about physical space either. The Young Friends General Meeting Facebook page provides an online community that supplements their dynamic gatherings. The Young Quaker Podcast provides listeners with rich spiritual storytelling. Their Silent Special episode aimed to "bring some of that peace that we find in meeting to others at home" and captured the attention of the media. Interviews, social media, news articles and even a mention on primetime TV followed.
Increasingly, Young Adult Quakers are not afraid of sharing their faith with the world. Equally, they are not afraid to ask challenging questions of the Yearly Meeting. At Yearly Meeting Gathering in 2017 young adults brought momentum to the diversity and inclusion commitment by sharing their passion and concerns for the future of their community. This commitment, minute 38, is only the start of the conversation. What follows will now shape the future of Quakers, enabling to live as the inclusive community we aspire to be.

At the forefront of those conversations are the brilliant blogs of American Quaker Emily Provance on the possibility of a 'culture flip' within Quakerism across the world. So what can we learn from these so-called millennials? And might they even help us revitalise our 'aging and declining community (PDF)'? Over the last two years, there has been a mini-explosion of young Quakers experimenting with new ways of engaging with their faith.
Three ways to experiment with how we approach our faith
1. Respect the power of digital and social media
If we want to hear from young people, go where they are! Be brave in your use of platforms like Twitter, Facebook and Instagram. Quaker meetings across Britain are joining online conversations – so get stuck in. Using visual media to express how you feel about things is a lot of fun, and there's a whole lexicon of GIFs, memes, and emojis to play around with. Ask younger Friends for advice on how to run the social media pages for your meeting. They are likely to know how to get the best out of social media – and know the good things that don't get reported on the front page of the newspapers.

2. Be hopeful and confident in our nominations
Our committee processes, at both local and national level, have become burdensome, slow and bureaucratic. As a result, committees tend to be institutionally boring. Yet there's no shortage of younger Quakers who are keen to use their skills, passion and energy to serve the Quaker movement. Perhaps we need to do nominations differently – by asking who's really out there in your meeting? Or, you could just abolish all the roles and start from scratch! Why not?
3. Flip the worship model on its head
Young adults build their communities around deeply held values, a sense of belonging, and a yearning for personal transformation. There is no one way of doing that, as documented in the How We Gather report (PDF). Sunday morning worship is a tradition for us – but then, Quakers have been turning traditions on their head since George Fox stood up and argued with a priest in church. Is it even so very radical to break out of Sunday morning meetings for worship? It doesn't feel that way, at least for the many young Friends who now meet on Wednesdays, making new space for worship in their lives.
The writer and activist Naomi Klein says "to change everything, we need everyone". To take a bold step forward we need to be ready to challenge tired ways of working, and embrace fresh wisdom, energy and hope. We need a culture that says yes.
What might a first small step look like in your Quaker community? Let us know how you get on – we'd love to know! – and we're here to support you on the journey.