Average read time: 4 minutes
From soldier to peaceworker
Wayne Sharrocks reports back on his first few months as a Quaker peaceworker, placed with the Peace Pledge Union.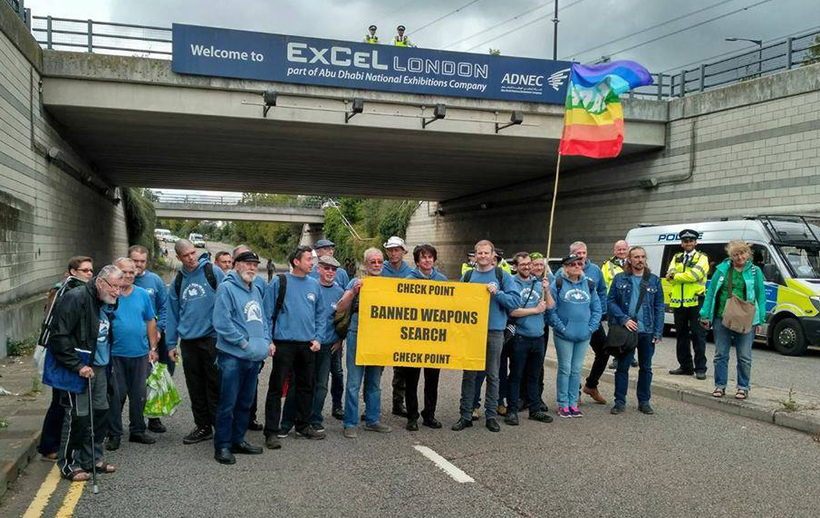 I was lucky to start my year at the Peace Pledge Union (PPU) during a busy and active time. Within the first few days I was involved in the protests against DSEI – the world's largest arms fair, held in London every two years. A member of PPU staff was there every day to help disrupt or stop the arms fair happening.
It was a great opportunity to get to know my new team as well as meet other peace groups. I was amazed and inspired by the energy of the week of action. People showed great courage and conviction in their beliefs and made a big impact on the event and on me personally.
I gave a short speech on one of the mornings of actions. I spoke about some of my experiences in Afghanistan with the army and the horrific things I have seen weapons do to our own soldiers through the use of improvised explosive devices. Components used in these devices likely passed through an event just like the DSEI arms fair.
Checking for banned weapons
As a member of Veterans for Peace UK (VfPUK), I took part in a vehicle check point to inspect for banned weapons (landmines, booby traps, incendiary weapons, blinding laser weapons) entering the arms fair. I filmed the actions and made a short video. It shows the police preventing concerned military veterans from carrying out these checks. The police refused to carry out such checks themselves and a few days later a type of laser weapon was found for sale in the arms fair. I have been told this action helped the court cases of many who were arrested.
Pressing play on the player below may set a third-party cookie. Please see our cookies page to find out more.
Combating militarism in universities
After the excitement of the arms fair protests I engaged in my role to combat militarism in universities. I have spent my whole life either in the army or in manual labour jobs so this office-based role was, and still is, a challenge. Meeting with organisations such as Forces Watch, Quaker Peace & Social Witness, Child Soldiers International and others, helped reassure me. Speaking to these organisations allowed me to set realistic expectations for the role.
A thought came to mind: how can I get students to come to us? I came up with an idea for a website with resources and information about militarism, options to request book talks or workshops and to connect groups based around the country. I launched the PPU students website a few weeks ago to engage and connect students to PPU work. Please take a look at www.ppustudents.org.
The white poppy campaign
I was given the task of making a short film, 'Why wear a white poppy?' I spent weeks interviewing people from all ages, races and backgrounds about their decision to wear the white poppy. I captured some powerful statements from contributors, including Michael Pike, an ex-soldier, and Bill Hetherington, who lived through the blitz.
I also created an accompanying series of shareable pictures from the film with quotes to highlight key perspectives. The video sparked a huge debate and has been seen over 220,000 times on Facebook alone. I have heard from people inspired to wear the white poppy for the first time after viewing the film.
Pressing play on the player below may set a third-party cookie. Please see our cookies page to find out more.
Speaking in schools
Shortly after the campaign I was contacted by Camden School for Girls to give a talk for their older pupils. The tutors wanted their students to hear another perspective on the military. I talked to 300 students about my experience of war and my subsequent decision to become a peacemaker. The pupils were very engaged and it enabled some great discussion about militarism and the illusion of the military as something noble.
Remembrance
Remembrance weekend snuck up very fast. I spent many hours counting leaflets, packing white poppies and posting them out. The remembrance period concluded with the Alternative Remembrance Ceremony held at the conscientious objectors' stone in Tavistock Square, London. Two guests spoke powerfully about their experience of Palestine and attempting to disarm war planes. The true sentiment of "never again" was honoured at this event. I filmed the speakers and the event can be viewed on the Peace Pledge Union YouTube channel.