Welfare for all: walking for the common good
Kendal and Sedbergh Friends report back on their 50-mile pilgrimage for the welfare system.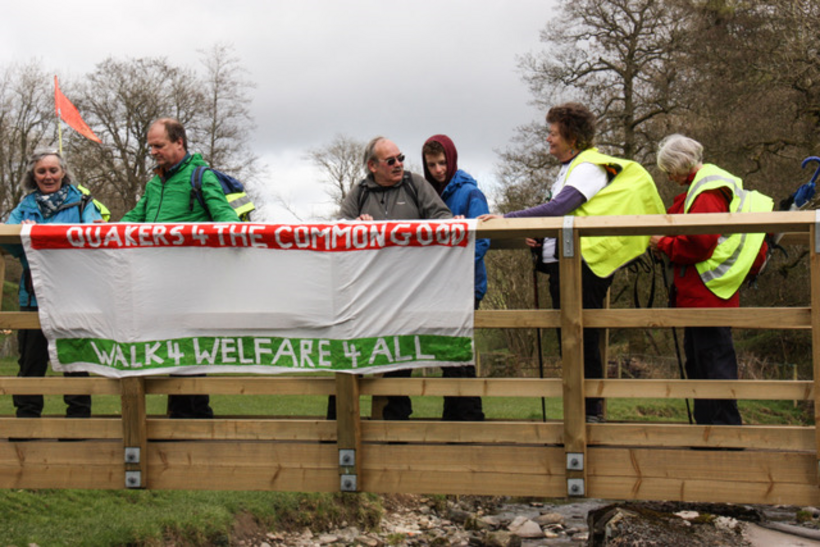 A year ago, a family came to the Sedbergh local meeting to share that they were inspired to act in support of the UK welfare system. Their concern struck a chord, and through a process of Quaker discernment, our area meeting decided to 'walk for welfare'. Now, we tell the story of that pilgrimage we undertook together in aid of the common good..
Beginning our journey
We travelled the road less taken last week, winding our way across the fells from Brigflatts on the eastern edge of Cumbria, to the south western peninsula of Barrow, across public footpaths, some clearly unfrequented.
Not all walked; one person valiantly navigated bridle ways with us by bike, diverting onto roads when necessary.
We experienced the slowing down of time and Nature's timeless beauty. We shared personal stories and ideas. It was reflective, supportive and nurturing.
Local parties were invited to participate, and a representative of the Labour Party accompanied us for much of the way. Each day began and ended in worship to remind us that our action was grounded in faith, and Tim Farron, local MP and leader of the Liberal Democrats, joined us for the Tuesday morning meeting for worship.
A myriad of people
Some of us were already familiar with each other, some were total strangers, yet despite the diversity there was a gratifying ease, empathy and unity between us. It became not just a journey witnessing to our shared concern about the erosion of the welfare state, but also a journey of the spirit. And we walked it 'cheerfully': joyfully and without fear – a 16th century definition.
At least a dozen meetings were represented from as far away as Hereford. A core of about six people travelled the whole way but we were also joined by individuals en route or for meals. Most walkers were in their fifties or above. However younger Friends joined us too: a group from East Cheshire on Wednesday doubled our numbers, a couple in their 20s from London, whose youth was much valued for both carrying more burdensome items and offering fresh perspective, and teenagers from our area meeting on the last day.
But there was also a myriad of people supporting us without whom this would not have been possible, following us by minibus and cars, feeding us at the meeting houses, providing us with accommodation.
The final leg of the walk down into Barrow was a colourful affair with banner and umbrellas, with numbers swelling to at least 40. We were met by the North West Evening Mail for photos to follow up an article about the pilgrimage from earlier in the week. The Kendal Westmorland Gazette and BBC Radio Cumbria had also given us coverage.
We stood in silent witness before the town hall. The epilogue to 2016 film I, Daniel Blake was read out, echoing powerfully around the square.
Reflecting on our steps
We know we did not change the world but we feel we achieved what we set out to – to make our voice heard and give witness to our Quaker testimony to that of God in everyone and the right of every individual to be respected and live in dignity. We stood up for the proper provision of care for all when the contingencies of life leave us vulnerable.
And this is a just a first step; we meet to plan what next in two weeks.
Early on in coordinating this initiative Quaker processes perplexed us, but gentle guidance from Quaker Peace & Social Witness, Turning the Tide and members of our area meeting brought clarity and shared purpose, deepening and enriching our relationships.