A New Meeting House: Ashburton Quaker Meeting
Friends living in Ashburton had attended meeting for worship at Totnes, about eight miles away. Friends in the area had also met as a mid-week group for four years. When a disused chapel was placed up for sale in Ashburton, Friends in the town explored the idea of having a presence in Ashburton for the first time.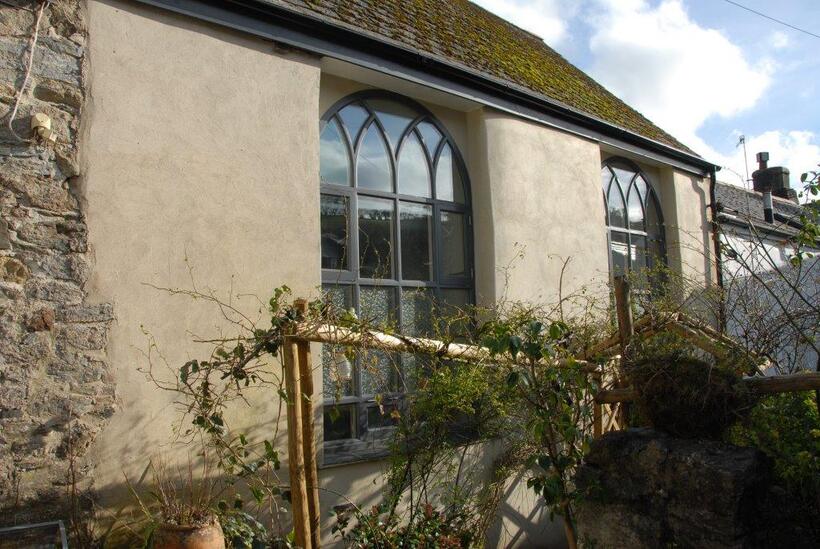 Ashburton Friends were interested in having a meeting house in the town. The chapel had been used as a wood store for over fifty years and was in a state of disrepair. Another local meeting in the area, Newton Abbot, had been left some money by a Friend in their will. The option to purchase the chapel was available and Friends began to consider if this was a good thing for their meeting.
The money left to Newton Abbot meeting was sufficient to cover the costs of restoring the chapel in a very basic form. The area meeting approved the use of this money to: purchase the chapel for Friends in Ashburton; carry out basic renovations; and start plans for a full refurbishment. Ashburton Friends looked at three options for the work from a minimal to a complete remodelling. An architect sympathetic to Quaker values was chosen. The architect attended meeting for worship to better understand how the building would be used. Friends also sought the views of the wider town community through a survey. This information fed into the vision for the building. A form of threshing meeting was held to decide which model would be followed.
A Friend's home was used as a space to identify priorities for each area of the building - from the kitchen to the meeting room itself. Using this method of sharing ideas and experimenting helped Friends visualise and decide the final layout.
An additional floor was added to the building. This created a flexible, two-storey space which could include a room for children. The floor included a glass section to allow light into the lower space.
A Friend with an interest and experience in sustainability helped to talk through realistic options. He advised that energy performance should be the priority. This allowed Friends to balance the ideal with the budget and practical issues.
The end result was a decision to create a building within a building. This structure allows for a lot of insulation which reduces heat loss. A high efficiency gas boiler was installed. A local Friend with an engineering background was on hand during the building work. So problems could be solved and changes could be made on site.
The building has seen increased numbers of people coming to meeting for worship. In Ashburton it is a popular and central space and is now popular as a site to hire. Through the use of flexible area meeting funds and good planning, Quakers have a visible presence in Ashburton.
Moving a meeting house is a considerable undertaking and needs careful consideration. Discernment, conversation, and inclusive discussion are all crucial to beginning to take this path. Friends in Ashburton consulted many different Friends to help them realise their journey.
If your meeting wishes to begin this journey there are many places you can consult:
Meeting for clearness has helped many Friends find direction, or clarified the questions that need to be asked. There is guidance about meetings for clearness at Quaker faith & practice12.24 and is explained in some depth in the Clearness leaflet (PDF).
If you would like to know more about the specific project undertaken in Ashburton, please contact Pip Harris directly (piph@quaker.org.uk).