Time to tackle hidden hunger
New figures released today show the extent of 'hidden hunger' across Britain. Quakers in Britain are part of a coalition calling for a national measure of food insecurity to tackle it.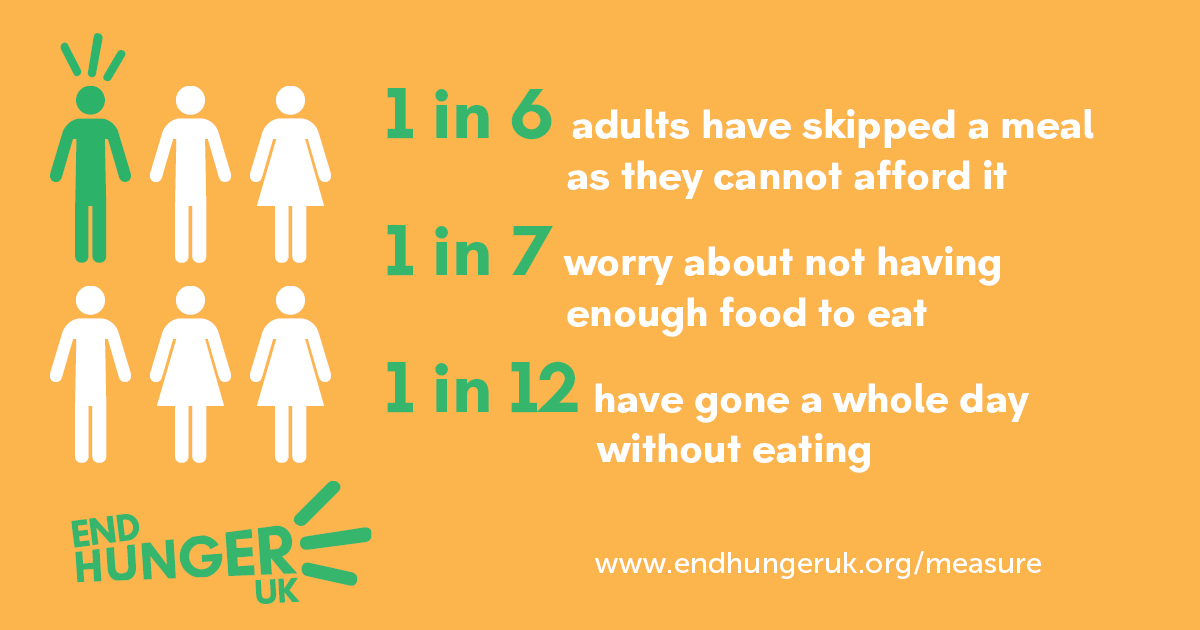 According to YouGov research 16 per cent of adults skip or see someone in their household skip meals, 14 per cent worry about not having enough food to eat, and 8 per cent have gone a whole day without eating because of a lack of money in the last 12 months. Parents of children aged 18 and under are particularly food insecure, with 23 per cent either skipping or seeing someone in their household skipping a meal due to a lack of money.
Measuring food insecurity
In response to today's new statistics, End Hunger UK, a coalition of organisations which includes The Trussell Trust, Oxfam GB, and Quakers in Britain, have called on the Government to commit to measuring household food insecurity.
Food insecurity is defined as going hungry, at risk of going hungry or worried about going hungry due to not being able to afford food. In order to start tackling the extent of the problem needs to be accurately measured.
In a statement Emma Lewell-Buck, MP for South Shields and author of a bill on measuring food insecurity, said:
"Now is the time for the government to sit up and tackle the growing issue of hunger in our country. Whilst the Government has carried out snapshot measures of food insecurity, these are piecemeal and don't allow for assessment of long-term trends. We know that 1.1 million food parcels are given out in Trussell Trust foodbanks alone but these figures are clearly the tip of the iceberg. The United Nations has estimated over 8 million people in the UK are food insecure; approximately 2000 food banks and foodbank centres are in operation; rising levels of hospital admissions due to malnutrition cost the NHS £12bn per year; and there are record levels of in-work poverty.
"Without a robust system of household food insecurity measurement in place, making policy to mitigate hunger will never become a reality. It is clear that the time for action is now and urgent. That's why I'm taking a bill to Parliament to make the Government measure hidden hunger, because what gets measured gets mended."
Tackling economic inequality
In a statement in April 2014 by Meeting for Sufferings, the national representative decision-making body for British Quakers, Quakers acknowledged the rise in poverty and hunger in Britain and recommitted themselves to tackling economic inequality. "Our vision of equality springs from our profound sense of the worth of every human being. Every person's life is sacred and in this we are all equal…We recognise that these crises and injustices spring from forces at work within the global economic system. These forces infiltrate our hearts and minds, capture our politics and threaten our common basis for life on earth. This is nothing less than economic violence, which challenges our Quaker spiritual commitment to peace."

Find out more about Quaker work to tackle economic inequality