Quiet simplicity of meeting houses celebrated
When Quakers built Hertford Meeting House in 1670 they were more likely to be persecuted than praised for their style of building. This week it is one of 17 Quaker meeting houses to be listed or upgraded and preserved for the nation by the Department for Digital, Culture, Media and Sport (DCMS) on the advice of Historic England.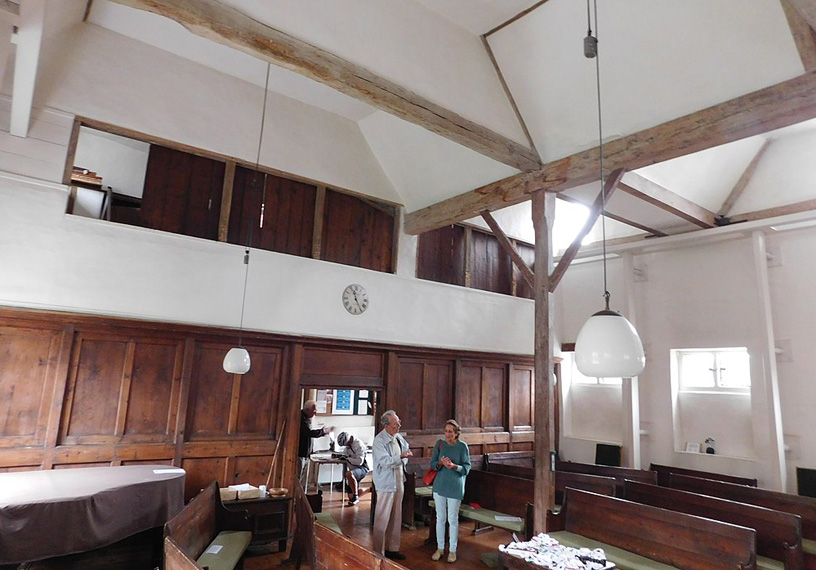 Under the 1662 Quaker Act thousands of people were imprisoned and many persecuted and even killed for their beliefs. Hertford Meeting House was opened in that context. Today, it is the oldest in the world in continuous use by Quakers.
[QUOTE-START]
Quaker meeting houses are precious pockets of calm in an otherwise hectic world.

- Duncan Wilson, Historic England
[QUOTE-END]
Early Quakers met in silent worship on hilltops, in barns and in each other's homes. As the Act of Toleration brought freedom, their faith flourished and they built meeting houses, generally simple and using local crafts.
These new listings are part of Historic England's work to improve understanding, recording and protection of places of worship. In partnership with Quakers in Britain, Historic England commissioned a national survey of meeting houses still in use or in Quaker ownership.

11 Quaker meeting houses across England newly listed at Grade II - from
Cumbria to Oxfordshire, Worcestershire to London
Oldest Quaker meeting house in the world still in continuous use upgraded to Grade I in recognition of its exceptional historic significance
Five of the country's oldest meeting houses have their listed status upgraded to Grade II*
Heritage Minister Michael Ellis, said: "Britain's buildings tell the story of our history and the people who shaped it. By listing the Quaker meeting houses, we are preserving important places of worship and celebrating their rich heritage."
Duncan Wilson, Historic England's Chief Executive, said: "Quaker meeting houses are precious pockets of calm in an otherwise hectic world, and I'm delighted to see their quiet simplicity celebrated through listing."
Ingrid Greenhow, of Quakers in Britain, said: "I am delighted that Quaker places of worship are recognised as important elements in our national heritage. It is particularly heartening to see examples of nineteenth and twentieth century meeting houses being listed. Our meeting houses continue to be centres for our faith and witness today."
The meeting houses newly listed:
Upgraded to Grade I (from II*)
Hertford, Hertfordshire (1670)
11 newly listed at Grade II

Preston Patrick, Cumbria (1869)
Aylesbury, Buckinghamshire (1726-7)
Malvern, Worcestershire (1938)
5 upgraded to II* (from II)

Stourbridge, West Midlands (1689)
In England, over 250 meeting houses are already protected as listed buildings, although not all of these are still in use by Quakers.
Image of Herford Meeting House by Paul the Archivist [ CC BY-SA 4.0]