Quarter of Quaker meetings say no to fossil fuels
More than a quarter of Quaker meetings in Britain have made a commitment to no longer invest in the fossil fuel industry. Quakers in Britain today announced 19 more divestment commitments.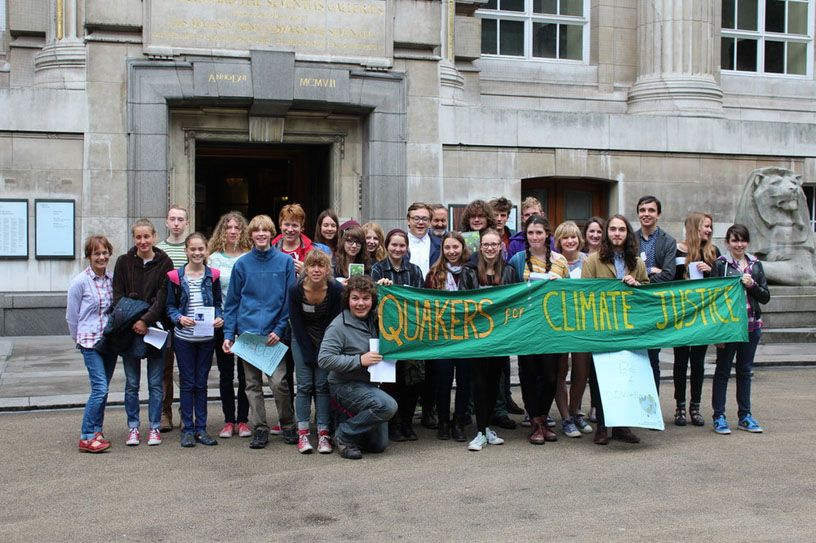 This announcement comes at the beginning of the ten-day Global Divestment Mobilisation when people around the world will be calling on churches, councils, universities and workplaces to cut their ties with the fossil fuel industry. They will be drawing attention to the impact fossil fuels are having on the planet and people.

Quakers in Britain are motivated by faith to cherish the earth for future generations and to speak out against climate injustice that causes huge inequalities across the world. In 2011 they made a commitment to take action to become a low-carbon, sustainable community.
Tomorrow (Saturday) Quakers from around Britain will be climbing Pendle Hill in Lancashire to hold a 'meeting for worship for witness' to protest against fracking, both locally and around the world. Pendle Hill is in an area licensed for fracking. It is also a significant place for Quakers. In 1652, George Fox climbed Pendle Hill and had a vision of "great many people to be gathered'. He founded the Quaker Church.
Lancashire Quaker Ben Pink Dandelion says, "Anyone on the hill at 2pm is welcome to join the silent worship. [QUOTE-START]
Fracking will damage the climate, the countryside and our water supply and therefore our food. We are asking for it to be banned.

- Ben Pink Dandelion
[QUOTE-END]
Two years after making a commitment to going 'Fossil Free' Huddersfield Quaker Meeting has cleaned its investments of fossil fuel companies. Huddersfield Quaker Meeting member Chayley Collis comments: "The process of divesting the meeting's investments was relatively easy, if a little time-consuming, We were surprised that many of the investments that we had thought were ethical were not already fossil free. We would encourage other churches and faith groups to divest from fossil fuels and help send a signal that fossil fuels are no longer an ethical investment."