Quakers say there's room for more
Across the country, Quakers are preparing a feast of opportunities to welcome everyone to see how the Quaker faith makes a difference, during national Quaker Week, Saturday 29 September to Sunday 7 October.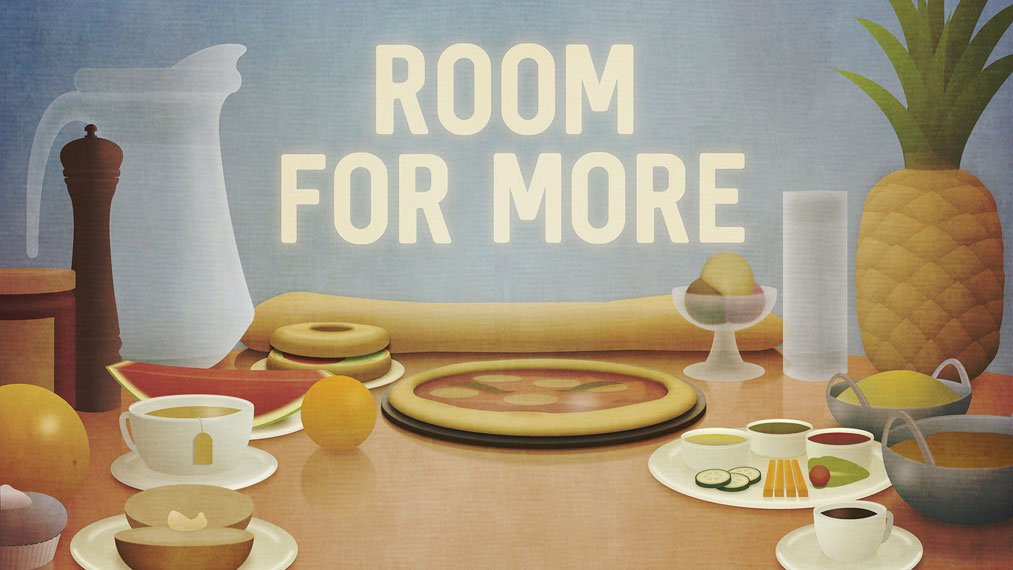 From the north of Scotland to the south coast of England, there are discussions and dramas, vigils, heritage open days and bring and share tea parties. All to give food for thought about faith that leads Quakers to work for peace and truth, equality and simplicity.
The 'room for more' theme is inspired by the joyful welcome that meeting houses across Britain have offered to migrants and refugees. Many events held by Quaker Sanctuary Meetings involve sharing meals across cultures and traditions.
Gill Sewell, staff member for Quakers in Britain said, "Quakers warmly welcome everyone to explore their faith. There's room for more at the table, and Quakers value everyone's experience. Gathering and sharing together enriches everyone."
There are dozens of events lined up on local Quaker events page.
Here are a few of our events:
Birmingham
29 September
10.30am-2.30pm
Harvest Home
In aid of B30 Foodbank and the project: 'Food for Thought' display, Re-use/Re-home table-top sale, garden produce and preserves, children's activities. Free tea/coffee and cake. Soup and bread £1 from 12.30pm
Cotteridge Friends Meeting House
23A Watford Road
Birmingham
B30 1JB
For more information contact Cotteridge Quaker Meeting's webpage (Birmingham).
Colwyn Bay
30 September
Time: 2.00pm-4.00pm
Bring and Share / Rhoi a Rhannu
Community event for all people who want to share their pre-loved items with others and take what they need. A small example of free exchange and bartering as a little cell of a just society
Quaker Meeting House
21 Erskine Road
Colwyn Bay
LL29 8EU
For more information contact Colwyn Bay Meeting: efawulle@gmail.com, 07505 142665
Durham
4 October
Time: 7.00pm
Who are Quakers and why do they matter today?
Paul Parker, recording clerk of Britain Yearly Meeting, is speaking on Tackling Social Changes
Durham Town Hall
Market Square
Durham
DH1 3NJ
For more information contact Durham: Judith Catty
Dorchester
29 September-6 October
Time: Day time
Quaker Service Exhibition
The exhibition commemorates Quaker Service from WWI to present day. Dorchester Quakers will be available to chat and answer any questions about how Quaker Worship supports Quaker service today.
United Church Foyer
South Street
Dorchester
DT1 1BY
For more information contact Dorchester Quaker Meeting: Dorchester Quaker Meeting Warden 01305 263544
Ealing
6 October
Time: 7.00pm
Hostility or hospitality? What it's like to be a young refugee arriving in the UK
Find out what happens when young refugees, who have travelled on their own across Europe, arrive in the UK. What challenges do they face as they navigate the systems?
Ealing Quaker Meeting House
17 Woodville Road
Ealing
W5 2SE
For more information contact Ealing Meeting via their Facebook page.
Manchester
1- 6 October
includes family-friendly Open Day
Come along to our family-friendly Open Day to meet local Quakers and to share refreshments. There will be opportunities to tour our historic building and to drop in on our all day meeting for worship. Events daily.
Friends' Meeting House
6 Mount Street
Manchester
M2 5NS
For more information see Manchester and Warrington Area Meeting's website.
Portree, Isle of Skye
14 September-8 October 2018
Time: Library Opening Hours
Exhibition / display 'Quakers and What Do They Do?'
Our exhibition will explain what Quakerism stands for and the activities they are involved in.
Portree Library
Portree High School
Portree, Isle of Skye
IV51 9ET
For more information contact Skye, incorporating Stornaway, Meeting: Clerk of Skye Meeting
On 7 October Friends World Committee for Consultation runs World Quaker Day, now in its fifth year. The theme is Crossing Cultures, Sharing Stories.
For Thoughts for the Day, interviews and images, contact annev@quaker.org.uk.

Read Suki Ferguson's blog about Quaker Week 2018 here.