Quakers oppose Armed Forces Day in Falmouth
Quakers and other peace groups united against Armed Forces Day in Falmouth this weekend with a peace parade and vigils.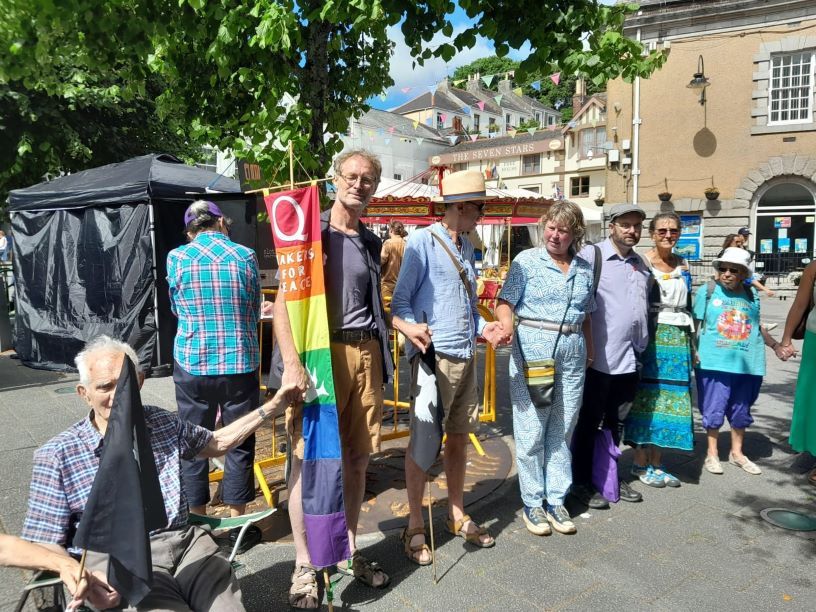 The annual event, which was instituted in 2009 to increase support for the armed forces, is marketed as family entertainment but sponsored by BAE, one of the world's largest arms companies.
More than one hundred events were held across the country including parades, salutes and fly-pasts.
In Falmouth, Quakers and others, including Cornwall Resists and Ocean Rebellion, joined the rear of Saturday's military parade after a last-minute change of heart by the police.
On Friday, police had asked Falmouth Quakers to abandon their plans for a Peace Parade on security grounds before relenting.
[QUOTE-START]
War and conflict can only happen if a country is onside to accept increasing, everyday militarism

- Lesley Chandler
[QUOTE-END]
Supported by national organisations including Campaign Against Arms Trade and the Peace Pledge Union, campaigners held peace vigils and set up a peace stall to highlight their opposition to the event, which cost Cornwall Council £300,000.
Falmouth Quaker Lesley Chandler said that Armed Forces Day celebrations revealed only the positive gloss of belonging and adventure associated with the Armed Forces, omitting the risks and realities of military life.
"War and conflict can only happen if a country is onside to accept increasing, everyday militarism," she said.
One hundred people attended a discussion of War School, a film about militarism and British schools, featuring speakers including Ellis Brooks, peace education coordinator at Quakers in Britain.
Presented as a celebration of veterans and forces personnel, the Armed Forces Day parade includes cadets as young as 12 in military uniforms. Even younger children were invited to sit at the controls of weapons and military aircraft.
Since 2008, there has been a concerted push by the armed forces to engage with school children, especially those in deprived areas, with visits to 10,000 schools a year.
Paul Parker, recording clerk for Quakers in Britain, said: "Quakers believe that all life is precious. We have always tried to 'live in that life and power which takes away the occasion of all wars.'
"Instead of pretending that Armed Forces Day is a family-friendly celebration of their peace-keeping work, the British government should stop recruiting children into the military and stop recruiting the wider society to be war ready. We should be investing in education for peace, not war."