Quakers champion right to protest
Quakers in Britain are campaigning against the Police, Crime, Sentencing and Courts Bill, which threatens the right to protest.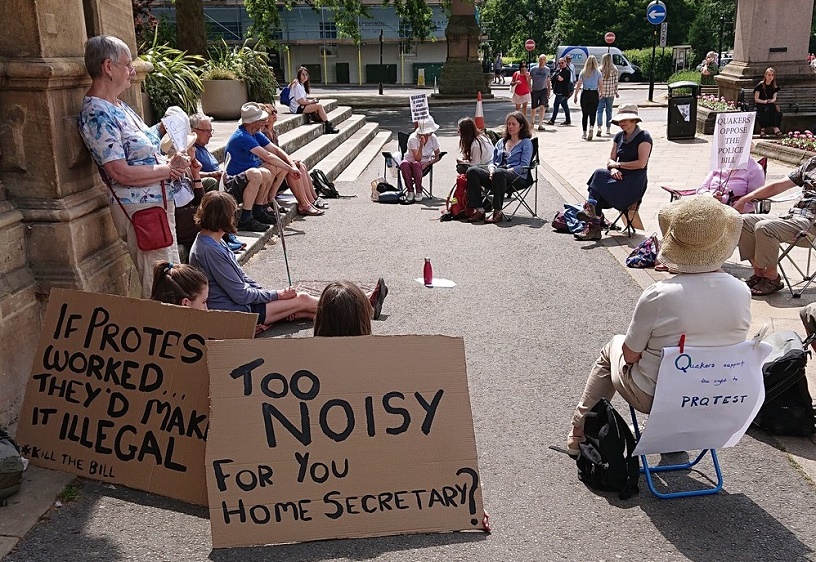 The Police, Crime, Sentencing and Courts Bill has passed its House of Commons stages and will go to the House of Lords in September.

The bill would give the police a lot more power to ban and restrict protests. Protesters who stray from the rules would face heftier fines and longer prison sentences. The bill also criminalises trespass. The measures in the bill will have a disproportionate negative effect on marginalised groups such as People of Colour and Gypsies and Travellers.
Quakers in Britain are on the steering committee for a coalition of groups campaigning against these sections of the bill. The other members of the steering committee are: Bond; Friends, Families and Travellers; Friends of the Earth; and Liberty. The broader coalition includes organisations from across a number of sectors, including criminal justice reform, homelessness, and women's rights.
Quakers have taken the following action during the Commons stages of the bill:
Met key MPs to persuade them to raise our concerns with ministers and other parliamentarians
Briefed all MPs ahead of debates
Submitted evidence to the bill committee
Local meetings and individual Quakers have teamed up with local Amnesty and Friends of the Earth groups to lobby members of the bill committee
Some local meetings have also held vigils and protests against the bill.
Quakers in Britain are now working with other organisations to lobby Peers ahead of the Lords stages of the bill. Quakers are encouraged to continue building public opposition to the bill by engaging with their MPs and spreading the word in person and online.