Sharing faith adventurously in Quaker Week
In Quaker Week (3-11 October) Quakers around Britain will find simple and imaginative ways to share and deepen their faith.
Sharing personal faith journeys is a key element of the week. Follow us on Twitter @BritishQuakers.
Beginning with stillness, faith becomes action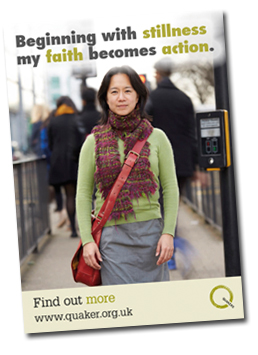 Online and on posters, five Quakers in Britain reflect how, beginning with stillness, their faith becomes action.

Jan Arriens, of Clun Valley in Shropshire, says that for him being adventurous is about going forward with faith.
"Like a blind person tapping the edge of a cliff with a stick and finding that each tap extends the ledge on which they stand."
"When I was new to Quakers, being adventurous was to start corresponding with someone on Death Row and then to involve others," he says.

His faith in action is centred on stillness which he says might for some be found in music, nature, woodwork, arts and crafts. Or through unexpected people. "We may be inspired by acts of courage and selflessness," says Jan. There's something in humanity that makes us care. We have empathy with totally strange people and that can be deeply inspiring."

Another Quaker, Jenn Mui of Wandsworth, says her faith is inseparable from the experience of daily life.

[QUOTE-START]
I look for the Spirit in the messiness and murkiness of life.

- Jenn Mui
[QUOTE-END]
Rhiannon Redpath, of Street, says for her, Quakerism is where spirituality and politics meet. "My stillness is with me all the time, whether in Quaker meeting or outside parliament. The Inner Light continues to support and guide me in what I do."

Rhiannon has been a peace worker, placed in London by Quaker Peace and Social Witness and also a programme assistant on peace and disarmament for Quaker United Nations Office (QUNO). She says: "Our amazing history of action, justice and equality allows me to be confident to speak truth to power."
Quaker Week around Britain

Around Britain, as well as worship, there are many events to raise the profile of Quakers. Each reflects the spiritual source of Quaker faith and the deep still place from which to act. They include:
Friday 2 October, from 7.00pm, a workshop to try to discover how to simplify our lives. At Worcester Quakers' Meeting House, Sansome Place, Worcester WR1 1UG.
3 – 31 October from 10.00am to 7.00pm daily, at Claridge House, Lingfield RH7 6QH, a free art exhibition, Stillness and Energy, Peace and Vitality.
Tuesday 6 October, 6.30pm to 9.00pm, at Ipswich Friends Meeting House, 39 Fonnereau Road, Ipswich IP1 3JH, Quaker Quest: exploring Quaker views on God, equality, worship and peace. Four sessions on 7,14, 21,and 28 October.
Thursday 8 October, 8.00pm, talk on "The Making of a British Soldier" by Ben Griffin, founder of Veterans for Peace and peace campaigner, ex-Parachute Regiment and SAS, who served in Northern Ireland, Macedonia, Afghanistan and Iraq. Ludlow Assembly Rooms, Mill St, SY8 1AZ.
Thursday, 8 October, 7.00pm, Quaker Meeting House, 12a Queen Parade, Harrogate HG2 8ER, screening CND film, The War Game, the nuclear war drama created by and withheld by the BBC for nearly twenty years.
Quakers around the world
Around the world, on 4 October, World Quaker Day, a global picture of Quakers will be created when many will post stories of faith on www.worldquakerday.org , on Twitter and Facebook.
For Quaker meetings
If you are a Quaker and you want to add your meeting's Quaker Week event to the calendar please add it here and tag it 'Open to all'.
If you would like to know more about outreach and Quaker Week, please visit our old website.