Peace activists cleared of obstructing arms fair
Peace activists have been found not guilty of charges arising from blockading the world's largest arms fair held last year by Defence and Security Equipment International (DSEi) in East London.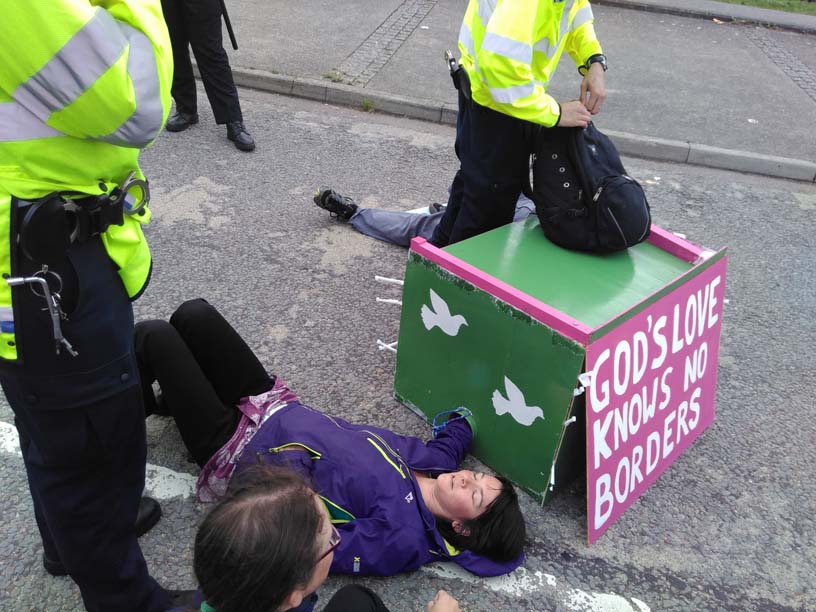 As truckloads of equipment arrived, Quakers were among those peacefully protesting with faith groups to say 'no' to the arms trade and 'no' to profiteering from war.
7 February, London Quaker Jo Frew, Nora Zeigler, Henrietta Cullinan and Chris Cole were found not guilty of obstruction of the highway.
8 February, Hull Quaker Sam Donaldson, Nicholas Cooper, Tom Franklin and Louis Dorton were cleared of wilfully obstructing a public highway.
A hearing at Stratford Magistrates Court this week was told that while protesters did lie in the road, locked on to wooden frames, their human rights under articles 10 and 11 of the European Convention of Human Rights, must be upheld.

Faith groups and others staged seven days of nonviolent prayerful action, disrupting preparations for the arms fair at the ExCel centre in London Docklands.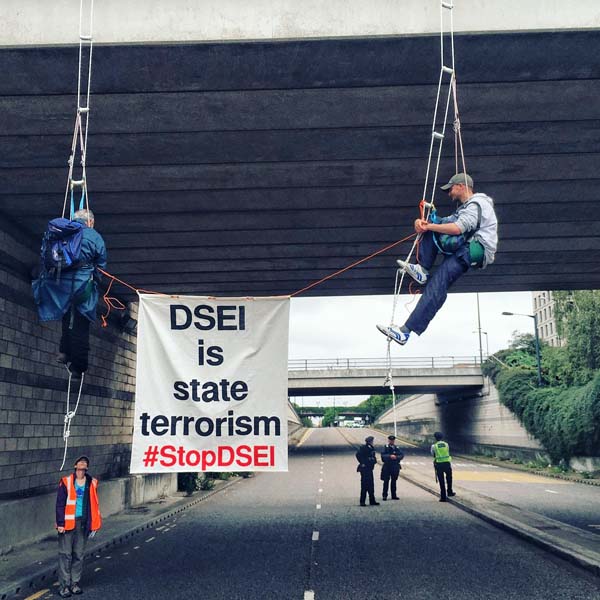 Groups of Quakers travelled from across Britain to support the action. There were meetings for worship and silent, candle-lit vigils, in solidarity with victims of the arms trade.
At an earlier hearing, Quakers charged with obstruction of the highway were given six months' conditional discharge and fined £85 court costs plus £20 Victim Support surcharge. They were arrested while standing in silent worship.
More than 100 people were arrested in September 2017 outside the Excel Centre in east London, during the DSEI (Defence & Security Equipment International) arms fair, which takes place every two years. The fair attracts international arms dealers from countries including Bahrain, Oman, Saudi Arabia, Pakistan and UAE.
Charges against most of the protesters were dropped, but the remaining 46 activists have faced trial throughout January and February. Nine of 10 protesters tried in January were found guilty of obstructing the highway.
Photo credits: Ellis Brooks and Andrew Metheven