House of Lords votes through bill that gives police unprecedented powers
Police in the UK will have unprecedented powers to restrict protests they deem "too noisy" after the House of Lords votes through the Police, Crime, Sentencing and Courts Bill, despite strong opposition from MPs, Lords and campaigners, including Quakers.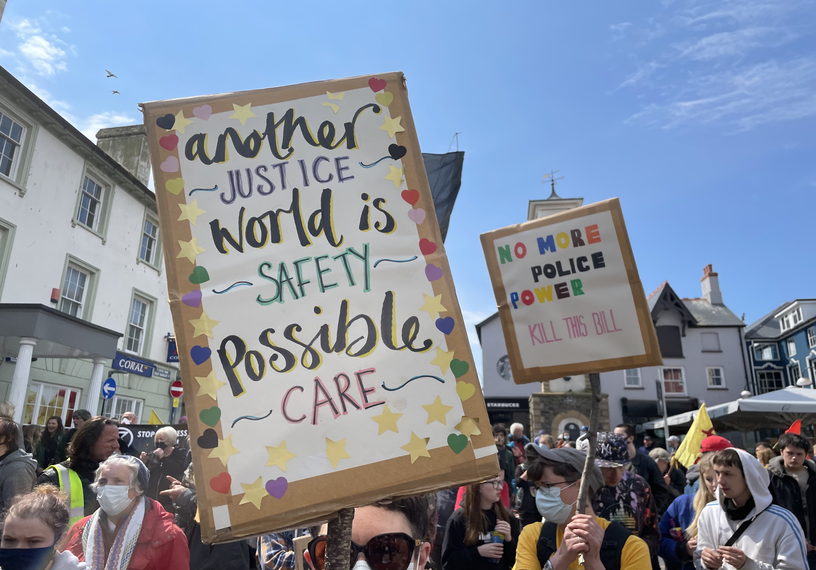 The verdict comes one year after the bill was introduced and three months after back-and-forth between the House of Commons and the House of Lords, during which time MPs repeatedly rejected peers' amendments.
Quakers in Britain co-founded joined the Police Bill Alliance, an informal coalition of more than 350 UK organisations, to oppose the bill's assault on freedom, rights and marginalised communities.
Tens of thousands of people across the country took to the streets against the bill, nearly a million people signed petitions, hundreds of organisations rallied around the cause, and parliamentary champions in both Houses spoke out against it.
During the back-and-forth over the bill, the Police Bill Alliance succeeded in removing some of the most draconian measures impacting protects, including protest banning orders and suspicion-less stop and search of protesters. The Police Bill Alliance said: "We did not allow the Government to push this anti-democratic bill through quietly and will continue to defend and promote democracy."
[QUOTE-START]
Today is a dark day for democracy

- Police Bill Alliance
[QUOTE-END]
But they warned: "Today is a dark day for democracy. Despite over a year of relentless opposition, the Government today passed measures in the Police, Crime, Sentencing and Courts Bill that will undermine everybody's right to protest and criminalise the way of life of Gypsy and Traveller communities.
Paul Parker, Recording Clerk of Quakers in Britain, said: "Quakers in Britain have worked hard to oppose this bill because of our commitment to equality and justice. We're devastated that we haven't been able to convince the government or its MPs to remove any of the draconian measures."
He added: "Part 3 of the bill will restrict the right to protest, which is an important way in which many Quakers put their faith into action. Part 4 will prevent Gypsy and Traveller communities from pursuing their traditional nomadic way of life. We stand in solidarity with those in already-marginalised groups who will be disproportionately harmed by the provisions in the bill."
The bill gives the police the power to impose noise-based restrictions on protests, greater powers to restrict static assemblies and limit protest outside parliament. It allows police to impose large fines and jail sentences on anyone who strays from conditions imposed on a protest, even if they did not know those conditions were in place.
"This will not only punish those taking part, but may deter people from joining peaceful protests in the future," the alliance said.