Children show they can resolve conflicts
A team of ten and eleven year olds will be among the prize winners at the National Mediation Awards 2018, being held tonight (Tuesday 9 October) in London's prestigious Queen Elizabeth II Centre in Westminster.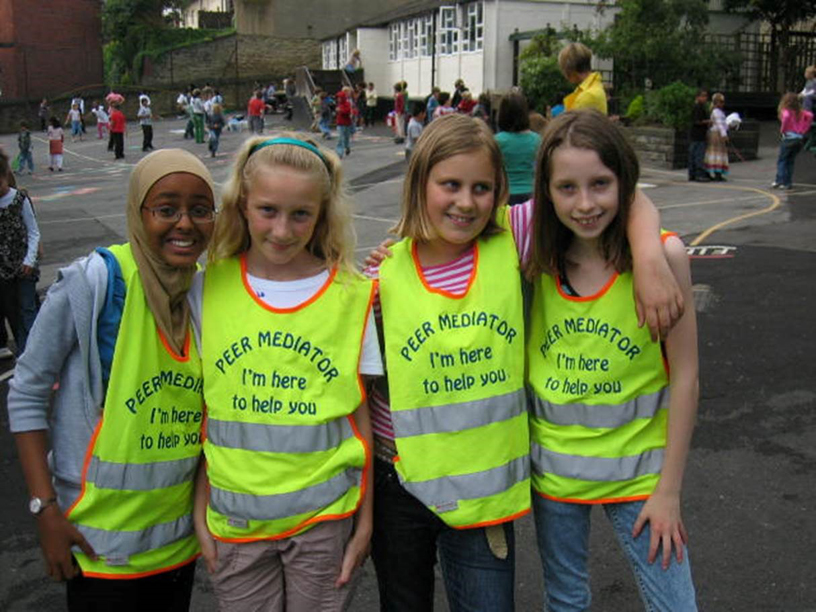 The winning school is Hay-on-Wye Primary School in Wales. The children explain what mediation means to them.

The awards are hosted by the College of Mediators and the Civil Mediation Council to recognise excellence, but this is not confined to adults. This year there is an exciting new category: peer mediation. Peer mediation is conflict resolution for young people by young people, and used in schools around the UK– and the world– to resolve conflict peacefully and creatively.

Evidence from OFSTED, from teachers and children themselves shows that peer mediation can make schools safer and can build life skills. With the help of the Peer Mediation Network, (PMN the umbrella body for peer mediation trainers) nominations were invited from schools.
[QUOTE-START]
Why wouldn't we support peer mediation in every school?

- Ellis Brooks, Quakers in Britain
[QUOTE-END]
Ellis Brooks, Peace Education Coordinator for Quakers in Britain, who support the PMN, said, "Conflict is part of life. Children are fantastic at finding creative nonviolent solutions. The mediation process is about really listening and being fair, and young people really get that. Peer mediation means children learn to deal with conflict themselves instead of waiting for an adult."
Children say: "it has helped because children don't have to get shouted at by the teacher" ...."it has helped people be friends and not be nasty"…."it is a more friendly school and we see less arguments".

Teachers observed the "children gain confidence and develop their speaking and negotiating skills".
However, peer mediation is still fitfully applied around the United Kingdom. Organisations like Scottish Mediation, Peacemakers, CRESST or Wye Valley Mediation provide schools with fantastic training, but there are swathes of the country where that does not happen. The PMN has been working closely with the College of Mediators to develop training standards in peer mediation that are being rolled out nationwide.
"Conflict resolution is something we can all learn," says Ellis Brooks. "But often we wait until people are in crisis to help. Why wouldn't we support peer mediation in every school?"
On 9 November as part of the INSPIRE project, thousands of young people will mark the centenary of the Armistice that ended World War I, with acts of Remembrance for Peace. This award shows young people can be at the heart of building that peace.