Celebrating resistance in Refugee Week
This Refugee Week Quakers in Britain are welcoming poets and musicians to help change the way refugees are seen. A line-up of award-winning voices at These Walls Must Fall will celebrate resistance to injustice.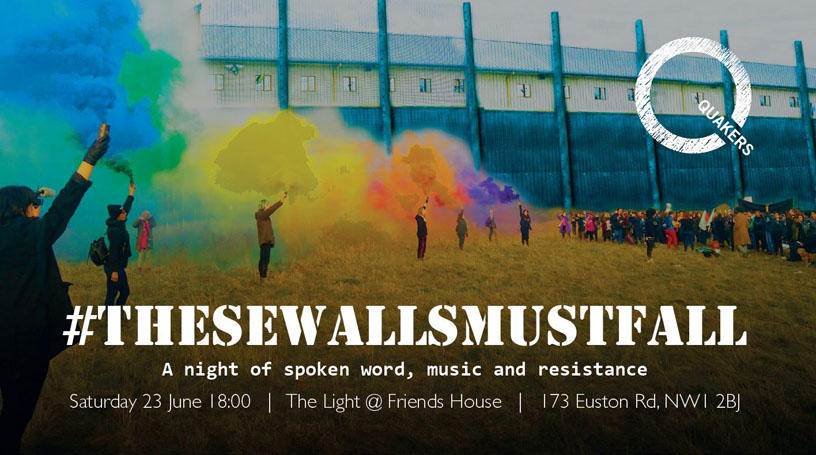 Events around the country and this one in central London are part of Refugee Week, the UK's largest festival celebrating the contribution of refugees, celebrating its 20th anniversary from 18 to 24 June 2018.
While migrant and refugee communities face increasing violence and abuse this event, on Saturday 23 June, aims to transform communities to become beacons of welcome and hospitality. Quakers are working with Right to Remain, Detention Action, Refugee Week , Student Action for Refugees and Counterpoints Art to overcome fear and mistrust.

Watch 20 Simple Acts: Quakers in Britain are building a racial justice movement in #refugeeweek
Pressing play on the video below will set a third-party cookie. Please see our cookies page to find out more.
47be61aca2
[QUOTE-START]
People are exercising their rights to live lives of dignity.

- Paul Parker, Quakers in Britain
[QUOTE-END]
Paul Parker, recording clerk for Quakers in Britain, says, "People across society are responding to violence and abuse with creativity. They are building the kind of world that they want to live in. They are showing solidarity with one another, campaigning for change and exercising their rights to live lives of dignity.
" These Walls Must Fall is an invitation to listen to poets and musicians who are at the forefront of forging creative responses – based on kindness and common humanity – to global economic inequality, climate change and militarisation," he says.
Lauren Cape-Davenhill, These Walls Must Fall campaign coordinator, says, "When we unite across our communities, build power and fight back, we are strong and we will win. Watch out hostile environment – the walls are coming down!"
The artists include:
JJ Bola is an established writer and poet. He has written three collections: Elevate (2012), Daughter of the Sun (2014) and WORD (2015), and is the author of No Place to Call Home. He writes on themes related to migration, race and borders.
The Nawi Collective are a London-based black women's vocal collective who sing for justice to reclaim their time and for their ancestors.
Selina Nwulu was the young poet laureate for London whose work touches on social and environmental justice as well as identity, nostalgia and belonging.
Bards Without Borders are a refugee and migrant poetry collective who have toured their performance responding to Shakespeare across the country and are now investigating the theme of patriotism.
Hejira are a four-piece London band partly named after Joni Mitchell's 1976 album, and partly after the Arabic word meaning 'flight or journey to a more desirable place'.
Follow #TheseWallsMustFall
Tickets are available via Eventbrite. The event runs from 6.00-9.00pm on 23 June at Friends House, opposite Euston Station.
The hosts for These Walls Must Fall are Tatiana Garavito, Sanctuary Everywhere Programme Manager for Quakers in Britain, and Chris Venables, from the young adult Quaker community.
To celebrate Refugee Week's 20th anniversary people are invited to do one of 20 Simple Acts, which are simple actions everyone can do to stand with refugees and bring people together in their communities.
Refugee Week takes place every year across the world in the week around World Refugee Day on 20 June.

Refugee Week is being marked around the country
Bristol's Refugee Festival includes an event at Redland Quaker meeting house on Saturday 23 June. Molly Scott Cato MEP and Imogen McIntosh will share their experiences from Europe, encouraging local action in solidarity with refugees. See: https://www.eventbrite.co.uk/e/the-refugee-crisis-a-view-from-europe-tickets-46439319254
In Glasgow, refugee friends are welcome for an afternoon of music, storytelling, conversation and more. "Strangers? No just Friends we have not met!" is on Friday 22 June at Glasgow Quaker meeting house. See: https://www.glasgowquakers.org/news/sanctuary-everywhere