​How to #StayAtHome when you have no home
Central Bristol Quakers have donated the kitchen in their meeting house to help feed homeless people made even more vulnerable by the Coronavirus crisis.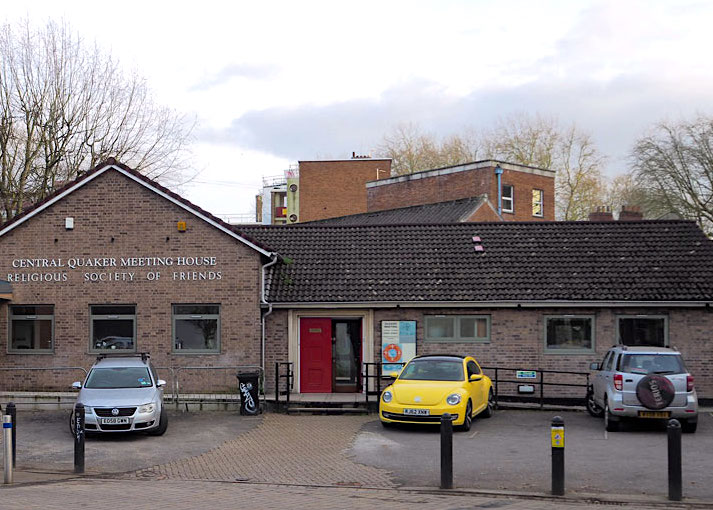 In line with government guidelines on social distancing, face-to-face worship has been suspended. Instead Quakers are meeting in stillness online. And their meeting house is a field kitchen for eighty or more rough sleepers.

Central Bristol Quakers were well-placed to anticipate this crisis. Before the global pandemic erupted, they were working with allies to provide shelter. There is a long tradition for Quakers to be heavily involved in relief work, in tackling injustice and in seeing that of God in everyone. That led to a vision to transform their city centre meeting house, fit for purpose, to care for the needs of homeless people.
One Friend had an idea - to provide shelter in bad weather. They welcomed a local Islamic-funded charity, Feed the Homeless, to provide food and facilities for rough sleepers. Soon, the meeting house, known as NS365, became a night shelter, run all year round for invited guests. It was originally managed by staff of the St Mungo's charity, and for the last two years by staff at Caring in Bristol.
Then Coronavirus arrived. To save lives the government instructed total lockdown #StayAtHome. But the homeless had no homes to stay in.
"We decided some time before national lockdown that we might have to close the meeting house to all users for the duration of the emergency," explained Dean Smart, clerk of Central Bristol Quakers. "We decided we would hand over the building to Caring- so the night shelter could become a 24/7 day shelter, and jointly to Feed the Homeless so that both organisations could continue catering on site for homeless people.
"Before full social distancing was introduced we closed the meeting house and created a safe haven. Plans were made in case of guest illness- with a designated isolation room.
"The transition was smooth, and volunteers wonderful. A recently introduced multimedia projector allowed films to be shown to prevent boredom, and Caring volunteers staffed the meeting house throughout the day and night, and both Caring and Feed the Homeless used the kitchen to support food preparation.
"Then the government ordered local authorities to house the homeless in hotels and plans were made to empty the meeting house for overnight use.
"However, budget hotels do not have large kitchens or expect to feed all their guests daily, so food provision remains a problem. The cafés and restaurants which used to donate food or offer occasional breakfasts to the homeless and many shops closed.
"Feeding people has become a major challenge.
"The meeting house is effectively now a field kitchen. Feed the Homeless are preparing meals to take to 'locked down' homeless people in individual hotel rooms, and feeding people on site with social distancing rules enforced as far as possible. Not ideal but the best provision available. We are currently assessing how we help further and what needs to be bought to support this over the coming months.
"For the moment no-one stays overnight but the building works hard and the volunteers are giving hope to the homeless and showing them that we all still care, worry about − and want to protect their wellbeing," said Dean Smart.
"Feed the Homeless need funds and donations from the public and retail and food industries. Both charities have spent a great deal of money in the emergency so far, and there is a long haul ahead- so cash is also needed or longer term standing orders."
Visit Central Bristol Quakers' website.