Donate
Search
This event has ended.
BYM Sustainability Gathering: Bridging the gap
19 - 21 October 2018, The Hayes Conference Centre
You can find the programme and other conference information towards the bottom of this page.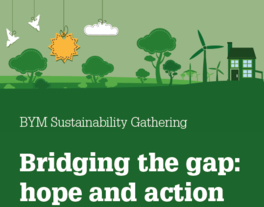 In 2011, Britain Yearly Meeting committed to becoming a low-carbon, sustainable community. This is our third national face-to-face gathering to support Friends and meetings in deepening and broadening our commitment. The gathering will address some of the gaps we encounter and the links we seek to make as we give life to our commitment – for instance, between:

sustainability and the other values we try to live, including areas of Quaker testimony
different groupings within our meetings, and in wider society
humans and the rest of the natural world.
More information
For more information contact:
Andrew McVicar
Telephone: 02076631119
Supporting documents
Supporting links
Related events