Donate
Search
This event has ended.
Quaker Tapestry exhibition
7 - 18 August 2017, London
This free exhibition of a selection of Quaker Tapestry panels will be in London for the first time in over 25 years.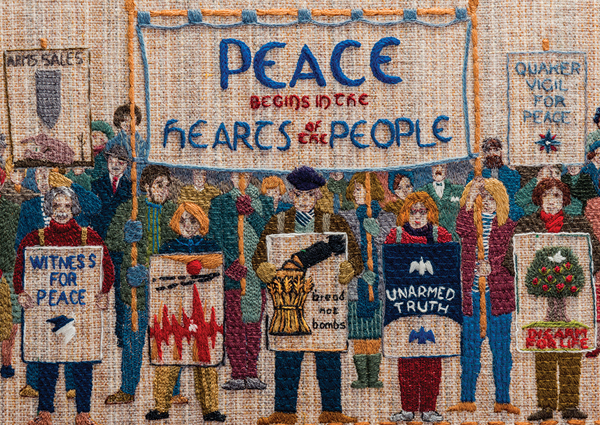 All images © Quaker Tapestry
A selection of the 77 Quaker Tapestry panels will be on display at Friends House, opposite Euston station.
This free exhibition is open Monday to Saturday, 10am to 4pm. Late night Thursdays until 8pm.
An embroidery taster workshop will be available at this roadshow. Learn the six stitches that are used in the Quaker Tapestry and take home your very own stitched sampler. Use the blue 'book your place' button to register.
The Quaker Tapestry began in 1981 as a project to brighten up the children's room – little did they know then that it would brighten up many a room! Since the late 1980s the Tapestry panels have been all over Britain, as well as to some parts of America, France, Ireland and many others.
If you are planning to visit in a large group please contact Teresa Riley on teresar@quaker.org.uk; 020 7663 1068.
Event organised by North West London Area Quaker Meeting, Quaker Tapestry and Britain Yearly Meeting.
If you would like to volunteer to steward the exhibition or attend the launch event on Tuesday 8 August (6-8pm) please contact Robert Clark and Susan Costello on friendshousemeeting@quaker.org.uk.
Find out more about the Quaker Tapestry and the museum in Kendal at: www.quaker-tapestry.co.uk.
More information
For more information contact:
Elizabeth Payne
Telephone: 020 7663 1158
Related events