Search
This event has ended.
Quaker Activist Gathering 2019
2 November 2019, London
At the Quaker Activist Gathering we will gather as a community of Quakers and Quaker-curious people for an intergenerational, restorative and invigorating day together, focused on how we do social action.

Exploring our shared lives of worship, witness, testimony and activism, we will build connections, reflect and share stories, to bring our faith deeper into practice.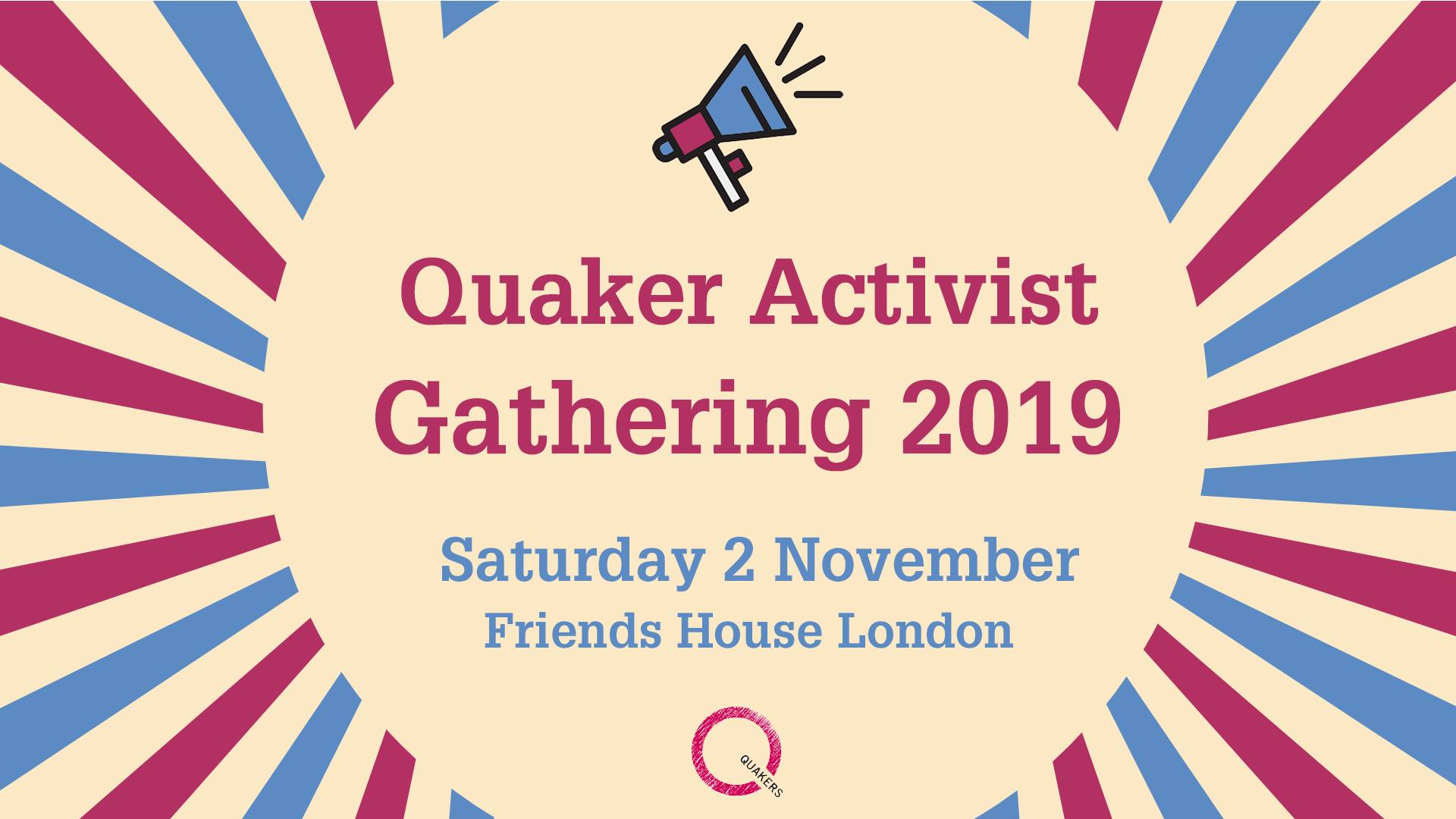 This will be a spacious day, facilitated by Quakers and Quaker Peace & Social Witness staff.
You might be new to Quakerism and putting your faith into action; or you might be comfortable at demos and direct actions and are looking to learn more about organising them; or you might be so tired, and looking for the spiritual nourishment of being with others who care as deeply as you do.
Maybe you're a youth climate striker, or a caseworker witnessing the impact of government cuts, or a person peacefully resisting the arms trade.
There will be something for everyone. Save the date and look out for the upcoming announcement of workshops and sessions.
----------
Quaker faith & practice 23.12
"The word 'testimony' is used by Quakers to describe a witness to the living truth within the human heart as it is acted out in everyday life. It is not a form of words, but a mode of life based on the realisation that there is that of God in everybody, that all human beings are equal, that all life is interconnected.
It is affirmative but may lead to action that runs counter to certain practices currently accepted in society at large. Hence a pro-peace stance may become an anti-war protest, and a witness to the sacredness of human life may lead to protests against capital punishment.
These testimonies reflect the corporate beliefs of the Society, however much individual Quakers may interpret them differently according to their own light. They are not optional extras, but fruits that grow from the very tree of faith."
Harvey Gillman, 1988
----------

Booking
***THIS EVENT IS NOW SOLD OUT***
If cancellations occur we will re-open bookings.
Travel & funding
For potential participants who are prohibited by travel costs, we have a small fund available to cover these expenses. Please note your circumstances and needs when you register.
We are committed to ensuring that no-one will be unable to attend due to lack of funds.
Young people & parents
Experienced volunteers will provide pastoral care to people under 18. Depending on numbers and the specific needs of participants, we can plan for a creche, a children's activities programme alongside the day's sessions, and accompaniment for teens who opt to attend without a parent or guardian.
The sooner we know your needs, the better we can provide for them! Please note your requirements when you register.
More information
For more information contact:
Lyndsay Burtonshaw
Telephone:
Supporting documents
Related events