Search
This event has ended.
QCEA Building Peace Together report launch
21 March 2018, London
The visibility of violent conflict from all over the world in our daily digest of news and media creates a sense that violence – or the threat of violence – is ever-present, when in fact, it is peace that is the norm. Building Peace Together makes the case for peacebuilding and provides a myriad of tools that can be used by actors across the board.
The report argues that peacebuilding requires an in-depth understanding of context, of the nature of the conflict dynamic and a conjuction of actions across a wide range of sectors. It enables any actor to see their engagement through a peacebuilding lens and makes peacebuilding everyone's business.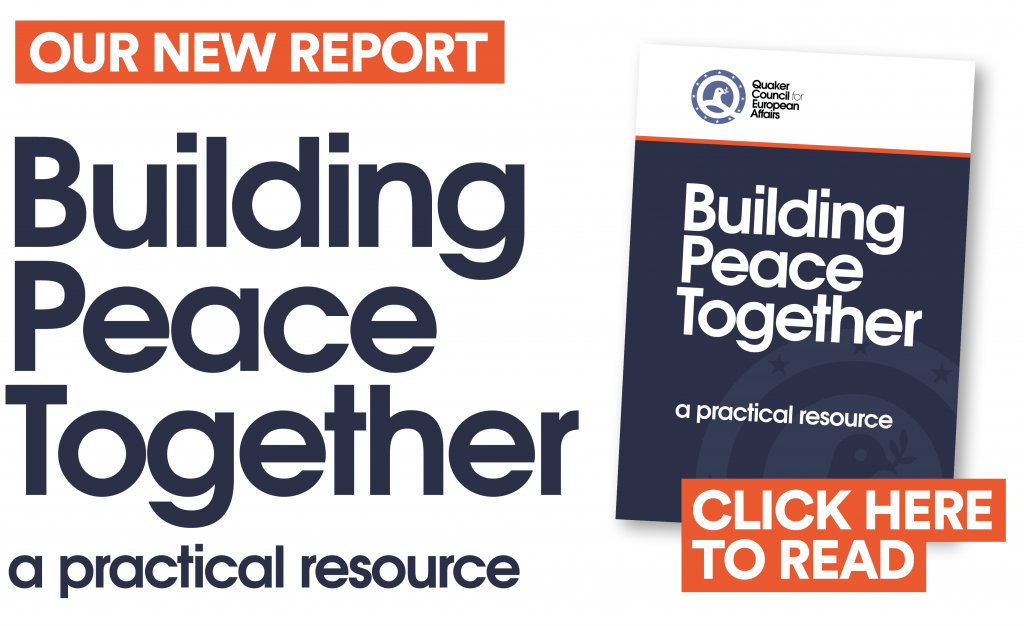 Opening Remarks and moderation: Marigold Bentley, Head of Peace Programmes and Faith Relations (Quaker Peace & Social Witness)
Olivia Caeymaex, Peace Programme Lead (Quaker Council for European Affairs)
Julian Egan, Head of Advocacy (International Alert)
Charlotte Morris, Senior Conflict Advisor (Department for International Development (DfID))
Respondent: Tobias Wellner, East Africa Programme Manager (QPSW)
RSVP by Monday 19 March to Dilia Zwart: dilia.zwart@qcea.org
More information
For more information contact:
Dilia Zwart
Telephone:
Supporting links
Related events