Donate
Search
This event has ended.
Quaker Activist Gathering 2020
28 November 2020, Online
Maybe 2020 is the year we need to gather in the spirit of witness and social action more than ever.
As a community of Friends and the Quaker-curious taking action for a more peaceful, just and sustainable world, we will gather online for a spacious, intergenerational, restorative and invigorating day together, focused on witness and activism.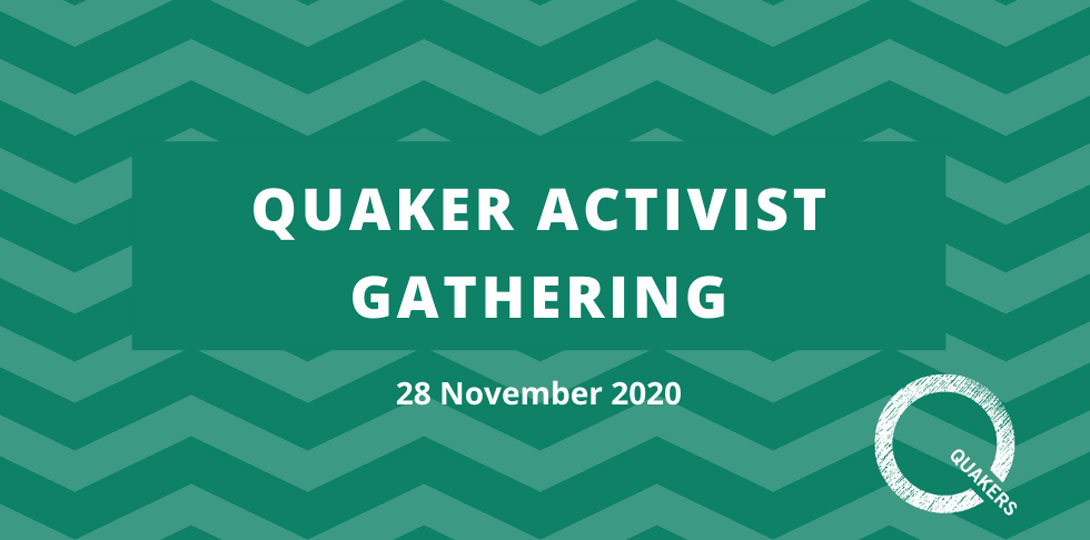 There will be:

space to share and hear stories of witness in these trying times
to find connection, peace and inspiration with each other
to ground deeper into the spiritual foundations of our activism
You may be new to Quakerism and putting your faith into action; or you might be comfortable at demos and direct actions and are looking to learn more about organising them; or you might be so tired, and looking for the spiritual nourishment of being with others who care as deeply as you do.

Maybe you're a youth climate striker, or a key worker witnessing the impact of our stretched public services, or a person peacefully resisting the arms trade. There will be something for everyone.
The event is being organised by Quaker Peace & Social Witness (QPSW) and will also be an opportunity to find out more about how QPSW staff can support you in your witness and activism.
On the day we will have Special Interest Groups (SIGs), so everyone has a chance to have focussed discussion time on one of the themes of: peace, environment and climate or equality and social justice. We acknowledge that these areas of witness are all interlinked and inseparable. Don't worry too much if you'd like to join more than one SIG, we'll have a chance afterwards to come together as a whole group to share and learn from each other, so no one will miss out.
Young people are very welcome at the Activist Gathering. However, because of safeguarding regulations, under 18s do need to be accompanied by a responsible adult. You can leave this information on the sign up form.

Looking forward to seeing you there!
For any questions, contact us on qpswevents@quaker.org.uk

Registration closed at 5pm, Friday 13 November 2020.
More information
For more information contact:
Organising team
Telephone: Please email us
Related events