Average read time: 4 minutes
Why we're going to Glastonbury
With its mix of music, politics and spirituality, Glastonbury festival remains one of the biggest in Britain. Jon Martin explains why this year young adult Quakers will be there to provide a place of spiritual sanctuary.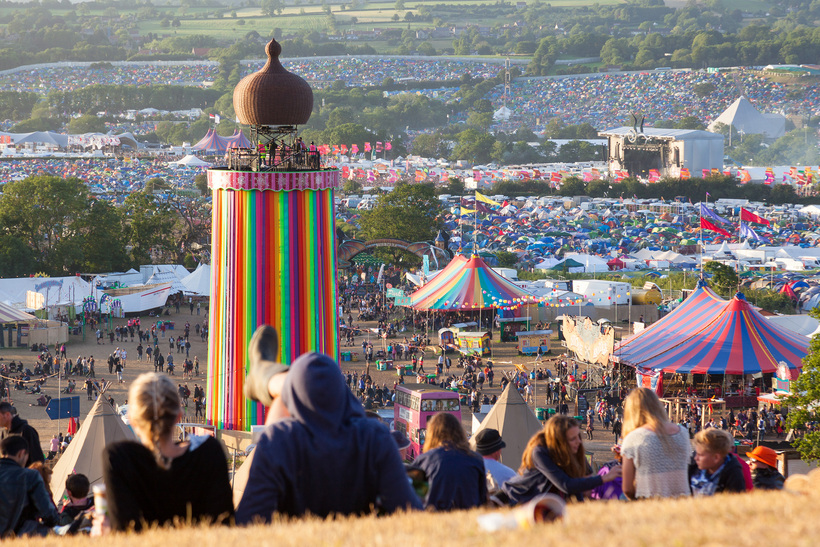 This year Glastonbury festival attendees are going to be seeing something new amid the bands, bars and queues for the loos: not one but two dedicated Quaker tents.
As far as we know this is the first time Quakers in Britain will attend Glastonbury as a Yearly Meeting. We hope our presence will provide a (relatively!) quiet space where festival-goers can take some time out for spiritual nourishment and also find out more about the Quaker faith and the work we do in the world.
Our presence will provide a place of sanctuary, but also call for #SanctuaryEverywhere and raise the profile of our Sanctuary work. Quakers are committed to working with others to create a culture of compassion and welcoming hospitality for newcomers to Britain, and at Glastonbury we hope to find allies and spread awareness. We'll be making it clear that we aren't in a migrant crisis but in a crisis of inequality, war and climate change.
Quaker connections

So, why Glastonbury? First of all, the festival's reputation for counter-culture, radical politics and spirituality makes it seem like a natural fit.
Then there's the Quaker connection with the festival's origins. Its founder Michael Eavis has cited his Quaker uncle as being a great influence on him, and has stated that the non-conformist traditions of mid-Somerset were essential to the growth of the festival. As he said in 2014: "It succeeded only because of the support and influence of the Clarks and the Quaker/Methodist non-conformism here. It simply would not have succeeded anywhere else in Britain." Nowadays Quakers are still among those in the local community who volunteer as stewards.
But our connection in terms of values and history only tells part of the story as to why we are there. Our presence is also part of a continuing tradition of Quaker community and worship that is not restricted by location or structure. For me and many other Quakers, a gathering at a festival site is as meaningful a worshipping community as a local meeting.
Spiritual conversations
For younger Friends this is often how they experience Quakerism in their lives: through longer periods of gathered community at events through the year, rather than attending a meeting every week. That's one of the reasons why our presence at Glastonbury is being coordinated by our Engaging Young Adult Quakers (EYAQ) project as part of its exploration of how to help young adults to thrive.
Glastonbury provides a valuable point of contact here, as previously realised by Young Friends General Meeting who attended the festival in the mid-2000s. EYAQ has recruited a number of volunteers who will be on hand in our larger main tent – which will be holding meeting for worship during the festival – and also in a connected smaller tent which will provide a space for spiritual listening and deeper conversation.
Renewed connections
Having been a part of the Quaker presence at festivals like Greenbelt and Hay Festival, I've learned there is something else we provide for a surprising number of festival-goers: a reconnection with something they may have thought was lost.
For these people, who previously had a significant connection to Quakerism that over the years slipped into the back of their lives, our stall was like a seeing a ghost from their past.
So often people transitioning into different phases of their life find their links to Quakerism become difficult to maintain. Whether it be the loss of family or friends, moving away from a local Quaker community, or the strain of other commitments that link fades. But the values and spiritual approach of Quakerism so often lingers.
A chance to reconnect with these individuals is as significant as anything else we might encounter. They are part of our wider community and we should value them as such in their own way.
Community with purpose
As Quakers we often talk about the 'Quaker way' as short hand for the concept that faith must be lived throughout life rather than associated with individual acts or occasions. For me trying to live out my faith helps give purpose to my life. By gathering at Glastonbury we are seizing an opportunity to live out our values, and share them with others. To show we are a community with purpose.
If you are you going to Glastonbury, do get in touch. Whatever your age or connection to Quakers drop us a message at youngadults@quaker.org.uk – we'd love to hear from you! And if you have a few hours to spare it would be great to join us on the stall as a volunteer.