Average read time: 4 minutes
Shining a light on the arms trade
Every two years the world's largest arms fair comes to London. Sam Walton outlines what Quakers are doing to help stop it.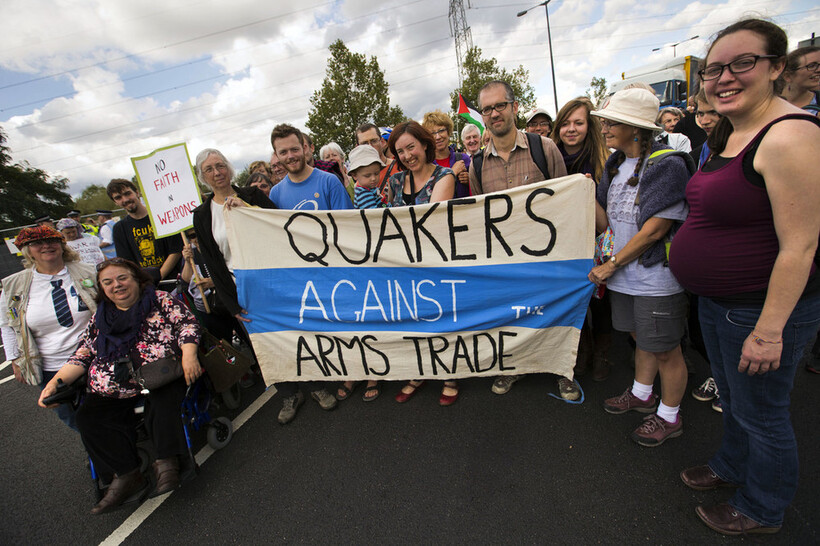 On Tuesday 12 September the world's most prestigious arms fair – DSEI (Defence & Security Equipment International) – starts in London. But less than 10 per cent of Londoners even know it is happening. Quakers from across the country are working together with other churches, faiths and movements for social change to try and stop it.
DSEI is the world's largest arms fair. It happens once every two years at ExCeL – the huge exhibition centre in London Docklands. Every two years, protesters witness representatives from governments involved with internal repression, torture and human rights abuses attending DSEI in order to ensure supplies for those deeply unacceptable practices. Britain surely cannot promote peace and democracy, and London cannot be a city of peace, if it is where repression and torture begin and if it is where the seeds of war are sown.
A shadowy trade
A strange thing has been happening of late: the arms trade is not even trying to justify itself anymore. The UK arms trade's biggest client is Saudi Arabia, who are currently using the weapons Britain sells them to destroy Yemen. This war has put millions on the brink of starvation, caused the world's worst cholera outbreak and killed tens of thousands. Our country, our government, our arms companies are complicit in this killing of innocents and this destruction of what was an already poor country.
Explaining that our economy should be built on the bodies of innocents doesn't play too well in the media. So the arms trade has come up with a new tactic – don't put anyone forward to speak about what it is doing. I've already heard of one major national show covering the arms fair that has been cancelled because no one would defend the arms trade. Fewer people are hearing about it as a result. The arms trade wants to exist in the shadows where no one can call them to account.
Opposing the arms fair
This is why it is great that there is such a big movement to oppose the DSEI arms fair. Stop the Arms Fair coalition (founded in Friends House, the central offices of Quakers in Britain) have had an unprecedented number of diverse, enthusiastic people coming to their events this year. The only room in Friends House that fits them is now the Large Meeting House – which seats 1,000! Our peace committee (PECAN) has discerned that we should support protests against the arms fair, and we have given Stop the Arms Fair over £10,000 worth of room space in the past year.
Groups of Quakers are travelling from across Britain to lend their support. If you have the time and want to get involved – do come. If you can't make it then take heart as all this organising is supported by the money Quakers give to centrally-managed work. And perhaps you can play another part too – let someone know that this arms fair is happening. You could take it to your local media or press and express your view about DSEI.
Key events during the week of action
Quaker Peace & Social Witness staff will be at these three events, available on 07523 357 905. Download the Stop the Arms Fair flyer (PDF) for further information about these key events.
No faith in war day of action
Tuesday 5 September
A coalition of faith groups will gather for a day of worship, prayer and nonviolent resistance, as truckloads of equipment arrive at DSEI.
Big day of action
Saturday 9 September
This is the errrr… big day of action. It should be lively and engaging, and there will probably be some direct action taking place. It will probably run from about 11:00 to 16:00 with a meeting for worship at 14:00ish.
Candle-lit vigil
Monday 11 September, 19:00
A silent, candle-lit vigil in the evening before the arms fair opens, in solidarity with victims of the arms trade. All faiths and none welcome. Young Quakers are particularly welcome at this event, and staff from the Children & Young People's Team of Quaker Life will be on hand.
During the arms fair
Art the Arms Fair
11–15 September
During the arms fair there is an art exhibition to make it the most talked about arms fair ever. They are looking for volunteers, artists and just people to come along. Find out more at https://artthearmsfair.org/.