Average read time: 11 minutes
New light in the darkness: connecting in troubled times
From online worship to picking up the phone, Quakers across Britain are exploring other new ways to be together while apart. Jonathan Carmichael takes a look.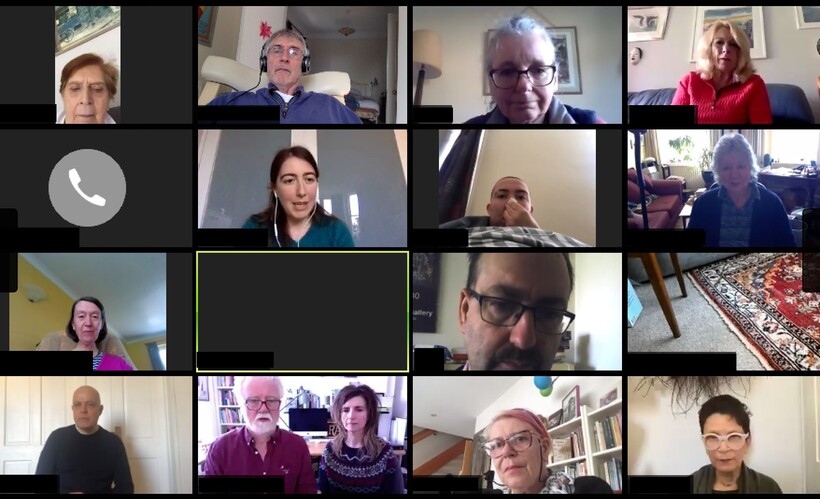 A month ago, the idea of fifty or more Quaker meetings setting up to hold their meetings for worship online seemed impossible. This Sunday (22 March) it happened.
Faced with self-isolation and social distancing, Quakers across Britain have begun to meet in new ways. We are keeping the spirit flowing together, and maintaining our communities. Some have likened it to the way Quakers facing persecution centuries ago 'kept the meeting' in remarkable ways.
Bath Quaker Meeting was one of the many who hosted their first online meeting for worship. After greeting each other and adjusting computer settings to get themselves comfortable, 27 Friends from Bath and beyond settled into a gathered silence.
"As one Friend put it afterwards, 'I thought it would feel a bit artificial but it didn't'", said Bath Meeting's Beverley Goddard. "It felt real. Spoken ministry was as heartfelt and as meaningful as though delivered in person. We were connected, and we could support each other despite not being able to meet as usual."
"Our meeting lasted for 30 minutes this first time, followed by notices as usual. The News of Friends section was a valuable chance to learn who was self-isolating, and how other Friends with health conditions were faring. We talked about our experience of online worship."
"Will we do it again? Definitely. Feel free to find out more about joining us via Zoom."
Meeting across countries
At the same time, a new morning worship hour hosted by Woodbrooke was joined by over 220 people, from all parts of Britain, and other parts of Europe. I was one of those present.
Many participants were using the technology for the first or second time, and had found it useful to have a practice session beforehand to get used to the technology, get over the glitches, and have a laugh as we begin to get used to meeting online.
Once we began, it was so good to see people's faces and hear their voices after a week or two of separation. The worship deepened as the meeting progressed, and spoken ministry flowed. Afterwards, people described it as a powerful experience. One participant commented on how connected they felt to everyone in the meeting during worship, while another reflected on "how similar the experience was to a personal meeting".
One of those present who chose not to turn on their camera said they felt "a little shy" but that the meeting had "certainly made the day a lot easier". Many commented that they would like to continue to meet online, and some were keen to keep up the practice of online worship during the week.
Woodbrooke is expanding the times and days of its online worship, which anyone may join. You can find out more on the Woodbrooke website.
New connections

Meanwhile, other Quaker meetings held their worship without technology, sitting separately in their own homes and joining together in worship at the allocated time. Some gathered afterwards online, or on a WhatsApp group, to share their experiences and to keep in touch.
Over the coming weeks, more Quaker meetings will be experimenting with new ways of holding their worship, using the online meeting for worship advice hosted by Woodbrooke. Some will hold children's meetings. Many are planning to have a 'virtual cuppa' together during the week for a chat.
As we do this, we also need to focus on the 'lost sheep', the Quakers who did not appear because the technology defeated them this time or who are not on anyone's radar. With the help of Friends used to new technology, we can help more people join in – including by ordinary telephone – so they are not so isolated. And for others, regular phone contact outside the meeting will be important, as well as holding them in the light.
Quakers are once again breaking new ground, and finding new ways. As one worshipper said after meeting on Sunday: "There is always new light in the darkness".