Average read time: 4 minutes
How young people are making change happen in Rwanda
Young people in Rwanda are tackling the issues that matter to them with the help of Quaker-backed peace programme Turning the Tide.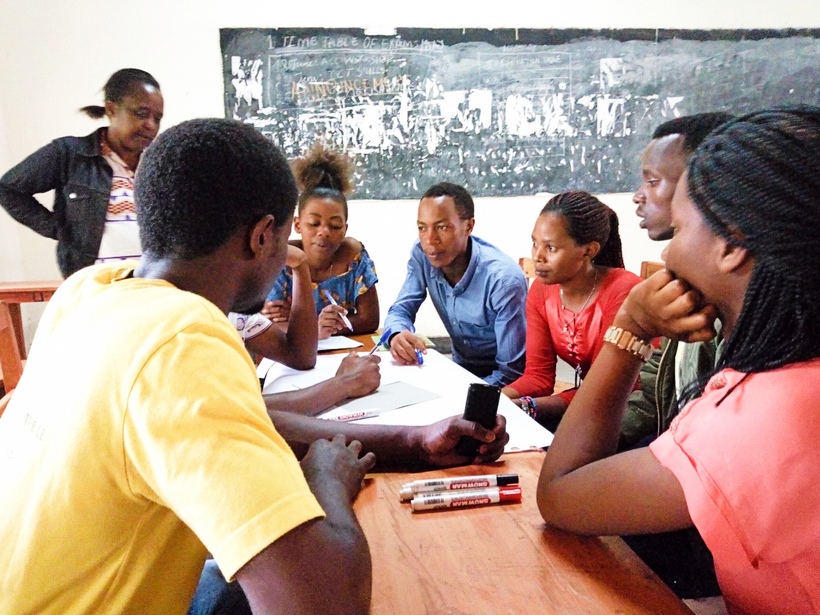 I'm a Quaker from Rwanda and have done peace work for many years. Together with my colleagues, I train young people on how to take nonviolent action, mediate conflicts or help others with healing from trauma. Over the years I have learned that in Rwanda justice campaigns are much more effective if they are supported or even led by young people.
Since 2015 I have been the National Coordinator for the nonviolence training programme called Turning the Tide (TTT) Rwanda. TTT Rwanda trains grassroots communities in nonviolent campaigning and helps groups carry out campaigns which they chose to work on. It is run by the Evangelical Friends Church of Rwanda with support from Quakers in Britain through Quaker Peace & Social Witness, as well as with help from TTT teams in Kenya and Burundi.
Starting out
Our work with young people started with a young man called Maurice Uwase. Maurice was in his last year of high school when we invited him to participate in one of our workshops.
Maurice really liked our training and asked us to train a youth peace club he was part of. At first, it was difficult to adjust our training manual, which was created to train adults. Young people learn and reflect differently than adults. But the young people really helped us out by suggesting their own examples of injustices they face in their daily lives. They were eager to learn and felt free to speak their minds.
Soon after this first training, we started training other young people and supported them in carrying out social justice campaigns in their local communities. Since then, working with young people has become a key part of our programme. Their campaigns are often complex and tackle very difficult issues in Rwanda.
Teenage pregnancies
In September 2020, a youth club in Rubavu decided that they wanted to launch a campaign to investigate the large number of teenage pregnancies in their communities.
With support from TTT Rwanda, the group launched an analysis of this issue and found out that most of the time, these pregnancies were sadly the results of rape. When a young woman became pregnant in this way, her family would "negotiate" with the perpetrator for a price he would pay in order for the family to keep the secret.
According to Rwandan culture, the young women are not in a position to refuse this "negotiation". Local leaders are also involved in this injustice, as they receive bribes from the perpetrators.
Having understood the issue, with the help of TTT Rwanda the youth club mobilized for action. They gathered evidence, mobilized supporters via social media and found allies in the community who helped the team make their messages heard.
A first success was when the local authorities changed the way they investigate and follow-up these cases. Some young campaigners were asked to be part of a newly formed investigation unit.
Things will take time to change, but the work of the young campaigners has started a very important debate in the local community. People are now aware of the issue and survivors feel more comfortable to speak out.
Corrupt authorities
In another area of our country, TTT Rwanda recently supported another youth club to carry out a campaign against corrupt local authorities.
The young people uncovered a corrupt scheme where local leaders received money from people in order to receive relief aid from the national government. This aid should be free, but the leaders took advantage of people's desperation..
The young campaigners mobilised several community meetings, engaged with leaders and used social media to get their voices heard. Their hard work paid off: a new verification system was put in place and two leaders were removed from their positions.
Drivers of change
I have many more stories where young people lead social justice campaigns. Not only are young people key drivers of change in Rwanda, they are powerful allies, because they are a tremendous source of creativity and are not afraid to speak out.
I'm proud to say that as a result of our TTT training, many young Rwandans decided to form peace clubs. There are now 17 of them, with 402 young people being involved. Though the Covid-19 pandemic has made campaigning difficult for all of us, I'm excited to continue working for positive change in Rwanda.