Average read time: 3 minutes
Hay fever
Jon Martin, Stela Brinzeanu and Gill Sewell reflect on their experience of representing Quakers at the 10-day Hay Festival, which this year featured three prominent Quaker authors.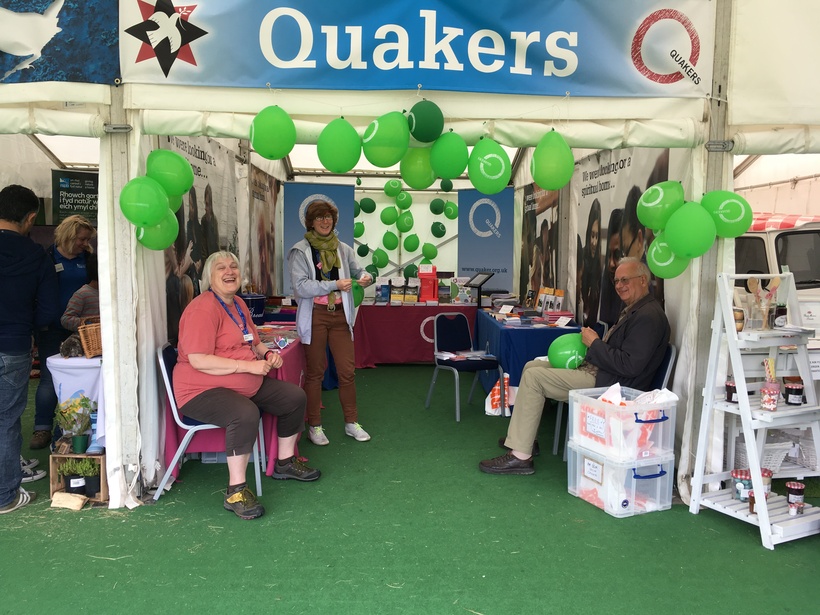 Quakers in Britain hosted an exhibition at the Hay Festival this year for the first time – a festival of books, arts, mind-stretching-talks, glorious sunshine and sheep's milk ice-cream (don't knock it until you've tried it).
The festival takes place each year from May to June, and is located in a green field just outside the town of Hay-on-Wye, surrounded by vistas of rolling hills along the sleepy River Wye.
The brilliant location of our stand – right next to the food hall – meant our staff and volunteers got to talk to a lot of people (usually after their meals – who wants to talk God on an empty stomach?) and answer their questions about Quaker faith and history.
Profound conversations
We had many brilliant volunteers with us throughout. Peter Hussey was one of them: "Almost before the official opening time I had my first visitor and I was straight into a deeply spiritual conversation, the first of many that day," he said.
"I found an excellent approach was to ask: 'Have you had any contact with Quakers?' This provided an immediate basis for conversations which, incredibly quickly, became intensely profound. The intensity of these conversations may have misled me but I feel that in two cases individuals left intending to attend a meeting, while others have taken on board a further impetus to find out more."
During the eleven days of the festival we gave away bags full of free stuff, shared our Quaker stories, made new friends, caught up with old ones and learned something from one another.
The stall sold Quaker books to Friends and enquirers and we gave away over 3,000 leaflets, not to mention the balloons, craft books, biscuits, bookmarks and postcards.
Visitors chose things that sparked their interest whether it was worship, witness, history, the Quaker Tapestry and other venues, or specific information about Welsh Friends that was available in both Welsh and English.

A Quaker life in the spotlight
One of our highlights was the event 'A Quaker life'. This featured Quaker authors Sheila Hancock, Tracy Chevalier and Philip Gross in conversation with Claire Armitstead, books editor for the Guardian, about how their faith informed their lives and fuelled their creativity.
The talk attracted over 700 people to one of the main stages and ended with a few minutes of silence in the way of Quaker worship. Philip Gross concluded the evening by reading his poem 'The Quakers of Pompeii' from his 2006 book The egg of zero. You can listen to the talk on the Hay website.
In the second week we organised a visit to Pales, the oldest Quaker meeting house in Wales in continuous use. We were welcomed with cream tea, had a history walk around the grounds and listened to a talk about the history of the meeting and some of the wonderful individual characters, as well as learning about the meeting's links to Yardley Soap manufacturers.
The festival as a whole was a joyful experience for us – entertaining, informative and lots of fun. We are already looking forward to our presence there next summer. Look out for future volunteering opportunities at big festivals in the Quaker Life Network monthly email.