Average read time: 5 minutes
Finding the courage to hope
Is there a place for hope in these troubled times? Is hope more than just escapism or wishful thinking? Clare Bonetree explains why she thinks so.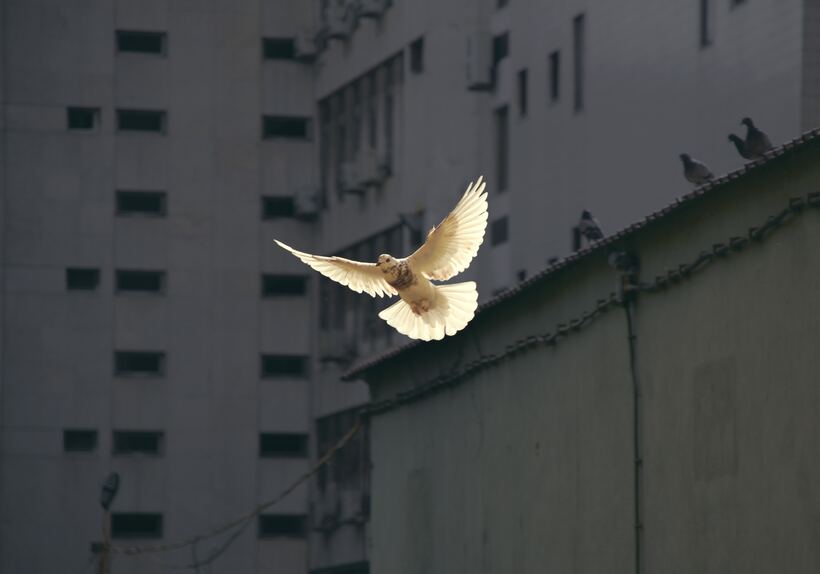 In 1996 three women broke into an airbase in Yorkshire and smashed a fighter jet that was bound for Indonesia to be used against the East Timorese people. The group that planned and took the action called it Seeds of Hope.
A song of change

The radical folk band Seize the Day celebrated the action and the women who took it in their lovely song 'With my hammer'. The song begins quietly describing the hopelessness so many of us feel at the scale of the horror and injustice that surrounds us, but, "then comes a drop of rain / to the parched lips of a world / that needs to feel hope again".
Suddenly, the song picks up pace and power and volume, as vocalist Shannon sings of the action and its consequences: smashing the fighter jet, spending time in prison on remand, and finally jubilation at the not guilty verdict – inside the court, outside the court, and in Timor-Leste where the trial had been followed avidly. "And as the seeds of hope / begin to settle on the ground / a gentle rain begins to fall."
Pressing play on the video below will set a third-party cookie. Please see our cookies page to find out more.
This song has inspired me over and over again to take action; to find the courage to hope that what I and my friends do can make a difference, and to be brave enough to take the consequences. It makes me feel hopeful. I've been listening to that song again recently, and I think I've worked out what it's saying to me about hope.
The environmental activist and writer Derek Jensen says he has lost hope – and that that's a good thing. He sees hope in a future ideal as "refuge from a current sorrow" and says it "keeps us chained to the system…that is causing the destruction of the earth".
It's about wishing for a better world, and fooling yourself that others can bring it about. This can only ever be a cause of suffering, as it keeps us trapped in the state of mind of wishing things were otherwise. And this kind of hope is about defeat – giving up your power to make a difference, and losing the will to act. Derek Jensen is right to give it up! I don't think this is what Seize the Day are singing about, and it's not what I think of when I think of hope.
A collective act
In their book Active hope, Joanna Macy & Chris Johnstone instead suggest hope can be "a practice...something we do rather than have". Something that we can get better at over time by doing more of, and we create by taking action based in our grounded understanding of how things really are – both good and bad. In this sense, hope is a kind of renewable energy, empowering and effective. This kind of hope motivates actions that inspires others to take further action – just as the Seeds of Hope action has inspired me and many others to take action.
This kind of hope allows us to take the broader perspective that Rebecca Solnit encourages and acknowledge that grief and hope can coexist, that the better world is already here – albeit unevenly distributed. It's the kind of hope that powers the activist Patrisse Cullors, founder of Black Lives Matter, to envision the dream she thinks Martin Luther King would share if he were alive now.
This kind of hope is a collective act of investing our courage and commitment in each other.
Determination, courage and friendship
I think of hope as a name for the alchemical product of mixing determination + courage + friendship. In 'With my hammer' the singer Shannon sings in the voices of the women who took action: "We owe so much to our friends / who held our courage in their hands". We can't do active hope without sharing our dreams and our fears. Together we find the courage to face our fears and take action: facing arrest for blocking a bridge with Extinction Rebellion action or closing a nuclear weapons factory with Trident Ploughshares; facing suspension in a school strike; facing unknowable consequences to stop a deportation plane; facing our fears of change by simply coming together.
In the song, hope is the seeds, and the rain; the determination of the women who planned and took the action, and of their friends to support them; the action the women took, and the courage to take it. It reminds me that, though I might feel powerless and hopeless in the face of the rise of the far right, the un-signing of the Intermediate-range Nuclear Forces Treaty, the unknowable catastrophes that will arise from devastating climate change – there is an antidote.
At the last Quaker Activist Gathering some of us gathered in a workshop to give thanks, acknowledge our grieving, and share our experiences and diverse ways of seeing things. I know that new action will come out of this, creating new experiences to share and inspire.
Yes, these are very troubled times. This also means they are the time to come together, and step into our collective courage to 'do' hope, over and over again.