Three counties campaign against an arms fair
Mike Davis shares how Quakers in Gloucestershire, Worcestershire and Herefordshire took part in campaign against the arms fair in Malvern.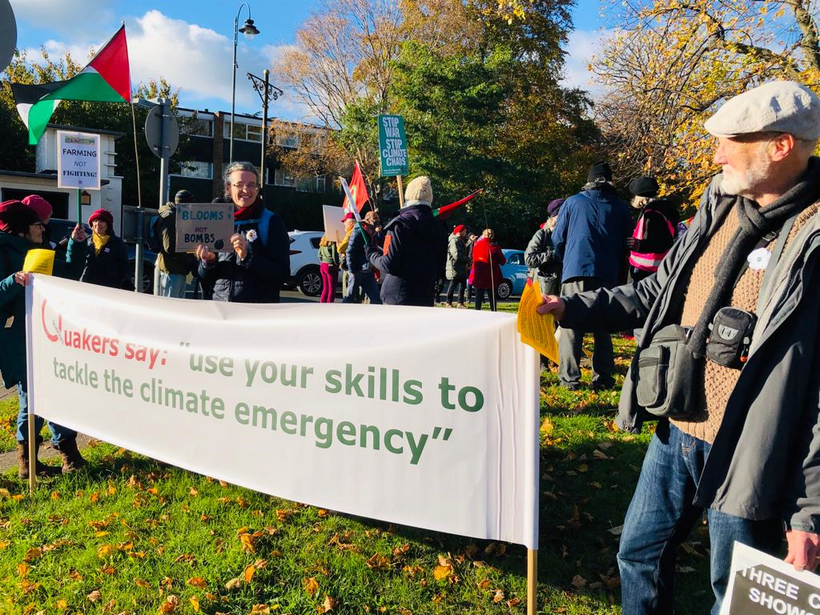 I am part of a group of Quakers in Gloucestershire, Worcestershire and Herefordshire who are celebrating the fact that there are no plans for another arms fair at the Three Counties Showground in Malvern.
Friends have been active members of the 3 Counties Campaign Against Arms Trade (3CCAAT) which has been urging the showground to stop hosting the 3 Counties Defence and Security Expo (3CDSE), as we believed its presence ran counter to the showground's charitable aims of promoting agriculture, horticulture and rural crafts.
Building public support
During the course of the campaign over 900 people signed a petition against the expo, and several hundred individual letters and emails were sent to the Three Counties Showground, its trustees and sponsors, asking them not to host the expo. I and other Friends were able to use our area meeting networks to make a significant contribution to this effort, alongside a range of other community and church groups.
Companies who have sponsored or exhibited at the Expo include BAE Systems, who supply Saudi Arabia with Typhoon and Tornado aircraft being used in the war in Yemen; Arnold Defense, a global supplier of rocket launchers; and Thales, manufacturer of missiles and warships.
We handed out postcards to members of the public attending other events at the showground, pointing out that the arms trade fuels conflict and oppression, and encouraging them to add their voices to the protest.
An ethical events policy
Friends and others also took part in widely-supported peaceful demonstrations in Malvern and outside the arms fair itself in both 2021 and 2022, and were starting to prepare a renewed campaign for 2023 when we learned to our joy that there was to be no Expo at the showground this year.
We are delighted, although we would still like to see the showground commit to an ethical events policy to guarantee that all of their future events support agriculture, horticulture and the local community, and promote solutions to the real problems we face, such as climate breakdown, ill health and species loss.
Unfortunately it is not unalloyed good news – the Expo has managed to find itself a new home in Telford, where it is scheduled to take place at the beginning of November. Needless to say, 3CCAAT will do everything it can to support campaigners in Shropshire and Staffordshire as they take up the challenge, and we hope Quakers will continue to play a central role.