Celebrating sustainable living in the Peak District
After 18 months of dedicated hard work by a team from Bakewell Quaker Meeting (and a few invited others) the Bakewell Green Festival finally happened. The sun shone, the participants brought their demonstrations, talks, poetry, music, dance, goods for sale, activities, animals and good humour.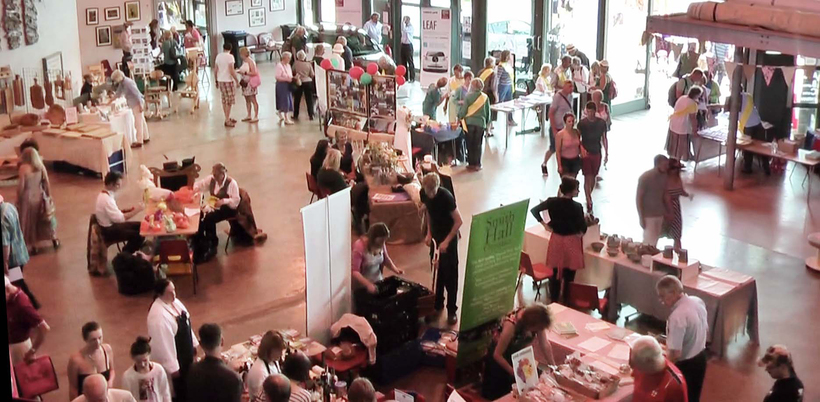 Around 4 to 5,000 visitors came through the day to enjoy all that was on offer. We had a dedicated team of 40 volunteer festival-makers who donned their yellow sashes and made sure that all those visitors found their way around and felt welcome.

The strapline to the day was 'Celebrating Sustainable Living in the Peak District' and that sense of celebration shone through.
A Quaker commitment
In 2011 Britain Yearly Meeting made a commitment to become "a low-carbon, sustainable community", because a more sustainable world would also be a more peaceful world, a more equal world, a fairer and more honest world, and a simpler world.
We could beat ourselves up because we're not green enough: we drive our cars too much, fly off on holiday too much, exploit the 'two-thirds world' too much, eat junk food too much. The list is endless. The guilt trip can make us aware of our shortcomings and try to amend our ways. On the other hand, we thought, there are all sorts of people doing all sorts of things to make the world a greener, fairer place. Let's accentuate the positive!
[QUOTE-START]
There are all sorts of people doing all sorts of things to make the world a greener, fairer place. Let's accentuate the positive!

- Jeni Edwards – Bakewell local meeting
[QUOTE-END]
The festival was grant-funded by the Joseph Rowntree Charitable Trust, by Quakers nationally and locally, by the Peak District National Park and the County Council. It was organised by volunteers, so it was free to both participants and visitors and gave the event a flavour of freedom and gift.
Building on the festival
The energy and ideas from the festival are continuing through the year with a series of winter evenings on the big topics: Zero Carbon Britain; encouraging community action; tackling the rich-world/poor-world divide; growing greener businesses; and building positive attitudes to change.
To find out more go to our website at www.bakewellgreenfestival.org where you will find two short videos of the day and a copy of the programme.
Living more sustainably – being greener – is an adventure into a better world. It is not necessarily an easy adventure – maybe it wouldn't be worth doing if it was – but on 12 June 2014 a whole lot of people from the Peak District showed the way.