Quakers risk prison to defend vital legal precedent
The ancient right of juries to rule according to their convictions, established during the trial of two Quaker preachers in 1670, is under threat.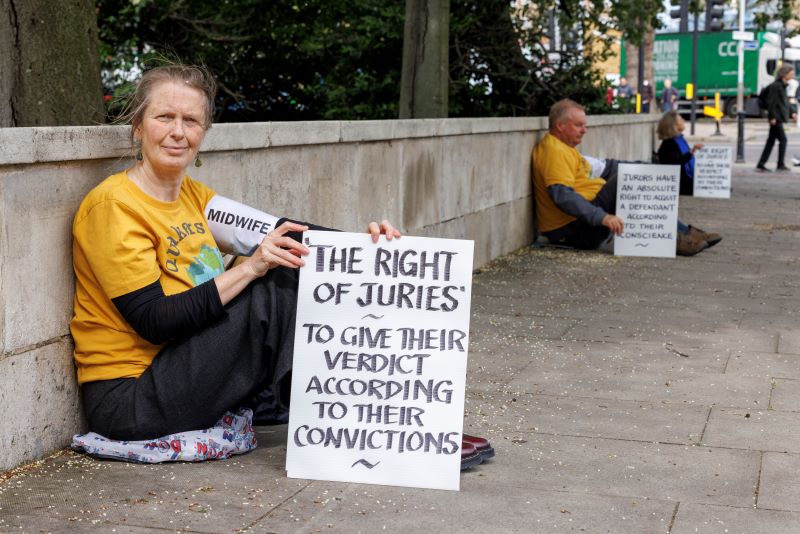 Trudi Warner, 68, who held a placard about this right outside a court, has been told by Solicitor General Michael Tomlinson KC that she will be prosecuted for contempt of court.
Others, including five Quakers, are being investigated for attempting to pervert the course of justice after holding similar placards outside Inner London Crown Court in May.
Phil Laurie, Faversham Quaker, said: "It is outrageous that we could go to prison for reminding people of something they can read on a marble plaque in the Old Bailey.
[QUOTE-START]
If jurors are not allowed to hear a defendant's reason for their action, they are also prevented from using their moral common sense.

- Paul Parker
[QUOTE-END]
"The only sensible conclusion is that they are trying to bully people into silence. It is our responsibility as Quakers to defend the right which the Quakers of the past won for all of us."
The right of juries to acquit defendants according to their conscience, first established when the Recorder of London tried to compel a jury to convict Quaker preachers William Penn and William Mead for holding an unlawful assembly, has been challenged recently.
Defendants have been banned from mentioning the rights of jurors, or the words 'climate change'.
This is apparently in response to some judges and juries acquitting defendants in nonviolent civil resistance cases when they have explained their motivations in court.
Recording Clerk Paul Parker said: "Quakers respect the laws of the state, but our first loyalty is to God's purposes. There are times when laws and prosecutions are politically motivated, or an abuse of power, or contrary to natural justice."
Back in 1670, when Penn and Mead were tried for holding an unlawful assembly, the established church held huge political power and suppressed minority faiths.
When the jury refused to find Penn and Mead guilty, they were locked up without food and water for two days.
Later the Chief Justice of the Court of Common Pleas, Sir John Vaughan, ruled that a jury could not be punished on account of the verdict returned.
Paul Parker said: "Now that the right of juries to decide according to their convictions is inconvenient to the establishment, they are seeking to suppress knowledge of it.
"If jurors are not allowed to hear a defendant's reason for their action, they are also prevented from using their moral common sense. It is extremely worrying that this ancient freedom which safeguards us against tyranny is under threat."